Thinking of starting a guest house? You might already have a location in mind, a vision of the fresh flowers that will greet guests, and breakfast menu ideas. You may be skipping ahead to think about the interesting guests you'll meet and the lifestyle you'll enjoy.
If you're venturing into the small accommodation industry for the first time, you probably realise there's a big learning curve ahead to bring your dream to life. And if you're new to hospitality in general, that curve might be even steeper.
Don't let that stop you from chasing your dreams, though. With the right advice, planning and goals, you can get your idea off the ground and start living your guest house dream life.
Here, we help you decide whether you're ready to act on your entrepreneurial ambitions, and break down the steps involved in starting and running a guest house.
Starting and running a guest house
Not all great ideas turn into a viable business, and some dreams can turn into a nightmare when day-to-day reality sinks in.
Before you launch any type of business, it's a good idea to step back and ask yourself some serious questions.
Take some time to (honestly) answer these five questions.
What is your "why"?
Why do you actually want to start a guest house? Have you always wanted to run a guest house after visiting one yourself or is it simply to make money? Do you want something that will allow you to be your own boss? Is it part of a bigger "tree change"?
Whatever the reasons, knowing your "why" will help you make good decisions both now and further down the track.
Is a guest house the right business for you?
If you've never run a guest house before, how do you know you've got the characteristics to succeed
Those who are a good match for this type of work are generally:
Sociable and friendly people who are always up for a chat
Good at dealing with pressure and expert multi-taskers
Resourceful and willing to try new things to find success
Okay dealing with the mundane and routine, including cooking and cleaning
Willing to learn from mistakes
Keen to know everything there is to know about their location.
Is the timing right?
They say timing is everything, and it's definitely something to consider when deciding whether to open a guest house.
Look at everything from your own personal circumstances to what's happening within the hospitality industry and out there in the world to help you decide whether now is a good time to take the leap. You need to be ready to roll so you can make sure you start off your business on the right foot.
Can you afford it?
Can you afford to start a guest house? The reality is that you'll need to have money to start up and make money to live the life you're dreaming of.
Get crystal clear on your setup costs and the amount of money you can expect to make from week to week. A business plan will help you answer your financial questions, along with getting up to speed with three key revenue metrics for guesthouses – average room rate, occupancy rate, and RevPAR.
Of course it all comes back to your motivations for starting a guest house, too. Are you planning this venture as a lifestyle choice which will supplement an existing income stream? Or is profit your biggest priority?
Are you ready to work?
Your guests and your guest house will demand attention from you around the clock. Checking in, managing reservations, offering local advice, budgeting, cooking, maintenance, housekeeping, marketing and providing an all-round wonderful experience – there's a lot to juggle!
If you're not highly motivated or loving life as a guest house owner, the juggle might quickly turn into a struggle.
Sign up to stay ahead of change.
How to start your own guest house business
Okay, so you've decided to start a guest house. How do you turn dreams and plans into reality?
Step 1: Build, buy or renovate?
There's more than one way to start a guest house, of course. One of your first decisions is whether you'll build a property, buy an existing guest house, or renovate an existing property.
If you're going to start from scratch, you can design your property around your own ideas. The amount of guests you want to host, the features you want to include and your preferred style can all be taken into account when choosing your land, building your guest house and decorating the rooms.
Starting from scratch won't be easy, with so many decisions and matters like building permits and licenses to take care of, but the advantage is you'll be able to customise a guest house that fits your vision.
Buying an existing guest house also has its advantages. You can quickly ease into life as a guest house owner by buying one that's already up and running. Do your homework, though, to fully understand the current cash flow and daily operating costs. Also run your eyes carefully over the systems and suppliers that exist, and think about whether any renovations or modifications will be needed. It's also helpful to find out if the current owner will provide any training and support as you take the helm.
Another option is to use your current property, or buy one, and transform it into a guest house. If this is the option you go with, you'll need to research exactly what modifications will be needed and how much they'll cost.
Whether you decide to build, buy or renovate, keep these things in mind before making a final decision:
Location: Do you like the location? Will guests want to visit?
Seasonality: Does this location draw most visitors during one particular season? How will you cope in the "off" season?
Size: Is the size suitable for a guest house? Will it allow for future expansion?
Costs: Having done your sums, which option will leave you with more change?
Regulations and red tape: Do local regulations allow guest houses in your area? (Call the relevant regulatory authority to find out.)
Step 2: Plan, plan, plan
It sounds a bit on the tedious side, but preparing a comprehensive business plan will provide the foundation to get your business up and running and guide you towards a profitable future. It's also something that, when broken down, is more achievable than you might imagine.
Your business plan should start off by capturing these three things:
Your vision: What's your ambitious, "big picture" vision for your guest house?
Your mission: Why does your guest house exist and who does it cater to?
Your goals: What are your main objectives and how will you achieve them?
Then, it's time for a deep-dive into these areas:
Your industry and competitors
Do a little research to better understand your competitors and the people you'll welcome at your guest house. Getting a clearer picture here will also help you come up with your unique selling point (USP)? What is the point of difference that would persuade people to choose you over your competition? Getting clear on your USP will be a game-changer for your business.
Services and amenities
List all the services and amenities you'll offer at your guest house. Not sure where to start? Jump on to a guest house booking site and see what's offered by similar properties.
Operations and management
Policies, processes, checklists and forms will help you operate each day with the least amount of stress. Think about checking in and out, housekeeping, payments, people, suppliers, service standards, health and safety and property maintenance for starters.
Another key point to cover here is how you'll sell and manage your rooms. Will you have your own website or rely on third party websites?
Marketing
Start by creating a visual identity for your guest house which includes a logo and the colours and fonts you'll use on your website and stationery. Then you'll need to think about the key messages you want to get out there in any marketing campaign.
For guest house owners, digital marketing is an affordable and effective way to launch and grow. Get creative, and consider all of the options:
Content marketing
Social media
Email marketing
Online reviews
Search engine optimisation (SEO).
Finances
At the end of the day, you need to have enough money to get started and then make money, or at least break even, as you move forward. To do that, you simply need to do your sums. Think about getting an accountant or other professional on board to help you create your financial plan.
Step 3: Getting ready to welcome guests
Build anticipation as you prepare for opening day so your guests share your excitement about the launch of your guest house. Social media is a great way to spread the news and give a little "behind the scenes" glimpse at what's happening as you prepare for the big day.
Another priority should be getting a website online. One that looks great and provides all the information your guests need – how to book and what they can expect when they stay.
You'll also be getting the rooms ready, with hotel-quality linen, a fresh lick of paint if needed, smoke alarms and other safety items, and the little touches that make the rooms inviting and comfortable.
There will, of course, be so many little jobs to action before you can finally welcome your guests. Make sure you don't miss anything by creating an action list based on your business plan. Prioritise these tasks and get help where you need it.
Running a guest house: Top tips and advice
Once you're up and running, the learning curve will continue. But you can avoid the bigger hurdles and grow your business quickly with these tips:
At the heart of everything is your guests. They are the reason your guest house exists and getting to know them better will help you improve the way you manage and market your guest house. Be observant, listen, and build a clear picture of who they are and what they're expecting when they walk through the door.
Many problems and issues can be traced back to poor communication. Make sure your guests know how to contact you, and think about things from their perspective when creating information and content.
Invest in a great website
Your website is often responsible for those all-important first impressions. Make sure it visually captures your brand and property identity, highlights its great features, points to plenty of useful information and can help guests to make and manage bookings.
More than 8 out of 10 guests say they will always or frequently read a review before booking a place to stay. More than half say they would never book a hotel with no reviews. Focus on getting your first reviews by asking happy departing guests to leave a review on one of the most popular platforms (Tripadvisor, Google, Facebook or your preferred platform).
Use feedback – the positive and negative
Treat feedback like the useful and valuable information it is. Positive feedback reinforces what you're doing well. How can you expand on that? Negative feedback can help you quickly plug the gaps and iron out any problems.
Many guests will be using your guest house as a launching pad to explore the local area. Help them on their way by sharing all you know about the popular spots along with some insights that "only the locals know".
A room that isn't clean is an absolute turn-off for visitors and a red flag when mentioned in online reviews. Keep standards high by aiming for rooms to be cleaner than you'd expect at your own home and doing regular checks so you spot anything before your guests do.
Stay up-to-date with industry news
As a small operator, you're doing your own thing day in and day out. However, it's important to stay connected. Sign-up to Little Hotelier's blog to receive regular content that'll help you continuously improve your operations.
Key strategies when managing a guest house
You can't do everything on your wish list when you're running a guest house. To avoid being overwhelmed with this realisation, create strategies around these three core areas to add focus and efficiency to your days:
Distribution and Sales
There are a number of options available to sell your rooms, and you need to find the most effective and profitable way to do this. As a guest house owner, your own website and social media channels are an obvious place to start. Invest in an online booking engine that enables these reservations to be made.
If you have a small number of rooms and a large social media following, this may be the only option you need to meet your goals. However, if you want to increase your chances of a steady occupancy rate, connecting with an online travel agent might be a good strategy. These channels can have a huge national and international reach, putting your guest house in front of many, many more travellers than you can reach on your own.
Google Hotel Ads is another way to extend your reach, in particular to travellers looking for somewhere to stay in your location.
If your strategy includes a few of these channels, then consider using a channel manager to take the headache out of managing bookings.

Marketing
You don't have the marketing budget of a big hotel. But these days you don't need a big budget to create a powerful marketing campaign.
To market your guest house effectively, focus on these four things:
Your unique selling point
Back in the planning stages, you came up with your USP. What is it that makes your property different from the rest? Why would that influence guests to stay with you? These things need to be wrapped up in your marketing messages.
Your location
Have the most amazing view? Make sure you highlight it in your social media and encourage guests to tag you in their posts.
Your guests
Remember, it's your guests you need to be talking to – whether you're developing your brand colours, creating content or designing your website. Talk their language and speak to them directly to get your marketing messages across loud and clear.
Digital marketing tools
There are plenty of tools out there, from social media to content and email marketing and SEO. Design your strategy around the tools that will help you reach your audience, not the tools that someone else uses or recommends.
Revenue Management
Revenue management is all about getting your prices right to achieve the highest amount of revenue. It might sound simple enough, but how do you find that magic point where your rooms are full while your prices are as high as guests are willing to pay?
Throw in seasonality, multiple channels and room variations, and things can get complicated quickly.
However, with the right strategy you can hit that pricing and revenue sweet spot. Consider using these different rates:
A regular "rack rate" based on the type of room and number of guests
Discounts for groups who book many rooms
Discounts for students, influencers or other groups
Package deals which might include a tour or breakfast
Higher prices to coincide with weekends, seasons and special local events
Last minute rate offers.
Guest house software: What are the uses and benefits
There is a lot involved in setting up, starting and managing a guest house. Feeling frazzled just thinking about it all?
Lucky for us, we're living in the digital age and there are a range of options to shortcut and streamline your way from chaos to calm. In particular, these three areas can be transformed with the right technology:
Front desk
A digital hotel front desk platform gives you the power to manage reservations, check in and check out, room rates, occupancy, housekeeping, guest communications and payments all in the one place. With so many of your daily tasks on auto pilot, you'll have plenty more time to focus on the important things.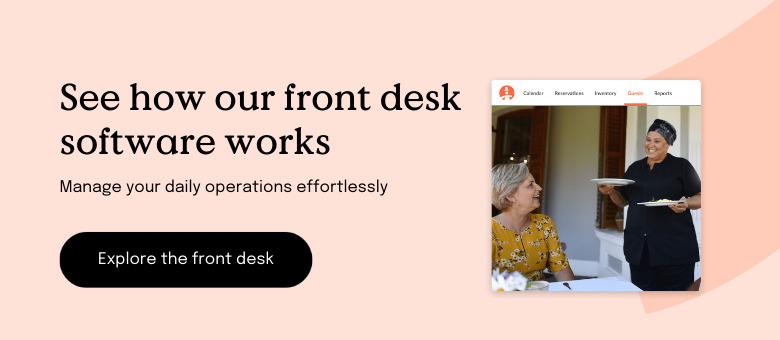 Channel Manager
An online channel manager gives you the power to sell all your rooms through your website, other third party websites and any other chosen channels all at the same time. Room availability is updated in real time and you can make bulk changes when you need to. A channel manager can help boost room occupancy and revenue.
Booking Engine
A booking engine allows you to take direct bookings and can have a huge impact on the volume of bookings. This technology can be integrated with your website to create a customised online booking experience for your guests.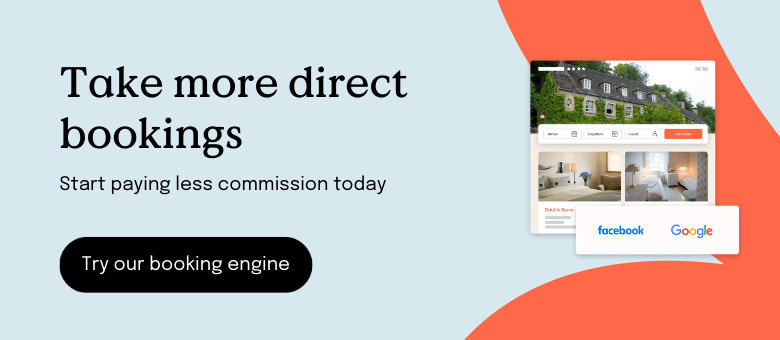 Share with your community:
We recommend the following articles for you
Back to top