The world's most trusted small hotel management software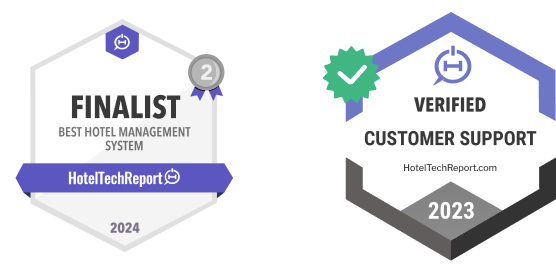 Want more direct bookings?
We make it easy for guests to book on your website or Facebook page – both on mobile or desktop.
Need more hours in the day?
We automate your day-to-day tasks and let you do it all from one place, so you can be you free to focus on being a fabulous host.
Want to offer something extra?
Get the most out of every booking by encouraging guests to pre-plan, personalise and upgrade their stays.
Not reaching enough people?
Promote your small hotel on the top booking sites and attract different traveller types. You've got over 400 channels to choose from – more than anyone else.
The world's most trusted hotel management software
Used by more small, independent properties than any other provider globally.
Backed by SiteMinder technology – processing over 100 million reservations a year.
Ease of use*
ROI*
Implementation*
Customer Support*
*Based on Hotel Tech Report reviews
The one solution you need to control your operations & distribution.
We've got flexible plans that give you:
One hour setup.
No waiting on calls & days
of onboarding.
One click for 24/7 support.
Never be put on hold again,
message us anytime.
One low price, from $1/day.
No unnecessary features that
bloat your bill.
Manage your property, bookings and guests all in one place
Connect to 400+ booking channels and get up to 46% more reservations*
Get tips and tricks for running your small hotel that really work
Frequently asked questions
What is hotel management software?
Hotel management software like Little Hotelier, is a cloud-based technology that will allow you to easily manage the daily operations and admin of your property online.
What are the benefits of hotel management software?
Hotel management software will dramatically reduce the amount of time and effort it takes to manage your business day-to-day. It will help you attract more guests, manage reservations, manage guest stays, manage revenue, and keep information accurate and up-to-date in just a few clicks or taps.
What does hotel management software include?
Hotel management software may include a front desk system, channel manager, and booking engine that integrate and work together to manage your business. In the case of Little Hotelier, you receive all this plus access to a website builder, payment functions, reporting and insights, and a mobile app.
Is hotel management software easy to use?
Yes! Hotel management software providers like Little Hotelier make it simple to sign-up and get started. With helpful support and guides along the way, your provider will help you connect your property and migrate your data so you don't miss a beat. Once implemented, you'll find using hotel management software is much easier than managing your property without it.
How does hotel management software work?
Modern hotel management software such as Little Hotelier operates on the cloud, meaning it only needs an internet connection to operate and can be used on any device such as a desktop, laptop, or smartphone. The software also enables two-way communication between different features such as the front desk, channel manager, and booking engine, sharing data and updating automatically in real-time whenever you want to perform changes.