The world's most trusted small hotel management software



Features to look for in the best property management software
Drag and drop calendar function
Creating, checking, or modifying reservations should be quick and easy to do within a few clicks.
Synchronised rates and availability updates
Two-way communication means you can seamlessly update rates and availability across your all your booking channels and website from your PMS.
Automated communications
Simplify and save time by automating messages and emails sent to guests pre and post-stay.
Housekeeping
Keep everything in order with an organised and centralised housekeeping feature.
Mobile application
Accessible wherever you are, through any device. This means it should be cloud-based. That way, you can go about your day and still keep an eye on your reservations.
Upselling capabilities
Increase revenue per customer by offering packages, late check-outs, breakfasts, sale items, and more.
Connects to top booking channels
Distributes your rooms in an organised way, reducing the risk of overbookings and get you infront of more potential guests on top OTAs.
Reporting and analytics
See your best performing booking channels, direct bookings, current occupancy rates, income and outstanding payments, and the performance of your hotel promotions.
How to choose the best property management software
Does it have the necessary features to make your life easier?
Your property management system needs to save you time on your day-to-day tasks if it's to be a worthwhile investment. Ensure you can easily modify reservations, check guests in and out, update rates and availability, schedule housekeeping duties and record notes, and automate guest communications.
Does it free you from your front desk?
The relief of not being bogged down by various papers and notebooks is a huge blessing your PMS can provide if it has reporting, invoicing, and payment functions.
Does it kill off your paperwork?
The relief of not being bogged down by various papers and notebooks is a huge blessing your PMS can provide if it has reporting, invoicing, and payment functions.
Does it allow an all-in-one experience?
Your PMS should seamlessly integrate with other software such as a channel manager and booking engine to give you one centralised hub from which you can control your property.
Does it send pre-arrival and post-stay emails?
Pre-arrival and post-stay communications with guests play a vital role in enhancing their experience and securing top-notch reviews for your property. These interactions help set expectations, provide essential information, and create a lasting impression.
Pre-arrival messages may include:
Personalised welcome emails
Reservation confirmations
Directions to your property
Information about local attractions
Post-stay communications can feature:
A thank you message
Request for feedback
An invitation to share their experience on review platforms or social media.
These messages not only demonstrate your commitment to guest satisfaction but also help build a lasting relationship, encouraging repeat visits and positive word-of-mouth referrals.
Does it remember your returning guests?
Guest history and insights are essential for building a book of frequent stayers at your hotel. This valuable information helps you customise and personalise stays for your guests, even if it's as simple as saying "welcome back!" instead of just "welcome". However, the true power of this information lies at the strategic level, providing competitive insights into your hotel's target audience, their preferences, and how you can encourage them to book with you more often.
Guest history and insights also help you to identify trends, anticipate future demand, and create targeted promotions that resonate with your audience, ultimately increasing direct bookings and driving revenue growth for your hotel.
A complete PMS buyers guide for hoteliers
If you need a full rundown of how a property management system works, why its so important, and how to identify which features are essential for you, a buyers guide will really help.
Use this guide to understand how your potential provider will be able to respond to the goals and objectives of your small business.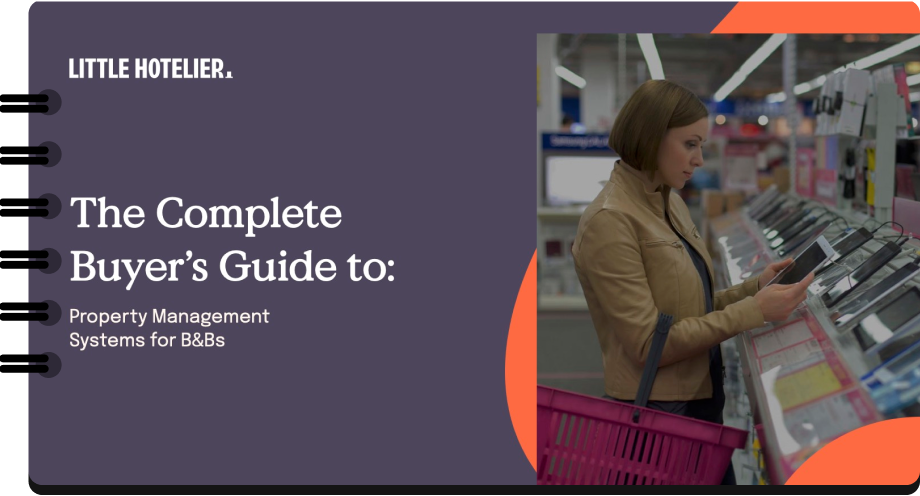 What makes Little Hotelier the best property management software for small hotels?
Simplicity
Cloud-based data is stored and accessed in one place and can never be lost, while tasks can be completed in seconds.
Flexibility
You can manage your property from any location. All you need is an internet connection and a smartphone, tablet, or laptop.
Security
Your information is encrypted and backed up. Even if your laptop or phone is broken or lost, your data will remain accessible to you. You need never worry about viruses or bugs and even hacking is a much smaller threat.
Affordability
You'll never require any additional hardware, backup solutions, licensing, updates, or fixes. All you have to pay is a set monthly fee. And the best part about cloud software? There are no lock-in contracts – just pay as you go!
Frequently asked questions.
What is the best property management system?
Your best option will be a property management system that prioritises ease of use, simplicity, and flexibility. Make sure you will be getting time back in your day and the freedom to focus on exactly how you want to run your property.
How does the best PMS system work?
The best property management systems work by making your operations more streamlined. Little Hotelier software organises all of your property data, integrates all your schedules, calendars and guest info onto a single platform, and automates as much of the every day as possible (such as front desk functionality). This means you can spend more time strategising, planning, expanding, spending time with guests, and improving your business. Less stress, more time, better outcomes – it's the bare minimum of what you can expect with Little Hotelier.
Can I get a property management system for free?
You can try Little Hotelier for free for 30 days, with no lock-in contract or credit card details needed. Enjoy all the benefits of a great PMS risk-free while you make your final purchase decision.
What are the advantages of using the best PMS for hotels?
Experience and reputation count for a lot so look at providers who have a proven track record of understanding the needs of their customers and solving them accordingly. Check out reviews on HotelTechReport and vendor case studies to get an idea of what your peers think of the options you are weighing up.
Why is the best hotel property management software an all-in-one PMS?
You might hear this "all-in-one" phrase used a lot in the hotel industry (guilty!). Basically, it refers to a PMS with all the added extras thrown in to form one complete property management solution. That's right, a PMS isn't the only technology you need to know about… there are two other important ones:
Booking engine – Also known as a reservation system, a booking engine is a software application used to secure online bookings on your direct channels (website and social media pages). 
Channel manager – A channel manager is a distribution tool that allows you to sell all your rooms on as many channels as possible. If you use online travel agents (OTAs) like Booking.com to sell your rooms, but don't have a system that distributes your rooms in an organised way, you run the risk of double bookings – resulting in unhappy customers, lost revenue, and even more wasted time trying to rectify the situation. This is why your PMS should also be your small hotel's channel manager. A channel manager automatically updates your rooms, rates and availability across multiple channels, without you having to log in to any of them! Plus, it sends all the information back to your PMS in seconds, so your calendar is always up to date.
Property management systems, booking engines and channel managers are the three most common types of technology being used by modern accommodation providers, but small property owners like you don't need the added hassle of using separate systems for each. That's where an all-in-one system comes in.
An "all-in-one" PMS provider, like Little Hotelier, will offer their own booking engine and channel manager and bundle them together for you. These three entities will automatically synchronise with one another and provide any staff member with a view of the live availability and rates of the property.
There are other benefits to this, too. When the components necessary to the daily operation of a hospitality business are all packaged up by the one provider, it usually means a more reasonable price point (more on pricing below). Plus, since there is only one service provider to deal with, you spend far less time on the phone or submitting online help requests with customer support, and more time giving your guests attention.
Basically, the best hotel property management software is an all-in-one PMS because it streamlines all aspects of hotel operations into a single, easy-to-use platform. A comprehensive solution like Little Hotelier saves time, reduces errors, and improves overall efficiency by consolidating tasks such as reservations, guest communication, billing, and reporting. With an all-in-one PMS, hoteliers can focus more on.
How to select the best PMS for my bed and breakfast?
The best property management software for a bed and breakfast should cater specifically to the needs of smaller properties and offer user-friendly features. Little Hotelier is a top choice in this category, as it's designed with small hotels, B&Bs, and guesthouses in mind, providing tools that streamline operations, manage reservations, and optimise revenue, all in one easy-to-use platform.
What are some characteristics of the best cloud-based hotel PMS?
While there are heaps of different features and tools that the world's best PMS should have, one of the key characteristics you should look for is usability. No matter how you or your team is using the PMS, it should make your life easier, not harder. 
As part of that goal, it should offer comprehensive features such as: 
Real-time inventory management
Channel management
Automated guest communication
Revenue management tools
World-class PMS's like Little Hotelier also have seamless integration with other essential hotel software solutions, like booking engines and payment gateways (all of which should scale to accommodate the hotel's growth). These are crucial characteristics of a top-quality cloud-based hotel PMS. Don't invest in a PMS without ticking these boxes!