The world's most trusted small hotel management software



Features to look for in a property management system
Drag and drop calendar function
Creating, checking, or modifying reservations should be quick and easy to do within a few clicks.
Synchronised rates and availbility updates
Two-way communication means you can seamlessly update rates and availability across your all your booking channels and website from your PMS.
Automated communications
Simplify and save time by automating messages and emails sent to guests pre and post-stay.
Housekeeping
Keep everything in order with an organised and centralised housekeeping feature.
How to choose the best property management system
Before choosing your PMS provider, make sure you have the following boxes ticked:
Does it have the necessary features to make your life easier?
Your property management system needs to save you time on your day-to-day tasks if it's to be a worthwhile investement. Ensure you can easily modify reservations, check guests in and out, update rates and availability, schedule housekeeping duties and record notes, and automate guest communications.
Does it free you from your front desk?
Using software to play the part of your front desk means you shouldn't need to be at your front desk on the computer all the time. If your provider has a mobile app, you can manage your reservations from anywhere – even if you're away from the property.
Does it kill off your paperwork?
The relief of not being bogged down by various papers and notebooks is a huge blessing your PMS can provide if it has reporting, invoicing, and payment functions.
Does it allow an all-in-one experience?
Your PMS should seamlessly integrate with other software such as a channel manager and booking engine to give you one centralised hub from which you can control your property.
A complete PMS buyers guide for hoteliers
If you need a full rundown of how a property management system works, why its so important, and how to identify which features are essential for you, a buyers guide will really help.
Use this guide to understand how your potential provider will be able to respond to the goals and objectives of your small business.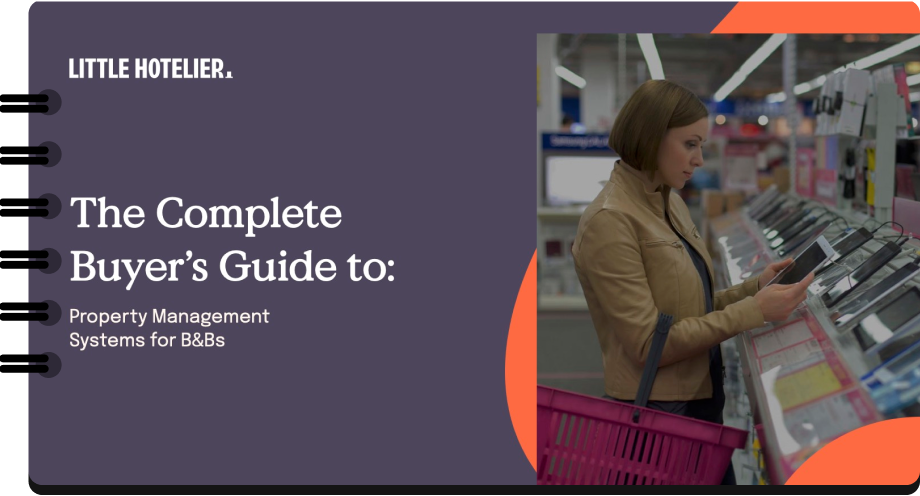 What makes Little Hotelier the best PMS for your property?
Simplicity
Cloud-based data is stored and accessed in one place and can never be lost, while tasks can be completed in seconds.
Flexibility
You can manage your property from any location. All you need is an internet connection and a smartphone, tablet, or laptop.
Security
Your information is encrypted and backed up. Even if your laptop or phone is broken or lost, your data will remain accessible to you. You need never worry about viruses or bugs and even hacking is a much smaller threat.
Affordability
You'll never require any additional hardware, backup solutions, licensing, updates, or fixes. All you have to pay is a set monthly fee. And the best part about cloud software? There are no contracts – just pay as you go!
Frequently asked questions.
What is the best property management system?
Your best option will be a property management system that prioritises ease of use, simplicity, and flexibility. Make sure you will getting time back in your day and the freedom to focus on exactly how you want to run your property.
Can I get a property management system for free?
You can try Little Hotelier for free for 30 days, with no lock-in contract or credit card details needed. Enjoy all the benefits of a great PMS risk-free while you make your final purchase decison.
How do I choose the best property management system?
Experience and reputation count for a lot so look at providers who have a proven track record of understanding the needs of their customers and solving them accordingly. Check out reviews on HotelTechReport and vendor case studies to get an idea of what your peers think of the options you are weighing up.