At the heart of Little Hotelier is the front desk. Here, you can manage check-ins, allocate rooms, communicate with guests and process payments quickly and easily. It's all done in one centralised calendar for greater control and the best guest experience. Your Little Hotelier front desk will simplify your operations and help you to process bookings in half the time.
Streamline your everyday and cut your hours in half. Just think of all that extra time you'll have each week to focus on delighting your guests.
Easy to use
Our drag-and-drop calendar makes it easy to manage your property. You get one central hub for everything.
A single calendar for all bookings
Wherever your bookings come from, we'll keep them all in one place for you. Your direct bookings engine, your OTA connections through your channel manager or walk-ins, all bookings will be in your calendar so you don't miss a beat.
Room and rate management
Manage your rooms and rates individually or use our bulk update feature to quickly make changes across a range of dates or rooms. It's all at your fingertips in your front desk system.
Security control
We have more than 350 security controls in place to maintain our certifications including PCI DSS and GDPR. Rest assured your business and guest data is safe with us.
Quick and easy payments
If you have Little Hotelier Pay integrated, you can take deposits and payments from your front desk system in 2 clicks. All payments are recorded in one place for easy reconciliation.
Guest communications
Improve your guest experience with timely pre- and post-arrival messages. You even have the option to automate them.
Everything you need all-in-one platform
Make your life simple and easy with one login and one system that does it all. Your front desk will show you everything about your reservations, guests and data all-in-one platform so you can provide your guests with the best guest experience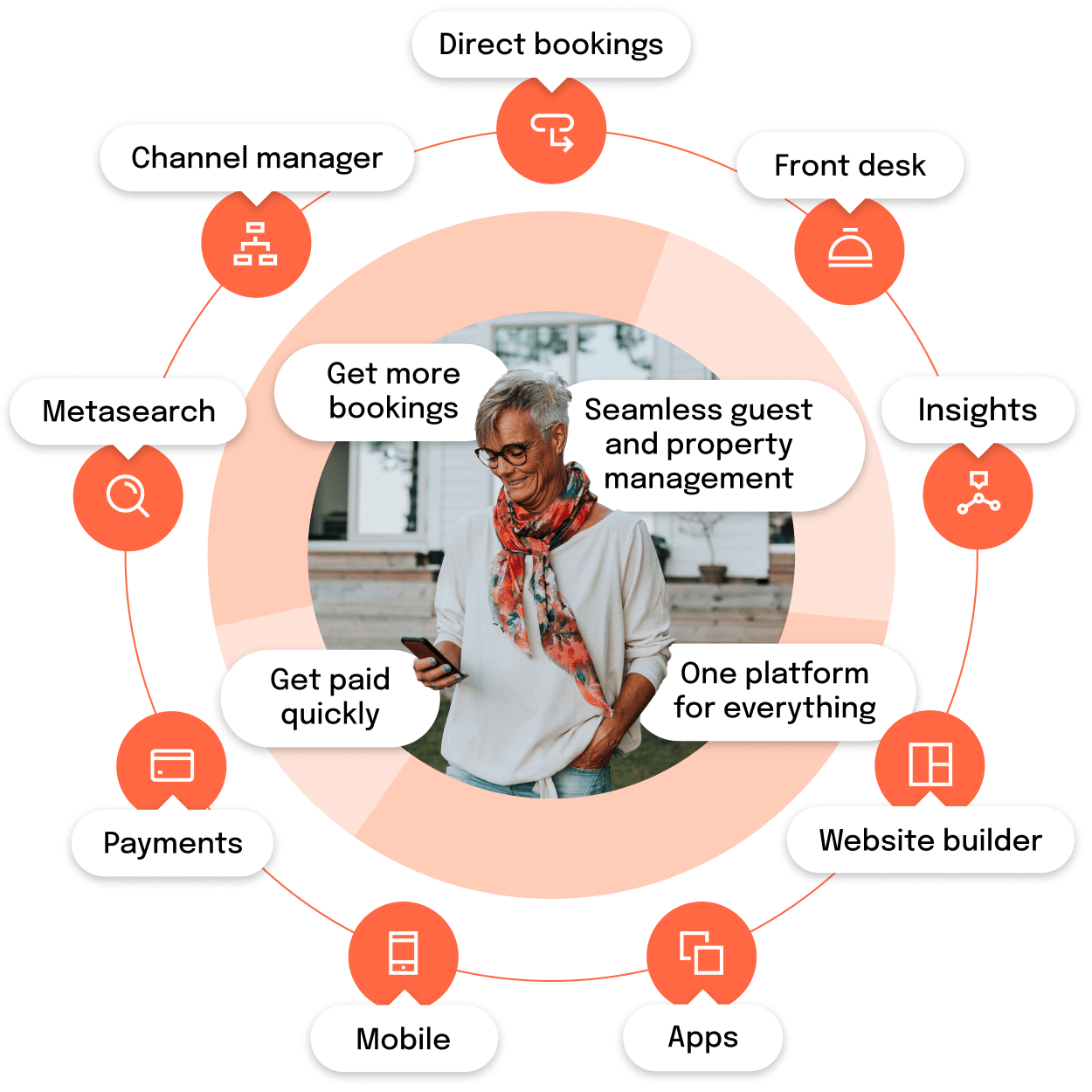 Stay connected and stay in control with our mobile app
Our industry-leading mobile app gives you the freedom to manage your property and reservations from anywhere. Carry your entire front desk software in your pocket.
"In our first year alone with Little Hotelier, we were able to reduce our administrative tasks and manual changes by 80%"
Posada del Cortés, Mexico
"The solution my property needed:
Helps on a daily basis to update and keep track of the rooms I have booked on my property without the need to invest in expensive software that gets outdated easily."

5/5
The one solution you need to control your operations & distribution
We've got flexible plans that give you:
One hour setup.
No waiting on calls & days
of onboarding.
One click for 24/7 support.
Never be put on hold again,
message us anytime.
One low price, from $1/day.
No unnecessary features that
bloat your bill.
Frequently asked questions.
What is a hotel front desk?
A hotel front desk, such as Little Hotelier, is part of a hotel management system that provides a single place to manage the operational side of your property. This includes reservations, check in and check out, room rates, occupancy, housekeeping, guest communications and payments, as well as guest acquisition with channel management and direct bookings.
How does a hotel front desk work?
A hotel front desk brings together all of your systems into one online platform to help you simplify and automate your day to day tasks. It enables you to eliminate manual processes which can be performed much quicker and autonomously with a front desk system.
What are the key benefits of using a hotel front desk?
Your hotel front desk system will automate all the daily operations of your property and the day to day tasks, giving you more time back in your day to focus on guest experience.
Can I try Little Hotelier for free?
Yes, we invite you to explore what Little Hotelier can do for you prior to any payment. Simply click here to get started at no cost to you.
What's included in my free period?
You will have access to the full product you subscribe to.
Can I cancel my free period anytime?
Absolutely – we aim to make your life as easy as possible so with us, there are no lock-in contracts, and you can cancel anytime you choose. 
What happens after my free period ends?
You have two options – the first is that you can continue to use your Little Hotelier plan and we'll begin charging you after the free period has ended via the payment method you've selected. But if you're ready to finish up, you can easily cancel anytime.