Key functions of reservation software for hotels
Hotel reservation software will help your property operate smoothly by:
Managing rates, inventory, and bookings
Integrating with your channel manager and booking engine
Storing valuable sales data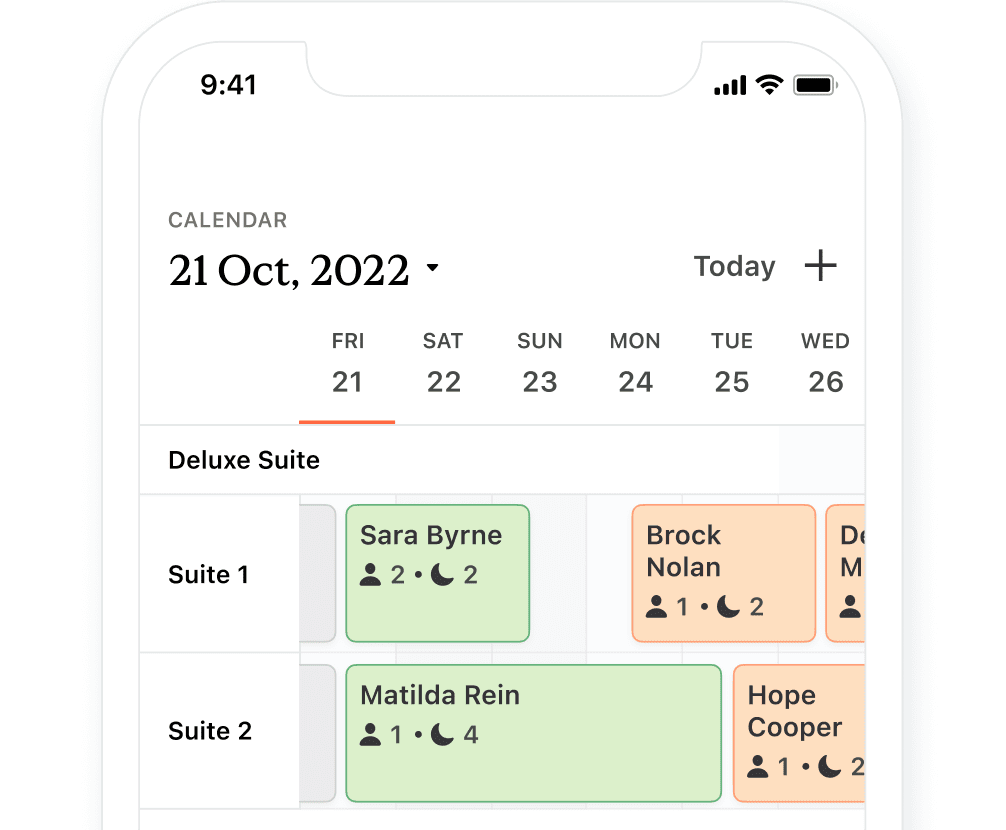 Why is online hotel reservation software important?
Using software to manage reservations at your hotel will have a number of benefits, including:
Being able to automate time-consuming data entry
Removing human error from your tasks
Reducing the chance of double-bookings
Meeting the expectations of today's traveller
How to choose small hotel reservation software
When choosing hotel software for reservations, a few requirements your provider needs to cover include:
An integrated solution
An all-in-one solution will allow you to more easily and simply manage distribution, reservations, direct bookings, and guest communication.
Simple yet sophisticated
Your software should be quick to learn and easy to use, while providing all the powerful features you need to succeed at your hotel.
Backed by customer success
Make sure you look for social proof from other hoteliers that have had their challenges solved by the provider you are considering.
Reliable
While you never want anything to go wrong, when you do need help it's important that your provider is available 24/7 to support you via multiple channels of communication.
Why choose Little Hotelier as your hotel reservation software?
Trusted by more small properties than any other global provider.
Connected to 400+ booking channels.
Backed by SiteMinder's powerful technology – processing over 100 million reservations each year.
Designed with small properties in mind, prioritising ease of use and putting you back in control.
Frequently asked questions about reservation software for hotels
What is hotel reservation software?
Hotel reservation software is a solution that accommodation providers can use to easily manage room inventory, rates, and bookings. It gives hotel managers and owners time back in their day to focus on the things they want to prioritise. This enables them to drive greater success and also makes for happier guests.
How does hotel room reservation software work?
Your room reservation software works by using real-time automation to help you manage your availability, rates, and bookings. You can make updates to your calendar and adjust strategies instantly. The software will also integrate with other systems such as a channel manager to ensure your reservation data is always up-to-date and accurate.
Can I get hotel reservation software for free?
Yes, you can get started for free using reservation software for hotels, and if you use an all-in-one solution like Little Hotelier, you'll be able to easily integrate it with your website. Depending on what features you need, you can be up and running almost instantly with no assistance needed. Or, in other cases, a professional will guide you through setup.
Can I use hotel reservation software for my motel?
Yes, hotel reservation software can be used for all types of small properties including motels. In fact, hotel motel reservation software such as Little Hotelier is specifically designed for small or niche accommodations. Try taking a free trial for your motel today.
How much does it cost to implement reservation software at my hotel?
In ideal scenarios, such as what's offered by Little Hotelier's reservation software, you can choose a pricing plan that suits you – only pay for what you use. This gives you flexibility, freedom, and cost-effectiveness while you enjoy the rewards of running your property easier.
Should I check hotel reservation software reviews?
It's always a good idea to check reviews when you're researching hotel reservation software. Reputable review sites like HotelTechReport give you a good overview of the potential providers on the market. This allows you to compare features, prices, and learn which ones your peers recommend. You'll also be able to find out which software is most suitable for your specific property type. In the case of small hotels, Little Hotelier is one of the world's leading providers.