One platform. One log-in. One place to manage your business…Your way
When you partner with Little Hotelier you get a leading all-in-one platform designed to grow your small accomodation business, increase your revenue, simplify your admin and help you control every aspect of your business.
We've been around for more than a decade, guided by the idea that small accommodation providers deserve systems designed for them. Our platform gives you back time to spend on your guests and things that matter to you in your business. Today, we're the world's most trusted hotel software platform because we take the hassle out of running a small property.
Our full featured platform gives you access to the industry's most powerful distribution network with the most connections available to you and 100% connection quality with leading OTAs. Not many can say that!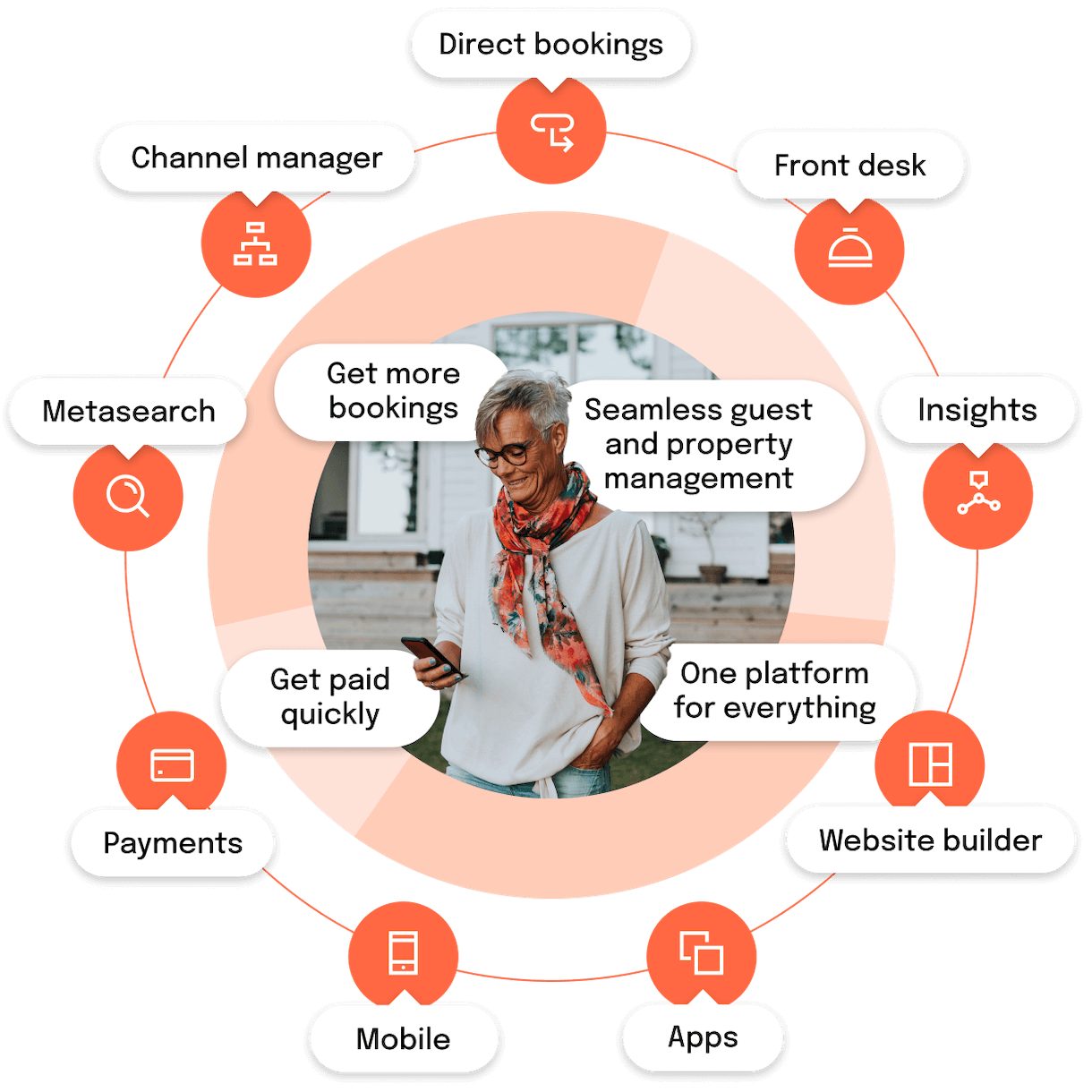 Get more bookings
Take bookings on your website or Facebook page.
Connect to 450+ booking channels (OTAs).
Attract new guests on metasearch sites like Google Hotel Ads.
One calendar for everything so never overbook or miss a reservation.
Get 43% more direct bookings
Seamless guest and property management
Manage every reservation in a single calendar.
Automate your guest communications.
Compare competitor and OTA rates quickly and easily.
Adjust pricing and distribution with confidence.
Save 35 mins per booking
Get paid quickly
Access fast, contactless payment processing.
Process deposits and refunds in a few clicks.
Keep guest details secure.
Easily reconcile your accounts.
Save 4 minutes per booking
One stop shop
Organise your reservations in one place.
Run your business wherever you are, from any device.
Eliminate manual updating of inventory.
Customise and scale how you want.
Process bookings in half the time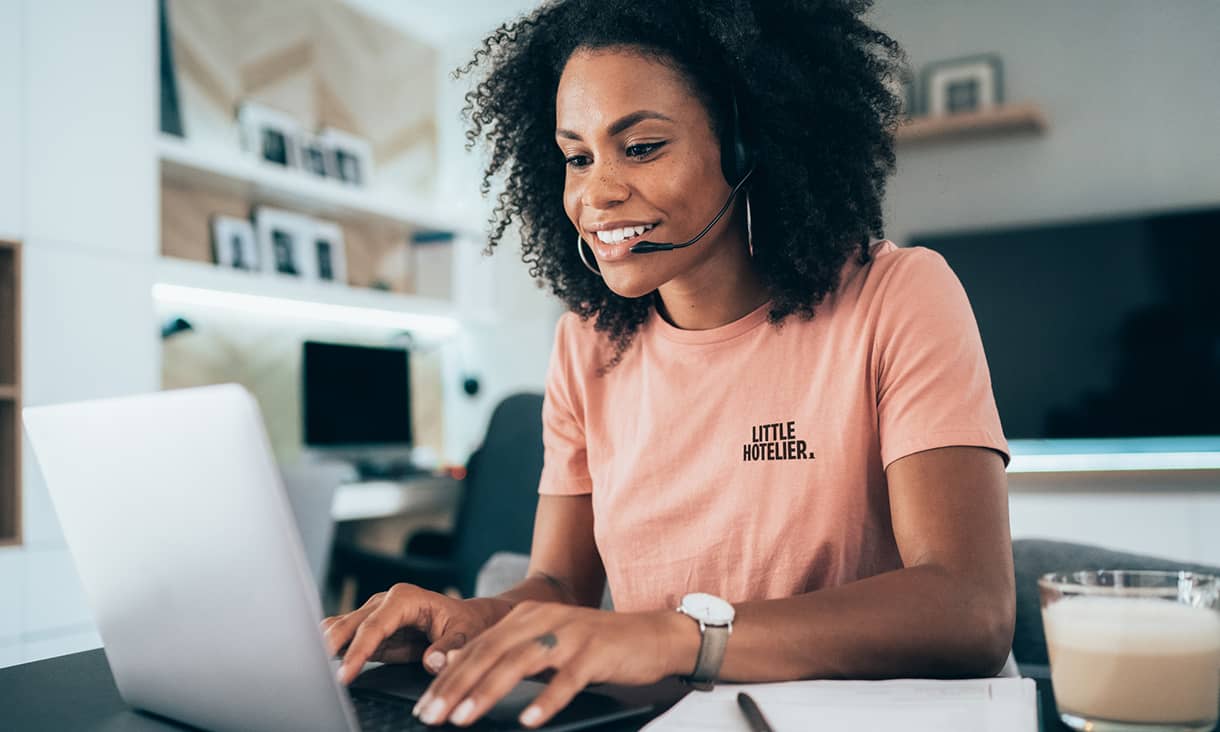 Support
We provide you with award-winning 24/7 support across phone, web and chat when you need it. Our support and customer success teams are available to you in 10 languages, and with more than 90% customer satisfaction for chat support and over 4* on Capterra, you can rest assured that we will be there to help you succeed when you need us.
Implementation with no downtime
We've onboarded thousands of customers over the past 10 years, so it's fair to say we know a thing or two about how to make it easy for you.
Little Hotelier's intuitive user interface makes it incredibly fast to learn. Our onboarding process will have your property set up and taking bookings with no downtime. As the most trusted hotel management system on the market, you can count on us to provide you with the tools and resources to succeed.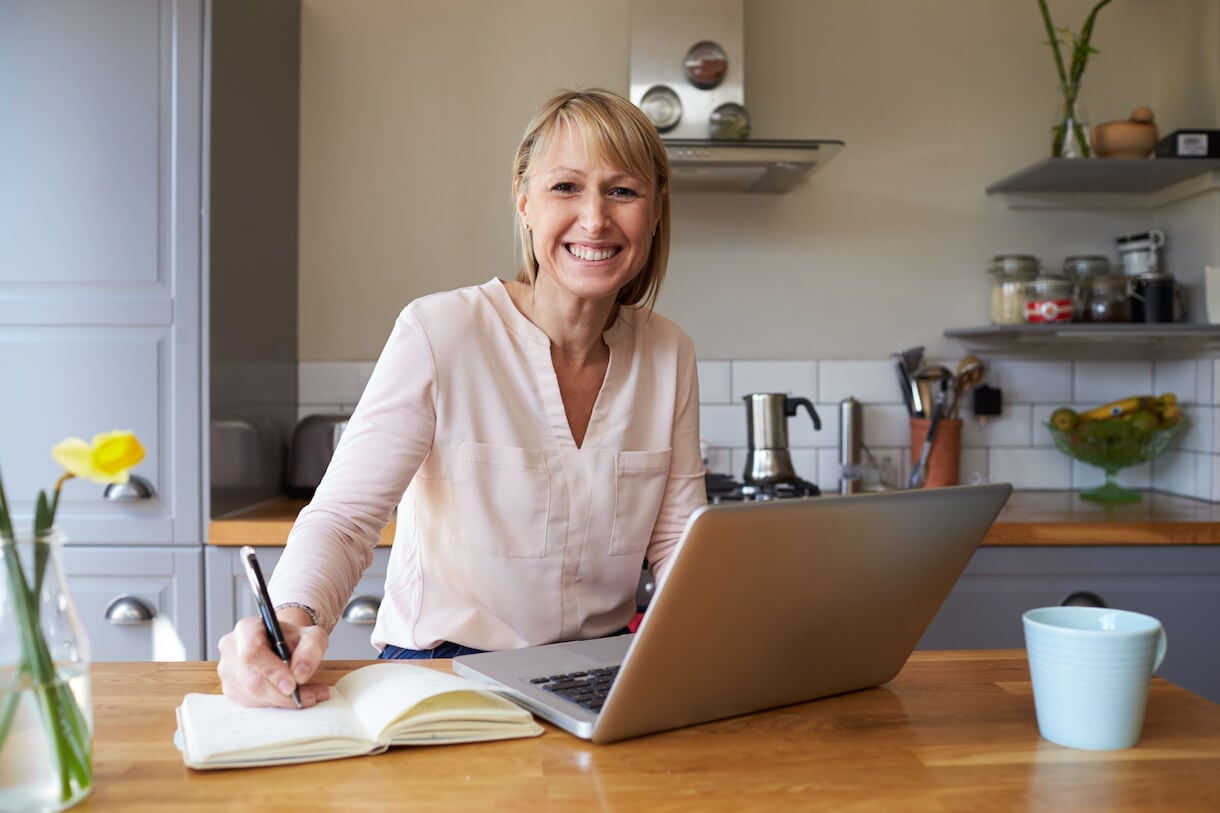 The one solution you need to control your operations & distribution
We've got flexible plans that give you:
One hour setup.
No waiting on calls & days
of onboarding.
One click for 24/7 support.
Never be put on hold again,
message us anytime.
One low monthly fee
No unnecessary features that
bloat your bill.
Frequently asked questions.
What hotel management software?
Hotel management software or system is a cloud-based tool that will allow you to easily manage the daily operations and admin of your property online.
What does hotel management software include?
Hotel management software may include a front desk system, channel manager, and booking engine that integrate and work together to manage your business. In the case of Little Hotelier you'll also have access to a website builder, payment functions, insights and performance data, and a mobile app.
How does a hotel management software work?
Modern hotel management software operates on the cloud, meaning it only needs an internet connection to operate and can be used on any device such as a desktop, laptop, or smartphone. The software also enables two-way communication between different features such as the front desk, channel manager, and booking engine, sharing data and updating automatically in real-time whenever you want to make changes.
What is an example of a hotel management software?
Little Hotelier is a good example of hotel management software. Little Hotelier is a platform designed specifically to help small property operators manage their business online.
Can I use hotel management software with Airbnb and Booking.com?
Yes. Your hotel management software should include a channel manager, which will enable you to promote your rooms on all your chosen booking channels at the same time. When bookings are made the system will update your inventory automatically.
Is a hotel management software an all-in-one solution?
Hotel management software, such as Little Hotelier, will often provide you with all the features you need on one platform without necessarily being an all-in-one system. All-in-one systems can be quite limiting when it comes to connectivity and integration, so a hotel eCommerce platform like Little Hotelier is usually your best option.
Can I try Little Hotelier for free?
Yes, we invite you to explore what Little Hotelier can do for you prior to any payment. Simply click here to get started at no cost to you.
What's included in my free period?
You will have access to the full product you subscribe to.
Can I cancel my free period anytime?
Absolutely – we aim to make your life as easy as possible so with us, there are no lock-in contracts, and you can cancel anytime you choose. 
What happens after my free period ends?
You have two options – the first is that you can continue to use your Little Hotelier plan and we'll begin charging you after the free period has ended via the payment method you've selected. But if you're ready to finish up, you can easily cancel anytime.