We know you don't want to be tied to your desk, that's why our mobile app lets you take Little Hotelier with you. Manage important daily tasks straight from your smartphone or tablet. You can make reservations, check guests in and out, edit availability and take online payments wherever you are, whenever you need.
Stay connected and stay in control with the Little Hotelier mobile app.
Stay connected and stay in control at all times with our free mobile app
Drag and drop
Our app was built with you in mind, it's user-friendly for managing your business wherever you are.
Full control
Be able to manage your availability, create or edit reservations and room closures, and answer guest queries all from your phone.
Fast, easy payments
Process deposits, and payments effortlessly, wherever you are. Forget carrying around a bulky payment terminal or laptop.
A single calendar for all bookings
Wherever your bookings come from, we'll keep them all in one place for you. Your direct bookings engine, your OTA connections through your channel manager or walk-ins, all bookings will be in your calendar so you don't miss a beat.
Push notifications
Stay on top of things with push notifications when you receive a new or modified booking. You're connected and in control, no matter where you are.
Auto syncing
Seamlessly switch between your phone and desktop. Our cloud technology automatically shares and syncs reservations, customer profiles and payment status across devices.
8 languages
Take charge of your property in the language that suits you: English, Spanish, Thai, Indonesian, German, French, Italian or Portuguese.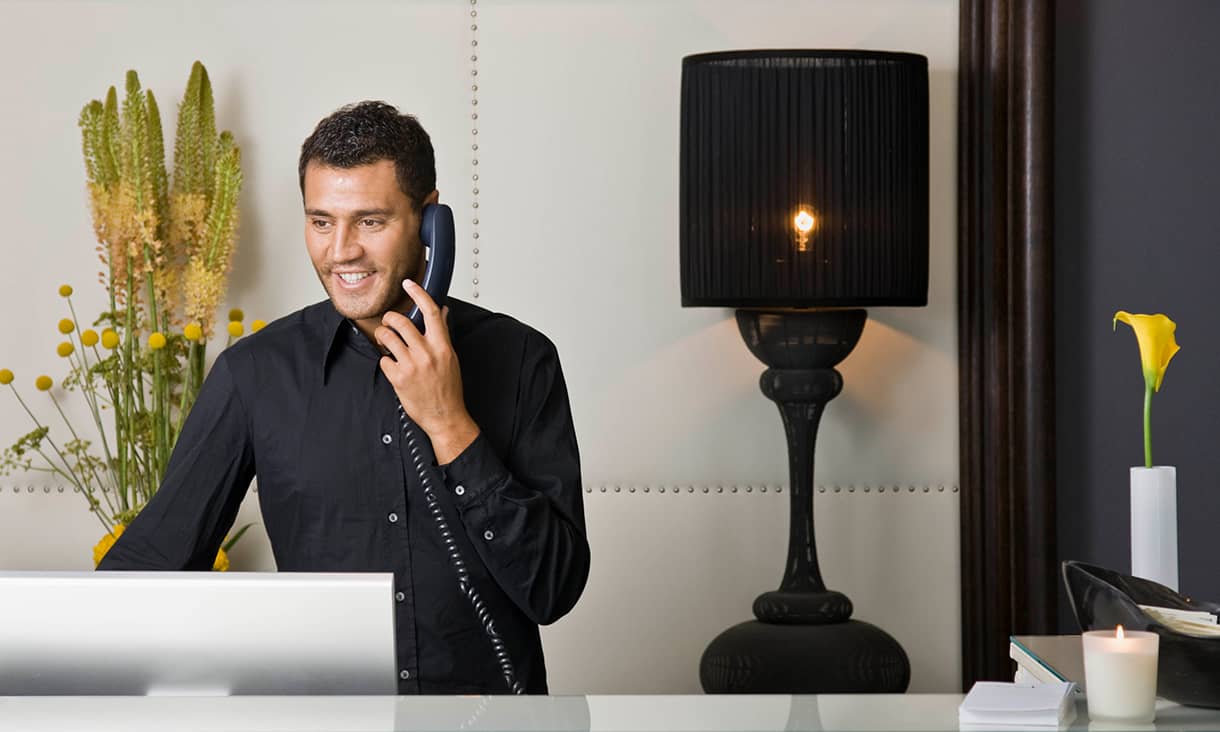 "The biggest benefit that technology offers hotels is that you get a lot of freedom. You're not chained to your computer or chained to the telephone waiting for bookings to come in."

"The Little Hotelier app speeds up the check-in process and allows for a faster and more personable experience for our customers. It is going to make it much easier for me to implement a check-in from the bar, where most of our customers arrive…"

5/5
The one solution you need to control your operations & distribution
We've got flexible plans that give you:
One hour setup.
No waiting on calls & days
of onboarding.
One click for 24/7 support.
Never be put on hold again,
message us anytime.
One low monthly fee
No unnecessary features that
bloat your bill.
Not yet a customer?
Start your free trial to create an account then download the free app
Frequently asked questions.
What is a hotel management mobile app?
Your hotel management system app will act as a mobile version of your front desk. This means you can perform actions such as tracking reservations and check-in guests from the app without even being present at your property. All you need is the hotel management system app installed on your smart phone or device.
Is your hotel mobile app right for me?
The app version of your front desk system is the perfect tool if you need to be away from your property for any reason. No matter where you are or what you're doing you can still monitor your reservations, check-in/check-out for guests, and more via the app.
Can I manage channels with the mobile app?
You will be able to process reservations, guest check-in and check-out, collect payments, and edit room closures from your app, with the full functionality available on your computer.
Can I try Little Hotelier for free?
Yes, we invite you to explore what Little Hotelier can do for you prior to any payment. Simply click here to get started at no cost to you.
What's included in my free period?
You will have access to the full product you subscribe to.
Can I cancel my free period anytime?
Absolutely – we aim to make your life as easy as possible so with us, there are no lock-in contracts, and you can cancel anytime you choose. 
What happens after my free period ends?
You have two options – the first is that you can continue to use your Little Hotelier plan and we'll begin charging you after the free period has ended via the payment method you've selected. But if you're ready to finish up, you can easily cancel anytime.