What does guesthouse management software do?
Guesthouse management software provides a central location from which you can control the daily operations of your property. This includes:
Processing reservations online, via
phone, or at point-of-sale.
Checking guests in and out.
Managing guest booking details,
profiles, and communication.
Managing inventory, rates, and availability.
Processing deposits, payments, and
refunds.
Generating performance reports.
All this and more, to save you time and stress while you run your small accommodation business.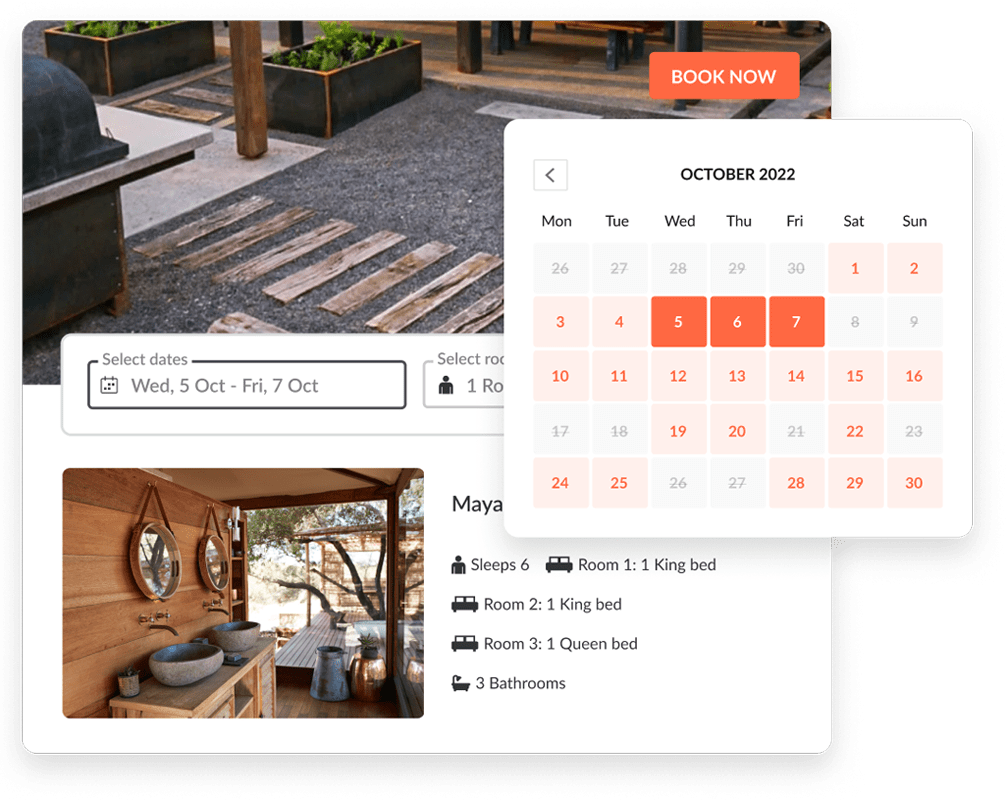 Why do you need guesthouse software?
Using management software will give you more of you want each day – time, flexibility, and simplicity.
With admin tasks taken care of quicker and easier, you can devote your attention to satisfying your guests and developing strategies to improve performance.
Guesthouse software allows you to make light work of:
Taking and processing bookings
Managing reservations
Communicating with guests
Analysing performance
How to choose the best guesthouse software
When choosing your guesthouse software provider, look for some key traits:
It should be a full solution
An 'all-in-one' solution is the best option for your small property, since you won't have to look elsewhere for crucial features such as a channel manager or booking engine.
Using it should be on your terms
Flexible pricing plans and the freedom to cancel anytime are a must-have.
Accessible customer support
Your property is always 'on', so it's important that you have access to 24/7 support.
Customer success
Reviews and customer stories don't lie. Look at what properties like yours have said about the product and the brand to see if you're in for a positive experience.
Quick and easy to use
It should be simple to get up and running with the software, to the point where you can even sign-up and get started yourself.
Why choose Little Hotelier's software to manage your guesthouse?
Trusted by more small properties than any other global provider.
Connected to 400+ booking channels.
Backed by SiteMinder's powerful technology – processing over 100 million reservations each year.
Designed with small properties in mind, prioritising ease of use and putting you back in control.
Frequently asked questions.
What is guesthouse software?
Guesthouse software allows accommodation providers to operate their property from one single interface, automating the majority of their daily tasks to save time and gain more control of their daily life. It operates on the cloud and often incorporates key features such as a front desk system, channel manager, and booking engine. Using it will help a guesthouse secure more bookings, save time, earn extra revenue, and deliver a better guest experience.
Why is it so important?
Guesthouse software is crucial for giving property managers valuable time and freedom, so they can focus more closely on providing guests with a positive experience and running a successful business. It also helps to reduce human error that arises from manual data entry by automating the sharing of information in real-time. Additionally, guesthouse management software will enable operators to meet the growing expectations of their guests.
What is the best guesthouse software?
The best guesthouse software specifically caters to smaller properties. A solution like Little Hotelier understands the needs of small accommodations and designs its features accordingly. On top of this, Little Hotelier is backed by SiteMinder's world-leading technology.