At times we all want to change the way we live, work, or play. We want to do things better and we want to make things easier – but often we feel frustrated or restricted by our finances.
For small hotels and other properties like yours, it's a common concern. How can you run your property more smoothly, make guests happier, or collect more revenue without breaking your own bank? Sometimes you just have to accept that your physical property needs a facelift but if that isn't the problem, we have some handy solutions you can try.
If you want to level up your small accommodation business on a budget, this blog will focus on three key aspects that won't cost the world and will make your property more successful in the long run.
Improve your hotel's website experience
The average online cart abandonment rate is 68.6%. In the travel industry, where people do a lot of research and visit a number of different websites, there's a good chance this is even higher. Knowing this, it's vital you give visitors a positive and easy experience when using your website so you can increase your average conversion rate.
Just a few of the must-haves you need on your website to attract more guests are:
Clearly displayed and easy to navigate call-to-actions – Such as a 'Book Now' button
Easily accessible contact and location details for your property – You might even want to integrate Google maps
High quality photographs of your property, your rooms, and the local area – A gallery is a great way to showcase this
Dedicate a page or blog to valuable content – The more you can keep guests on your website the better
Ensure you site is suitable for mobile devices and high speed browsing – Guests won't have the patience for clunky functionality or slow load times
Okay so this is all great but you might be asking how you can do this without paying a lot of money to a web designer to upgrade and maintain your website!
The answer lies in using hotel website builder software. This software is designed specifically for hotels, is inexpensive, and performs updates automatically to make sure it always meets operating requirements. It is set up using a variety of templates so you can easily display content with your own branding, and convert visitors into bookers.
Usually, a hotel website builder can be secured via a monthly fee from hotel management software providers.
Given 60% of users rely on their emotional side – which is impacted by photos, styles, features – making some positive changes to your website will immediately increase the amount of bookings you can drive at your property. It will also level up your brand reputation and recognition. If guests see a website that appears slick, beautiful, and professional, they'll perceive your property to hold the same standards – as it most likely does!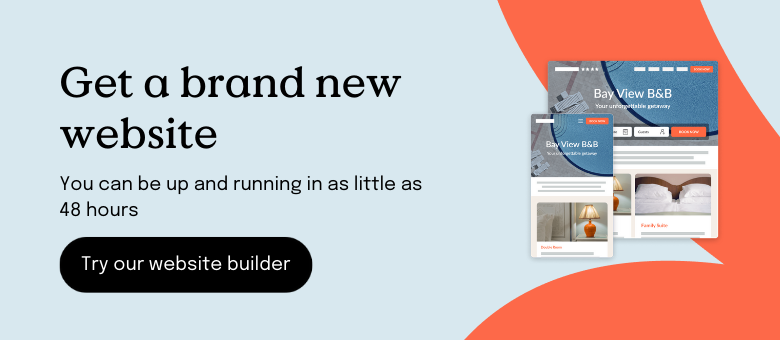 Start winning more direct bookings
Paying less commission fees to online travel agents and having more money in your own pocket is obviously ideal. More direct revenue gives you more freedom around what you can do to better your property.
Easier said than done though, right? How can you easily drive more direct bookings, even with a great website, without spending too much on ads and marketing? Well, it's much easier done by adopting an online booking engine.
In fact, Little Hotelier's booking engine has helped hoteliers increase their direct bookings by 43% – CTA to direct booking product.
An online booking engine will make it consistently easier to win direct bookings and deliver the potential for valuable customer relationships.
Some exciting features you should know about this tool:
Easily implemented on your website and also your social media pages.
Travellers can check your rooms, rates, packages, and extras and make their reservation with a few easy clicks.
Perfectly designed for travellers using mobile devices
Allows you to level up your property by offering a broader range of packages and services to guests when they make a reservation.
As with a website builder, an online booking engine can be secured with a reasonable monthly fee and doesn't require you to have any technical expertise or constantly pay for updates. And if you're already using a property management system or channel manager, it will integrate seamlessly.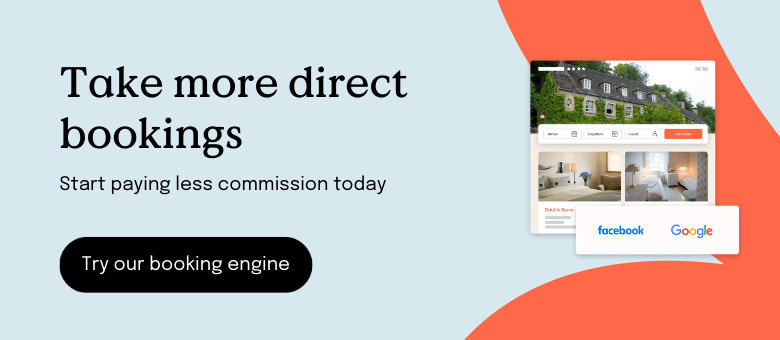 Use better tools than books or spreadsheets
Being more efficient with time and money is good advice for anyone, but especially so for those in the busy hospitality industry.
Manual administration and data entry by way of pen and paper, or even spreadsheets, is going to be very time consuming and often confusing. With no connectivity and no systems in place to communicate and automate, you'll lose hours of your week and risk making costly errors. You also won't be flexible enough to use your data to make better decisions.
Finding smarter and quicker ways to manage your business is perhaps the most crucial solution to leveling up and being more successful. You can do this by putting aside manual methods and adopting hotel management software.
With hotel management software you'll have one central location to control the operations of your small business, including:
The ability to connect your channel manager and booking engine
Manage reservations with a simple drag and drop calendar
Organise and streamline your housekeeping
Use a mobile app to manage your property from anywhere
Get more time back to spend on guests or your own life
And the budget? Ultimately management software will pay for itself in terms of the time it lets you regain and the extra revenue it helps you drive.
By focusing on the three key aspects of this blog, your property will level up in no time, and in the grand scheme of your business, software costs are extremely low with an almost guaranteed outcome of improving your day-to-day.
Share with your community:
We recommend the following articles for you
Back to top