What is an online travel agent?
An online travel agent is an online marketplace where travellers can research and book travel services such as hotels, flights, car rentals, tours, and even entire vacation packages.
Also known as OTAs, they have become hugely popular and every day millions of travellers around the world use them to plan and book travel for business and leisure.
This blog will provide a full rundown of online travel agents including everything you need to know about working with them and boosting the success of your small hotel.
OTA meaning for hotels
While travellers use OTAs to purchase travel services, small accommodation providers use them to sell travel services. Most commonly, hotels will list their rooms for rent on various OTAs, allowing potential guests to make a booking via the OTA or entice them to head over to the hotel's own website to complete the reservation.
OTAs especially help small hotels reach markets they otherwise couldn't access. This makes them a crucial marketing and distribution channel, particularly for smaller hotels that may not have the presence, reputation or marketing budget that bigger hotels rely on.
How does an OTA work?
An OTA works by responding to users who are looking for accommodation in particular areas. The OTA will display a list of available properties that it connects with, so the traveller can easily research and compare their options.
For instance, a user may be looking for a bed and breakfast in Sydney, Australia. If the OTA is partnered with 50 B&Bs, it will display the available rooms and rates based on the dates the traveller wants to stay and how many guests will be staying.
There are also usually filters that a user can use to narrow down their search if they're looking for particular features or requirements. Of course, price is perhaps the biggest filter of them all but other examples include:
Free parking
Airport shuttle services
Kitchen facilities
A pool or spa
Pet-friendly rooms
A gym
Meeting rooms
Being close to a CBD
When a guest chooses to book a hotel room via the online travel agent, the OTA will process the reservation and take a commission fee from the hotel's revenue. This is because the OTA is contributing the marketing power and making it possible for the hotel to be seen by more travellers than if it wasn't listed on the site.
For the hotel, once a booking is made it's important for the hotel to update its availability on the OTA to ensure the same room can't be booked twice. This can be made much easier and quicker by using a hotel channel manager. A channel manager will automatically update inventory in real-time, allowing a hotel to connect with as many OTAs as it wants at the same time.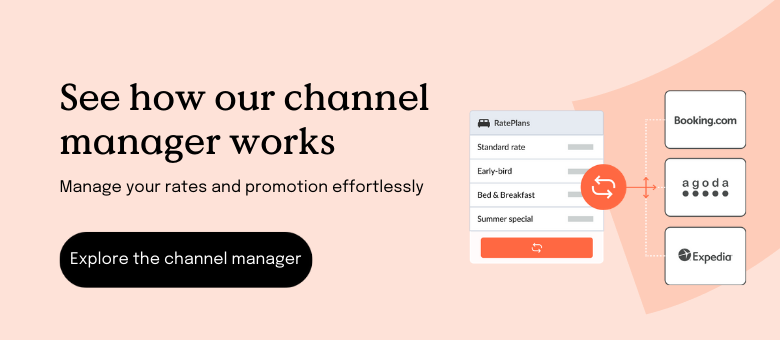 Why is an OTA so important for your hotel?
An online travel agent is a crucial service for modern hotels because they greatly increase their online visibility. The vast majority of travellers are now booking their travel online and OTAs are one of the most dominant booking methods.
Whether your small property is a hotel, bed and breakfast, motel, hostel, guesthouse, or something else you can use an OTA to secure more bookings and boost your revenue.
Without OTAs, you risk:
Being lost in a sea of competitors: Without using an OTA to increase your visibility, it's a very hard slog to stand out from the crowd on places like Google – unless you have the ongoing budget to pay for ads.
Making it harder to market your property: Again, your budget simply cannot compete with the budget of giant OTAs like Booking.com. So trying to beat them on search results isn't going to happen.
Limiting your reach: Each OTA captures the attention of a different traveller segment. For example, China is one of the most powerful outbound market segments in the world, and its travellers use Ctrip almost exclusively to find the latest deals on rooms for their upcoming vacations.
Stunting your growth: Without a steady flow of bookings or an increase in occupancy, you won't have the necessary income to continually improve your business.
Your occupancy and revenue would suffer: For the above two reasons, your property would receive less reservations if you weren't connected to OTAs. Even though they take a cut of your booking revenue, you still end up ahead in the long run by partnering with OTAs.
It's safe to say OTAs are the key to online distribution for your hotel. Not only do they help you reach global markets that you don't normally have access to but they can actually help boost your direct bookings too!
This is due to a phenomenon called 'the billboard effect'. This means that even if guests find you through an OTA, they may decide to visit your website and book directly with you for extra benefits. This is the ideal situation for any small hotelier who wants to avoid paying the booking commission that OTAs charge.
Online travel agency list
There are hundreds of online travel agencies available to travellers, certainly too many to list here. However, there are a few dominant global OTAs you'll want to have on your list when deciding which OTAs would work best at your small hotel:
Booking.com: The global leader of OTAs, this is one of the most popular booking channels around the world and is available in 43 languages and offers more than 28 million accommodation listings. It's user-friendly and hotelier-friendly, with excellent support and no monthly fees.
Expedia: Another popular global platform that's particularly attractive to travellers looking to book packages. The site records more than 90 million visits per month.
Agoda: A fast-growing site that has round-the-clock, multi-lingual support, dedicated market managers and boasts millions of authentic reviews. This is particularly popular in Asian regions.
Lastminute.com: A UK-based site that's – you guessed it – great for those wanting to book a quick trip away with little notice.
Trip.com: Traditionally popular with Chinese travellers, this OTA made it to the top 10 most downloaded OTA apps globally for the first time in the first half of 2022 and continues to expand worldwide with its all-in-one app-first offering.
You can also consider metasearch engines such as Google and Tripadviser which now function in similar ways to OTAs. You may have noticed the likes of Google now display a "book now" button, giving searchers not just a comparison of hotel rates in a given destination but also the opportunity to book a hotel directly from those results.
Local and global online travel agents
There are also instances where an online travel agent may be more popular within one country or region.
While Booking.com operates all around the world, a channel like Trip.com is used heavily by travellers from China. Other niche examples might include a channel like Stayz, which has traditionally been used by Australians to book accommodation within Australia, or FeWo-Direkt in Germany.
For this reason, it's important to know who you want to target and understand which channels they are most likely to use. It can also pay to look out for channels that specialise in certain areas, such as being pet-friendly or catering specifically to honeymooners.
List of top OTAs for small properties
Small properties are often unique and offer a more special experience than a larger chain hotel. There are channels that help travellers find these kinds of properties too.
When running a "home away from home" style of accommodation or something more niche, consider these OTAs:
Mr & Mrs Smith: Offers to help guests "find and book the world's best boutique and luxury hotels."
Airbnb: This widely downloaded app specialises in small and unique properties.
Splendia: Promotes a selection of boutique and luxury hotels based on their "elegance, location and quality of service."
Hip Hotels: All hotels on this site are "unique, characterful and charming, and off the beaten track."
Chic Retreats: Hotels are listed under categories which include pet-friendly, eco and castle hotels!
How to choose the best online travel agent for your hotel
To find the best online travel agent or combination of OTAs to use at your hotel, there are a variety of factors you'll need to consider. These include:
Your ideal guests – Where are they located and which platforms are they more likely to use?
Your star rating – Some online travel agents cater more to luxury properties while others focus on the budget end of the spectrum.
Your location – Which platform is more popular in your part of the world?
Your offering – From packages to all-inclusive promotions, which platform is compatible with your style of offering?
Your goals – How many bookings do you plan to secure through OTAs compared with other channels?
Your budget – Can you afford the platform's fees?
Your management systems – Do you have the tech setup to handle multiple OTAs efficiently?
Understanding your own business offerings and goals is a big first step, but you should also do some solid research into the channels themselves.
Questions your accommodation or vacation rental should ask an OTA
Some things that will help you make a decision include finding out:
Does the channel have the right kind of reach?
Does the OTA in question have a customer base that matches with your idea of the perfect guest? Or do they have access to a market that you simply can't break into on your own? The OTA should be able to describe what demographic and geographic reach they have.
Do they have a good track record?
Your property should also fit into the OTA's overall product/service mix. How many vacation rentals, bed and breakfasts, hostels, and guesthouses do they have as a part of their listings? Ask them what they like about your property, and what experience they have in selling similar types of rooms.
Do they have sufficient resources?
Obviously, the OTA you choose should be established in the markets that you're trying to reach, meaning they have the right resources to service both you and your guests. Find out how large the business is, and what systems they use to keep everything running smoothly. If you have a channel manager, will the OTA be able to integrate with it so that everything is synced automatically?
This should give you a better idea of which booking channels you want to work with, and how many you'll need.
Hotel best practices when working with online travel agencies
There's plenty you can do to help maximise your success once you are working with online travel agencies. Check out the following best practices:
1. Target locations
Are there certain locations you would like to target? It makes sense to target travellers from places that are more likely to visit your destination. Chinese travel is on the rise again post-COVID, for example.
2. Target age groups
Millennial travellers are a great market to invest in, because they are set to outnumber other generations in years to come. Whether they're travelling for business or leisure purposes, millennials are known to be tech-savvy and have high expectations. To cater to them, you will need a mobile-optimised booking engine.
3. Target deal seekers
There are always travellers looking for last-minute deals, special promotions, and packages. If this is something your property wants to take advantage of, look for channels that specialise in the area, such as lastminute.com.
4. Build up reviews
Small properties can't rely on the solid reputation of a big brand name. This is why positive reviews can drive your OTA ranking and bookings. Hotels with no reviews will get less bookings, because travellers want to hear from each other.
5. Update your content
OTAs like to rank complete profiles highly because travellers are more likely to book them, so your small hotel's profile needs to be as complete and up to date as possible. This includes full room descriptions, and plenty of high quality photos.
6. Communicate regularly with your OTAs
OTA market managers are full of expertise and knowledge. Remember that they work with a wide range of hotels and they know what is and isn't working. Your market managers can update you on the hottest trends in your region, make sure you are included in travel packages that target your preferred audiences, and help you with your paid advertising campaigns between your hotel and the OTA.
Use Little Hotelier to take advantage of online travel agents
One of the most important factors when managing your rooms on an OTA platform is ensuring your rates and availability are accurate, up-to-date, and processed efficiently.
The easiest way to do this is with an all-in-one software solution like Little Hotelier.
Little Hotelier has front desk (PMS) technology, a channel manager, booking engine, website builder, and more! By using Little Hotelier you'll be able to:
Sync your rates and availability between your property management system, channel manager, and OTA platforms.
Have your data update automatically in real-time
Cut out manual work and save time, allowing you to connect to a greater number of OTAs
Increase overall bookings, occupancy, and revenue
Boost your chances of capturing direct bookings via the billboard effect
Save countless hours, gain more freedom, and control your business better than ever with Little Hotelier!
By Dean Elphick

Dean is the Senior Content Marketing Specialist of Little Hotelier, the all-in-one software solution purpose-built to make the lives of small accommodation providers easier. Dean has made writing and creating content his passion for the entirety of his professional life, which includes more than six years at Little Hotelier. Through content, Dean aims to provide education, inspiration, assistance, and, ultimately, value for small accommodation businesses looking to improve the way they run their operations (and live their life).
We recommend the following articles for you
Back to top