What is Google Hotel Ads?
Google Hotel Ads (GHA) is a paid tool that allows your property to display your live rates and availability to travellers searching for accommodation via Google, Google Maps, or another Google search function. Using Google Hotel Ads means your property will be shown above organic (unpaid) search results, depending on what terms you bid on. For example, you can bid on 'Sydney hotels' and if someone searches for that term your ad will appear above any hotel that isn't using GHA.
Travellers can then easily compare their options, looking at features and pricing to help them decide which accommodation to book.While you may have dabbled in paid advertising before, this tool may be something you haven't tried yet. So what exactly is it and how does it work? This blog will tell you everything you need to know about Google Hotel Ads.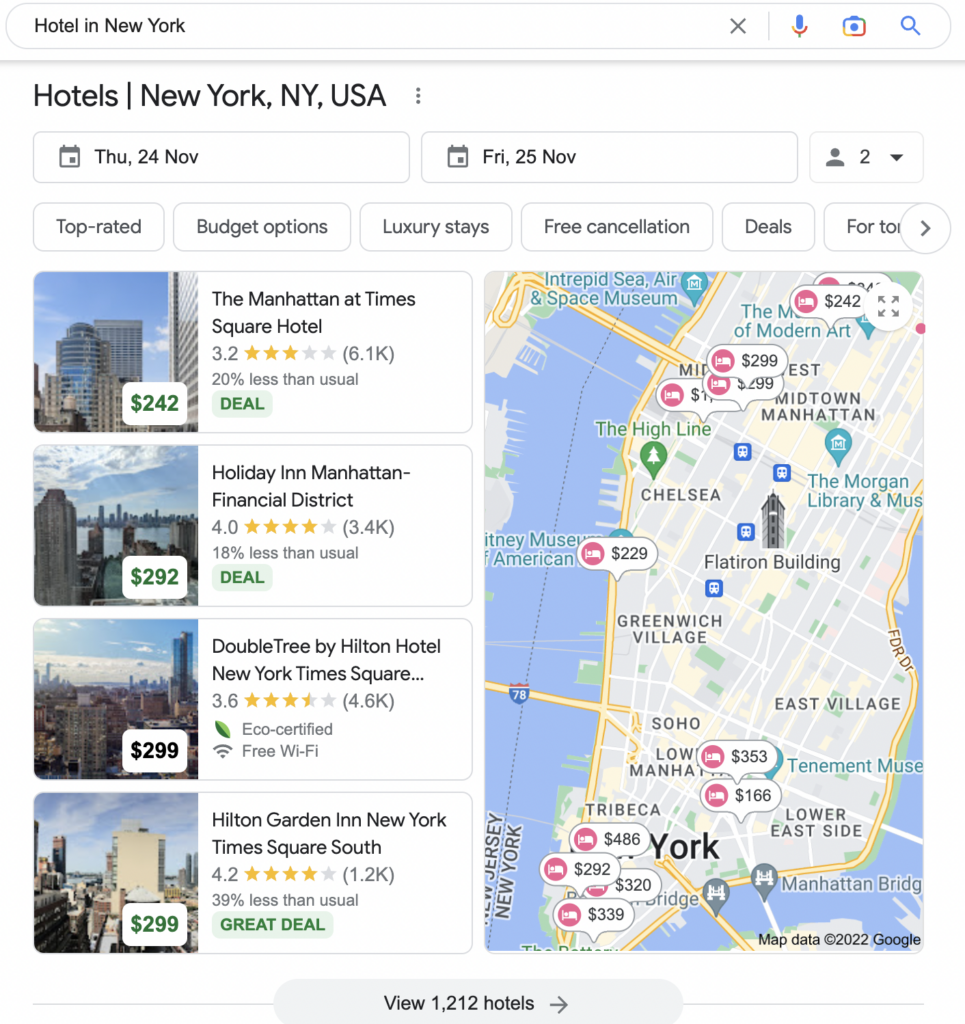 Why should you use Google Hotel Ads?
Google has always been a powerful tool for accommodation providers to make travellers aware of their business and win bookings from all over the world. A good search engine optimisation and content strategy is a great start to ensure your website receives plenty of regular visitors and conversions.
However, Google Hotel Ads is a way for your property to stand out amongst the crowd, gain an edge over your closest competitors, and ensure travellers aren't missing your offers. It's a great way to boost your visibility to active travellers, show guests what you have to offer, and increase your ability to upsell.
It's also a way to get extra bookings without having to rely on online travel agencies such as Booking.com or Expedia. Instead you can link your online booking engine with Google via a certified connectivity partner such as Little Hotelier and gain valuable direct bookings that allow you own and influence the guest relationship from reservation to check-out.
What is the difference between Google Hotel Ads and Google Ads?
Google Hotel Ads and Google Ads are both advertising platforms offered by Google, but they serve different purposes and are used in different ways.
Google Ads, formerly known as Google AdWords, is a broad advertising platform that enables businesses to create ads that appear on Google's search engine and other Google properties. The platform supports various ad formats, including search, display, video, shopping, and more. Google Ads can work on a pay-per-click (PPC) model, meaning you pay each time a user clicks on your ad.
On the other hand, Google Hotel Ads is a more specific platform designed explicitly for hotels and other accommodation providers. These ads appear in the hotel search results across Google Maps, Google Search, and Google Assistant. When a user searches for hotels in a particular area, your ad could show up, complete with information like prices, availability, ratings, and photos. Unlike Google Ads, Google Hotel Ads has the option of using a commission model, meaning you only pay when a user books a room through the ad.
In essence, while Google Ads is a versatile tool that can benefit a wide range of businesses, Google Hotel Ads is a more focused platform designed specifically to help hotels increase their bookings and visibility amongst travellers. Both platforms offer different strengths depending on your hotel's needs and goals.
How does Google Hotel Ads work?
When a traveller searches for a term or phrase you are paying to target, results for your property may show up in:
The hotel search box that appears near the top of the screen
The knowledge panel on the right of the screen (if they're using desktop)
Google Maps results
Google My Business pages
Guests can then select your hotel and book it right there and then via your connected booking engine, where they can also choose their extras or upgrades.
How much does Google Hotel Ads cost for a small accommodation provider?
How much you pay for Google Hotel Ads will depend on the way you set your campaign parameters and the respective bid values of the terms you are bidding on. Some keywords and phrases will be more competitive than others, and some ad models will make more sense than others, depending on your property's size, location, and the local market.
Generally, hotels using Google Hotel Ads will pay on a cost-per-click basis – meaning you only pay when someone clicks on your link and is taken to your booking engine.
The Google Hotel Ads price for each click can be fixed by you according to your budget, by percentage according to room price, or by other factors and data collected by Google such as device type and time of day.
Google Hotel Ads commission fee
Some other Google Hotel Ads payment models include commissions such as: 
Commissions (per stay): A percentage of the room booking value is paid only for completed stays.
Commissions (per conversion): A fixed percentage of room booking value is paid for every booking generated through the ad, including cancellations.
The average conversion rate for Google Hotel Ads is 3.55%, but it can vary widely depending on factors such as seasonality or the particular market and its popularity.
How to set up Google Hotel Ads for your small property?
You'll first need to ensure your business has a profile on Google – which is free to claim and set up. This includes all the key property information guests need to know about such as your brand name, contact details, and location.
Make sure all your information and links are correct, and that you have activated Google's free 'All Options' service so you can start earning bookings and revenue even without spending on ads.
The next question is…
What are the best ways to optimise Google Hotel Ads campaign?
Creating a Google Ads for hotel campaign is just the beginning! Optimisation – ensuring that your ads start and stay relevant and appealing to the right audience – can greatly increase visibility, click-through rates, and ultimately, direct bookings for your hotel. Here are some strategies to consider:
Keep your information up to date: Ensure your listing has complete and accurate information about your hotel, including high-quality photos, amenities, and a compelling description. The more information a traveller has about your property, the more likely they are to book.
Stay competitive on pricing: Travellers often use Google Hotel Ads to compare prices, so it's crucial to offer competitive rates. Implement a solid revenue management strategy that takes into account factors like demand, competition, and time of year. If you use Little Hotelier, keep on top of your competition's pricing with the competitor insights report.
Switch up your bidding strategy: Google Hotel Ads bidding strategy can be complex. Bidding higher can increase your chances of showing up but it isn't the only way to win. Google uses a pay-per-click model, meaning you only pay when a user clicks on your ad. Consider using a commission (per stay) model if you're looking to attract longer stays.
Promote what works and cut what doesn't: Pay attention to the metrics Google provides, such as click-through rates and conversion rates. These can give you insights into how your ads are performing and where there is room for improvement.
Encourage and respond to guest reviews: Reviews can impact your Google ranking organically and they appear next to your ads as well, so encourage guests to leave reviews after their stay. Responding to reviews, both positive and negative, shows that you value guest feedback and can improve your hotel's reputation.
Optimise your destination URL for mobile: More and more travellers are using their mobile devices to book hotels. Ensure your website and booking process are mobile-friendly to provide a seamless experience for these users.
Use a booking engine integrated with Google: If your booking engine is integrated with Google, real-time rates and availability can be shown directly in your Google Hotel Ads. Little Hotelier has this capability, and we've seen it work wonders for the volume of direct bookings for our users.
How to measure the success of your Google Hotel Ads campaign?
Measuring the success of your Google Hotel Ads campaign is critical to understanding your return on investment (ROI) and making data-driven decisions. Here are key metrics and methods to consider and keep track of:
Click-through rate (CTR): This is the percentage of users who click on your ad after seeing it. A higher CTR generally indicates that your ad is relevant and compelling to viewers.
Conversion Rate: This measures the percentage of users who clicked on your ad and then completed a booking. A high conversion rate can indicate that your website or booking platform is user-friendly and effectively encourages bookings.
Cost per click (CPC): This measures how much you pay each time someone clicks on your ad. A lower CPC means you are getting more value for your advertising spend.
Return on ad spend (ROAS): This is a calculation of the revenue generated for every dollar spent on advertising. It's a direct measure of the effectiveness of your campaign in terms of revenue.
Impressions: This is the number of times your ad was shown. More impressions mean greater visibility, but this should be considered alongside other metrics like CTR and conversion rate to assess overall effectiveness.
Booking value: Consider the value of the bookings generated through your Google Hotel Ads campaign. This can help you determine whether your advertising efforts are attracting the right kind of guests (e.g., those who book longer stays or spend more on ancillary services).
Google provides some specific additional metrics in their specialised reports that are worth knowing about, such as:
Price bucket: This describes how competitive your room rate was in terms of who had the lowest price and how close you were to it.
Average lead value: This is the average cost of the stay (including taxes and fees), based on impressions resulting in clicks.
Hotel price difference percentage: this is the difference between your average daily price and the average cheapest daily price of your competitors.
Click share: This is the number of clicks you've received on the Search Network divided by the estimated maximum number of clicks that you could've received. It's basically how much you're getting out of your spend and how much more you could get if you increased it.
How to increase bookings with Google Hotel Ads
For effective revenue generation and conversion optimisation without breaking the bank, consider these Google Hotel Ads best practices:
Test: Take your own Google Ads for a spin and keep an eye on your competitors using the Google Ad Preview Tool. This tool allows you to input any search term and location, giving you a view of what your potential guests see.
Automate: You can automate changes to your ad status, budget, bids, and more based on predefined conditions or settings. For instance, you may want to automatically increase your keyword bid to a set limit whenever your ad drops off the first page of results.
Build loyalty: When the price difference across channels isn't significant, travellers often stick with their preferred options. Many understand that direct bookings with a hotel can come with added perks. Make sure you're one of the places that provides those perks!
Master your content: This involves not just your ad listing, but also what guests see on your website, including blogs and current events. Ensure your content is always up-to-date to avoid promoting outdated events, showing your guests that you're open for business.
Concentrate on key dates: Depending on your budget, you may want to focus your advertising spend on crucial dates, such as the slow season when you want to pump some life into your business, or during popular sports seasons to bring in fans looking for accommodation.
Stay aware of your fluctuating costs: The ongoing effects of inflation and global labour shortages continue to affect hotels and their daily operational costs. Regularly updating your knowledge of these changes can help you adjust your campaign management budget accordingly.
Does your business need a Google Hotel Ads integration partner?
Yes, you need to ensure that you are partnered with a certified Google Hotel Ads connectivity partner so you can integrate your rates and availability in real-time with a channel manager, and take direct bookings with an online booking engine.
Using channel manager software in particular allows you to manage your inventory on all channels, including Google Hotel Ads, at the same time. The software will ensure your rates and availability are always accurate and up-to-date on every channel you connect to, reducing the risk of double bookings and saving you large amounts of time and manual work.
Google Hotel Ads partners
Once you have your rates connected, you can explore the wonderful world of Google Hotel Ads and the experimentation that comes with trying to optimise your expenditure and conversion rates. You'll also get additional reporting capabilities and maintain control of your business – since you won't be relying on OTAs to deliver bookings or manage the customer relationship.
If it all sounds too complicated, Google also has trusted ads partners that will manage your account and campaigns for you – automating the bidding process and bringing in a regular stream of bookings and revenue. If you use an ads partner, a small commission fee will apply, however you will save a lot of time and effort, and see better results for the investment.
Use the power of Google's Hotel Ads along with Little Hotelier's booking engine
With Little Hotelier, managing and maximising your direct bookings through Google Hotel Ads is easy, offering a user-friendly interface and a suite of powerful features designed for small hotels.
Seamless integration. Little Hotelier has Google Hotel Ads management built into its DNA. This potent combination allows you to cast a wider net, expanding your reach to potential guests who are actively searching for accommodation options on Google. It's not just about reaching more people; it's about reaching the right people at the right time.
Smooth booking experience. When you use Little Hotelier's booking engine, you're offering the guests who click on your ads a smooth and straightforward booking experience. This reduces the chances of potential guests abandoning their bookings midway, helping to drive conversion rates and boost your revenue.
Powerful analytics. Little Hotelier provides you with robust analytics tools, giving you invaluable insights into your guests' behaviour, booking trends, and more. This data allows you to tailor your offerings more effectively, optimise your Google Hotel Ads campaign, and ultimately increase your return on investment.
So why wait? Harness the power of Google's Hotel Ads and Little Hotelier's booking engine today. Propel your small hotel's visibility, increase direct bookings, and start providing a truly exceptional booking experience for your guests. Join Little Hotelier now, and let us help you take your hotel business to new heights!
By Dean Elphick

Dean is the Senior Content Marketing Specialist of Little Hotelier, the all-in-one software solution purpose-built to make the lives of small accommodation providers easier. Dean has made writing and creating content his passion for the entirety of his professional life, which includes more than six years at Little Hotelier. Through content, Dean aims to provide education, inspiration, assistance, and, ultimately, value for small accommodation businesses looking to improve the way they run their operations (and live their life).
We recommend the following articles for you
Back to top