Working things out as you go might be okay when you're putting together flat-pack furniture or starting a new hobby, but a business is an entirely different matter.
Whether you've been running your small hotel business for a while or you're yet to get your boutique hotel off the ground, creating a hotel business plan is always a good idea. A plan gives your business a solid foundation and can be used as a roadmap for profitability and success in the years ahead.
In this blog we'll run through why it's so important to have a plan in place, what you need to include in your plan and how to get started.
Why do you need a hotel business plan?
Having a business plan in place is a no-brainer. There are many reasons to set aside a little time and get started on a plan.
It can help you:
Work out whether you even want to go ahead with your idea
Decide what you need to push forward with your hotel business
Persuade business partners to work with you
Gain confidence and prove to yourself that your business is feasible
Get more control over your business and prioritise the recipes for success
Evaluate whether you're where you want to be at different points down the track
Most of all, a business plan will help you make better decisions as you grow your business. Research shows that having a business plan could help your business grow 30% faster and protect against business failure.
Starting your hotel business plan
The main message here is to simply make a start. Don't just read this blog, agree a plan is a great idea, and vaguely consider writing it at some stage.
Take the first step now. You can even start jotting down points as you read through the information here.
The executive summary and overview
The executive summary and overview are at the start of a business plan but are often easier to write towards the end of the process.
This section is short and sweet; generally only one or two pages. It's often the only part people read, so give it the attention it deserves.
Get to the point quickly, setting out:
Your vision
For Disney it was to "make people happy" while for Instagram it was to "capture and share the world's moments." What's your aspirational, big-picture vision for your small business?
Your mission
This describes, in a sentence or paragraph, the very reason your property exists today: what guests does it cater to and how does it satisfy guest expectations?
Your goals
Describe here your main business objectives and when you are hoping to achieve them. Make them measurable, such as achieving a 90% occupancy rate and 25% increase in website leads within two years.
Here, you also have the opportunity to capture your brand identity, the colours, logo, font and design that communicate what your business is all about.
Remember, this is the most important part of your plan. Once you've written it, ask yourself these two questions:
Does it capture your excitement and enthusiasm?
Is it persuasive and engaging?
If not, put in a little extra work. You really want to capture your idea here and create something that will help you with the big (and little) decisions going forward.
Sign up to stay ahead of change.
Analysing the hotel industry, the market and your competition
Take a broad look at the industry, gain a clear understanding of the market and your competition and set out why customers will come to your hotel rather than another one down the road.
Start with an industry analysis
Your hotel business is part of the broader hospitality and tourism industries. Do a little research on the issues and trends affecting these sectors? How are things like technology, the economy, politics, environmental issues and global health issues impacting hotels – particularly those that are similar to yours? Are there any red flags?
Next, hone in on your competitors
Who are your competitors? Focus especially on your direct, local competitors. What are they doing right, and wrong?
You also need to build a clear picture of your ideal guests. Who are the people your hotel caters to? Will it be families from the city with younger children who need a break? Or cashed-up couples looking for a cosy retreat? Try to include as much information as possible, from education levels to personality, lifestyle and purchasing habits.
This competitor and guest deep dive leads you straight into one of the most important questions your business plan should answer. What is your unique selling point (USP)? That is, what makes you different from your competitors? Why would that point of difference sway guests to choose you over your competition? What really makes your accommodation stand out from the crowd?
Your hotel's services and amenities
This section of your plan narrows the focus and puts your hotel in the spotlight. It's a summary of the key services and amenities that will be offered, and builds a detailed picture of what it might be like to stay at your hotel.
When building this list, think about including:
Your hotel's location (In the tropics? A pool might be top of the list.)
Your ideal guests' dietary needs (Catering to a fit bunch? A healthy breakfast menu might be a must.)
Your ideal guests' views on sustainability (Can you incorporate sustainability into your policies?)
Your ideal guests' budget (Will they be more likely to book if you have a clear and generous cancellation and refund policy?)
Your ideal guests' social media activity (Will an "Insta" booth at check-in excite your guests and fit in with your social media marketing strategy?)
Your hotel's physical scope and characteristics (Is there a huge room you could offer out as a conference venue to create an additional income stream?)
Business operations, management and marketing
Outlining how your hotel will function and make money from day to day is another important consideration. It should cover these four key areas:
Operations
The area of operations is about having the right people and putting in place the right processes.
Create a list of key tasks and responsibilities and work out whether you'll need to outsource anything. Will you need to employ or contract someone to help? Will you need to train yourself up in an area so you can cover some of the responsibilities?
What policies and manuals will you need to create? How will you set up processes around managing people, suppliers, service standards and inventory?
Marketing
Your marketing strategy is a plan to help you reach the right people at the right time with the right message. Think carefully about these three things: who you're trying to reach, when you should be reaching them and the message that you're trying to put in front of those people.
To get the word out, some options to consider are:
Advertising with traditional and digital channels
Creating a loyalty program
Content marketing
Social media
Email marketing
Online reviews
Search engine optimisation (SEO).
To create the most effective marketing strategy, also take a look at what your competitors are doing and lean into digital marketing , which can be a fast, effective and affordable way to grow your business.
Distribution
Your distribution strategy outlines how you will sell and manage your rooms, whether that's through your own website, third party websites, or through a traditional travel agent.
You need to decide how to best sell your rooms, from both a financial and operational view. Remember, hiccups like double bookings can cause ripples that impact your guests' experience and your business. Consider a channel manager as part of your distribution plan to streamline things and avoid those pesky hiccups.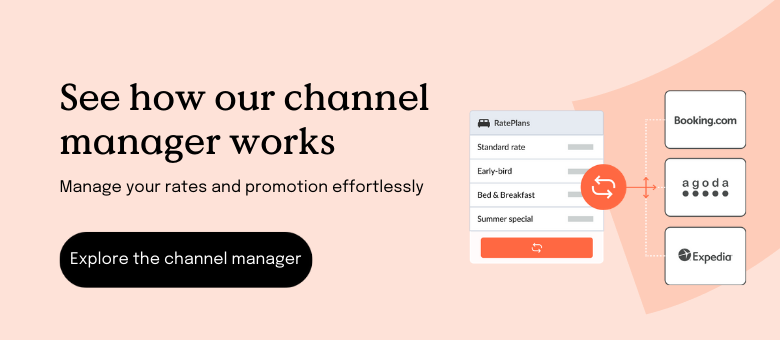 Revenue and pricing
At the end of the day your business needs to be profitable (or at least break even!) to exist, so you need to aim to keep your business in the green.
Put some thought into the types of rooms you have to sell and setting your price points. Also cover things like offers and discounts, cancellation and refund policies, payment options and rate parity.
Keys to your hotel's financial business plan
Here, you'll need to dig into the specifics of how much money you'll need to set up the business (capital investment), how you'll keep it running at a profit, and your projected return on investment (ROI).
Topics to cover include:
Your chosen business structure (partnership or company, for example?)
Your business model
Start-up and ongoing costs and budgets
Managing the books, accounting and tax
Necessary insurance and permits
Critical suppliers and partnerships.
These areas can be complex, so consider getting a professional on board when putting together this part of your plan.
Next steps to put your plan into action
Remember, the first step in turning your business dreams into reality is putting it in writing – in the form of a business plan.
If you're feeling overwhelmed, take it section by section and start with the part you find easiest to tackle first.
Once your plan is complete, use it to:
Create an action plan: a list of specific goals and tasks that need to be achieved and completed to get your idea off the ground
Prioritise the things on your action plan and set clear timeframes
Bring on board any people you need to take responsibility for things on your action plan.
Keep in mind that as your business idea develops, or your business continues to grow, you may need to tweak and update your business plan. It's even useful to review the plan at set intervals of say six months or a year, so you can get an idea of who you're tracking and look at your goals. Are they still goals that you are working towards? Or do you need to change them to better reflect where you'd like to be?
Another thing to keep in mind as you prepare your plan and put it into action is the power of hotel technology, which can truly transform your business, make day-to-day operations easier and boost revenue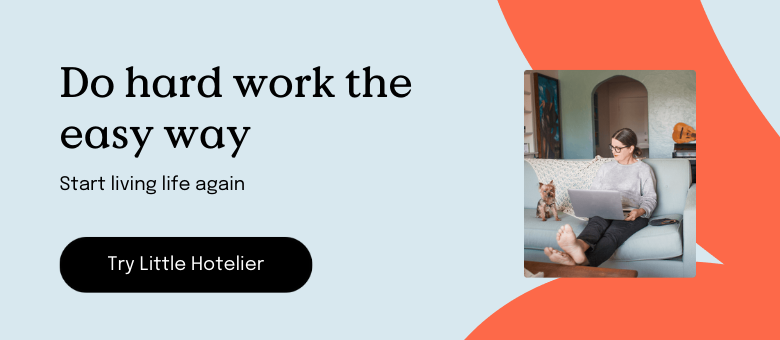 Share with your community:
We recommend the following articles for you
Back to top