What is a Hotel PMS?
A hotel PMS (property management system) is software that manages and automates many of the administrative tasks that front desk or office staff are responsible for. To increase front desk efficiency and improve the guest experience at your property, it's essential to have a hotel PMS in place.
Think of a hotel PMS as the heart of your property. It stores all of the guest information, it manages check-in and check-out details, and provides you with an opportunity to input special requests or extenuating circumstances. It also records data, manages bookkeeping and allows you to generate reports about your property's performance.
It will allow you to carry out all the day-to-day operations of your property in one place, such as:
Process reservations (online and POS)
Guest check-ins and check-outs
Guest booking details
Track your inventory and rates
Handle front office accounting
Manage maintenance and housekeeping
Manage guest communications
In this full guide, we'll start with the basics of what this technology is, delve into how your property can benefit from it, as well as cover more complex aspects like features, functionalities and add-ons.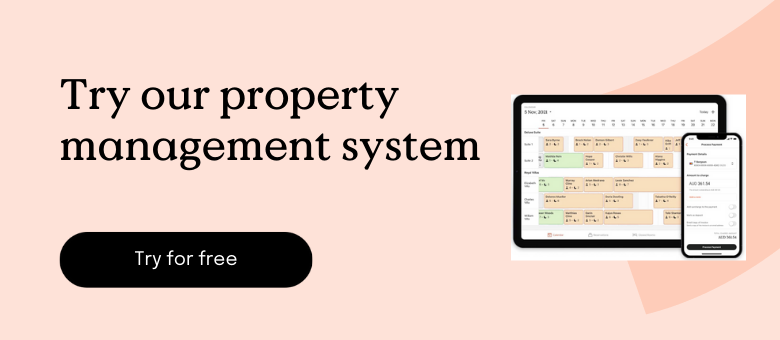 Hotel PMS vs hotel front desk software
Front desk software, or a front desk system, is simply another name for a hotel PMS!
At its core, hotel property management software gives you the technology you need to efficiently manage front desk tasks, which is where it gets its alternate name. Basically, everything you do at the front desk, you can do with a PMS.
That said, every front desk and PMS tool is not the same. A hotel property management solution is so named because it is designed to manage every aspect of your hotel. This means that if a tool is self-described as 'front desk' not 'PMS', it could be a sign that it lacks certain features when compared to a PMS.
Let's look at some other PMS pseudonyms, so as to prevent any confusion:
Each of these terms generally refers to a hotel PMS, though if a specific tool is calling itself 'B&B software' or 'hostel software', it could be that it is designed exclusively for that type of accommodation, in which case it may not be appropriate for other providers.
When shopping for this software, it's important to check what it is capable of and the type of user that it's aimed at.
What is an all-in-one hotel PMS?
An all-in-one solution refers to a PMS with all the added extras thrown in to form one complete property management solution. That's right, a PMS isn't the only technology you need to know about… there are two other important ones:
Booking engine – A booking engine is a software application used to secure online bookings on your direct channels (website social media pages, and metasearch). There has been such an increase in accommodation being booked online that even the smallest of hotels can no longer ignore the need of an online booking engine. If you're currently looking for a hotel booking engine, download our interactive buyer's guide–it's a workbook containing everything you need to make the right selection for your small hotel.
Channel manager – A channel manager is a distribution tool that allows you to easily manage the different booking sites (called online travel agents, or OTAs) that your property sells through. It uses a "pooled inventory model" to update your rooms, rates and availability across multiple OTAs, all at the same time. This means that no matter where a booking is made – be it direct on your website, through a third party booking site, or at your point of sale – inventory is always up to date and you are never overbooked.
Front desk systems, booking engines and channel managers are the three most common types of technology being used by modern accommodation providers, but small property owners like you don't need the added hassle of using separate systems for each. That's where an all-in-one system comes in.
Advantages of using a small hotel PMS
A small hotel PMS provider with a true "all-in-one" functionality will offer their own booking engine and channel manager and bundle them together for you. These three entities will automatically synchronise with one another and provide any staff member with a view of the live availability and rates of the property.
There are other benefits too. An all-in-one solution usually means a more reasonable price point. Plus, since there is only one service provider to deal with, you spend far less time on the phone or submitting online help requests with customer support, and more time giving your guests attention.
While having all systems from the one provider is ideal, it should be said that integrations are commonplace in the hotel tech industry. So, if you already have a booking engine or channel manager, and are happy with these, but are looking for a new PMS, then check that the prospective provider can integrate with your existing technology.

5 signs you need hotel PMS software
Small accommodation providers are often on a tight budget, and it may be tempting to avoid investing in a PMS. On paper, it might seem like you can save money by managing your own bookings on an Excel spreadsheet, but in actuality, this could be costing your business in the long-term.
If the five signs below resonate with you, it's probably time for an upgrade.
1. Bookings are difficult and tedious – for both you and your guests
You know the feeling. You constantly check your phone to see if you have any new voice messages and emails. You're afraid to leave your front desk in case a guest calls. You're trying to play phone and email tag just to lock in that booking and secure your customer's credit card details.
If your guests have to contact you directly – either by phone or email – in order to complete their reservation, the process will become frustrating for both parties. You will feel tied to your desk and your phone, and potential bookers might simply give up trying if they can't finalise their reservations quickly enough.
With a PMS, the booking process is automated and online reservations can be accepted. An online booking system will let guests select their dates and display your availability and rates in an easy-to-read interface.
2. Room inventory can be difficult to manage
In most cases, you will be promoting your bed and breakfast on multiple channels, and guests will be contacting you in a variety of different ways.
Without a PMS, the risk of overbooking your rooms is quite high. This is one of the most frustrating experiences for a traveller, and it can damage your reputation in the industry.
A PMS will manage your inventory for you, and automatically update your availability across all of your distribution channels.
3. Managing your time is no picnic
It's high season, and you've booked a family lunch in your function room. As the owner and operator of the property, you're busy making sure your guests are happy. But because you can't close rooms for arrival or departure, one of your guests needs to be checked out – and you're scrambling to service everyone at once.
In your frenzy, you miss items your guests used from the mini bar (they've actually left your hotel without paying for it). You also look under-resourced and unprofessional, because both your guests checking out and your special function room guests didn't get the level of service they needed.
A PMS will allow you to manage your time efficiently because you can close rooms for departure and arrival, as well as print out check-in and check-out schedules. You will know exactly how you need to spend your precious time, all while making sure your guests have the best experience possible.
4. Communicating with your guests takes way too much effort
Today's travellers expect automatic confirmation emails, text message updates and feedback requests.
First of all, you're not sure where to look to find your guests' details. All of your dealings with your guests – from payment to contact and booking details – are stored in multiple places. You have to jump from one program to another to find what you're looking for, which takes a significant amount of time.
Secondly, it's hard to stay engaged with each and every guest, and make sure all their questions are answered. You know that there are certain emails that each guest should receive – for example, booking confirmation, reminder before their stay, tips during their stay, and a feedback request following their stay.
At best, you are stuck creating templates in Word documents, relying on your own memory to send individual emails at the right times. With a PMS, you get immediate access to all the guest information you need, and you can make your guest emails an automatic, standardised process, so every guest gets the same, great experience.
5. You can't visualise what works and doesn't work for your business
At the end of each month, you're not sure exactly what is and isn't working. After all, you can't manage what you can't measure!
A PMS gives you a complete overview of the daily running and performance of your property. Instantly view guest payment details, easily generate monthly performance reports, or select a view of outstanding payments in one simple click. More on reports later.
Features to look for in a hotel PMS
Some property management systems are built for the hospitality industry in general, some are not built for the hospitality industry at all, and some are built for the hotel and accommodation industry in particular. This is why your research is so important because sometimes it can be hard to distinguish between them until you're using a product that doesn't feel quite right for your business. Make sure that you choose a vendor that is designed to service hotels and B&Bs specifically.
Another consideration is that some property management systems encompass a suite of products – such as Little Hotelier – while others only include a front desk system. Others still will label themselves property management systems but only include a few key features. For example, a vendor may say they are a property management system, but their main features may revolve around something like accounting services and they won't have a housekeeping feature.
Your priorities and business goals have to match what is being offered by a system provider if you're going to be happy paying for a product long term.
Look for these top six features when making your selection.
1. Front desk management
Your PMS should give you all the tools you need to be totally organised in running your small property. To give your guests the best service from the moment they arrive to the moment they leave, you should be able to easily:
View all of your reservations on a calendar page
Add additional rooms and extra sale items to a booking
Add new rate-plans to existing rooms
Close out specific rooms for a spring clean
Move existing bookings around
Produce invoices
Check guests in and out
Remember your returning guests
You should have just one place to find all the information you need, and it should take you much less time to complete the same tasks.
2. Cloud-based software
Wherever you are, whichever device you are using, you need to be able to access your system. This means it should be cloud-based. That way, you can go about your day and still keep an eye on your reservations. All you need to do is bring your smartphone or tablet with you.
3. Upsell and cross-sell tools
In addition to working on getting more guests, you should also work on increasing revenue from each guest.
A property management system should allow you to:
Package extras like late check-out, breakfast, and spa packages
Customise extras to suit each product
Add extra sale items to reservations during your guests' stay
Upselling relevant products and services to your guests can give them a more pleasant stay while adding to your bottom line.
4. Guest communication functionality
A PMS must make it easy for you to communicate with your guests in a structured way, and this includes:
Booking confirmation: This is the automatic email that is sent immediately after your guest enters their details to make a booking.
Pre-arrival information: Now that their stay is nearing, the purpose of this email is to make sure everything runs smoothly, get them excited about their stay with you, and drive incremental revenue.
Post-stay thank you: This is your chance to ask for feedback, and also encourage repeat bookings and referrals by sending promotional codes.
Make sure emails can be customised to match your branding. This way, each guest gets a consistent experience, and you can automatically send them promo codes to turn them into loyal guests.
5. Sales channel management
The PMS you choose should also serve as your channel manager. This means that travellers booking hotels through OTAs see your availability as it is updated in close to real-time, because your PMS distributes all of your available rooms across a number of booking sites.
The channel manager element should:
Allow for live rate and availability updates
Allow you to manage all your booking sites from one place
Allow you to upload your inventory 400 days in advance
Allow you to easily see an overview of how your channels are tracking
Because your inventory is automatically reduced across all sites when a booking is made from any site, there's no manual work involved, and you maximise your revenue. This method of distribution is called the "pooled inventory model".
You also want to make sure that a prospective provider doesn't charge you to sync up a new channel. A channel manager shouldn't interfere in your relationships, but simply facilitate the connection.
7. International booking capabilities
Making sure international travellers can easily book with you is a top priority for small hotels. Your PMS system should help you do this by:
Allowing you to partner with international OTAs. For example, to sell your rooms to Chinese travellers, you should connect with Ctrip, because it is the preferred booking site in China. The more sites it connects you to, the better. For example, Little Hotelier connects with hundreds of different booking sites.
Providing multi-language and currency options. It should support at least 5 languages (including Chinese), and at least 80 different currencies.
Of course, the fact that international travellers can go to your website and book themselves means that you don't need to be at your desk to accept bookings.
Hotel PMS software reporting capabilities
Reports are also an essential feature to look for in a PMS, but they require their own deep-dive.
Property management systems provide a wide variety of reporting tools that you can use to learn more about your business. These reporting tools can be a great asset to your business, as long as you use them and subsequently utilise the data that is generated.
The most powerful reports that you have at your disposal include financial reports that highlight your profits on a daily, weekly, monthly or yearly basis, or housekeeping reports which provide you with information on how long it takes to clean rooms, the turnover time and the number of rooms that are cleaned within a specific time period.
For any given time period, you should also be able to draw reports around:
Check-ins and check-outs
Cancellations
Average unoccupied rooms
Payment methods
Revenue per available room
Average occupancy
Average length of stay
Revenue per channel
There are, however, three essential reports. Make sure you look for a PMS that provides the following:
1. Transactions report
An analysis of your daily transactions allows you to gain further insight into what works – for example, you may notice a pattern in high and low days, as well as which payment methods are most popular for your small hotel.
How much detail can you see when it comes to your payments and reservations?
For any time period you select, you should be able to see:
Payment method (cash, type of credit card, etc.)
Number of check-ins
Number of check-outs
Number of cancellations
Number of pending check-ins
Number of pending check-outs
Average unoccupied rooms
2. Statistics report
Small accommodation providers need to be able to track certain metrics that give them an overview of how well their business is doing.
This includes:
Total closed, occupied, and unoccupied room nights?
Average occupancy, length of stay, lead time, revenue per booking, and daily rate?
Revenue per available room?
Cancelled reservations?
Measuring and tracking these statistics over time is crucial to be able to know whether you're improving or not.
3. Booking channels report
It goes without saying that in order to manage your revenue successfully, you need to be able to see all your revenue streams – from the online booking websites where you advertise your property, to your marketing and sales efforts.
To know what is and isn't working, you need to create a report of:
Booking channels – number of reservations, and total revenue
Direct reservations – number of reservations, and total revenue
Extranet reservations (manually entered) – number of reservations, and total revenue
Without this visibility, you won't be able to make pricing decisions that are based on one of the most fundamental principles of economics: supply and demand.
A modern PMS will display your data visually and allow you to print it out. You can spend more time making sense of the data and deciding what to do with it, instead of painstakingly manipulating it in Excel documents.
Benefits of hotel PMS software
A front desk system will minimise the amount of time you and your staff have to spend on administrative tasks, which means you can put that time into more important things like tending to guests. Here are the top seven benefits of using a hotel PMS for managing you small property:
1. It will increase your efficiency
With a property management system in place, you can automate the majority of your administrative tasks. You can schedule automatic emails to improve communication with your guests and also accept online bookings directly from your guests via your website and social channels. You can even give guests the opportunity to check in from their mobile devices prior to their arrival.
All of these automated functions prevent you from spending an endless amount of time replying to emails, confirming bookings and managing tasks in your back office.
2. It reduces the risk of clerical errors
Without technology like a front desk system or channel manager in place, there is a high risk of human error that can lead to missed reservations and double-booked rooms. Not only is this an administrative nightmare, but it's also a huge customer service issue that can lead to frustrated guests who are unhappy with their experience.
3. It will boost your bookings
When your property management system has online booking capability as well as a channel manager, you will see a significant increase in your total bookings. When you invest in the right B&B technology for your property, you should enjoy returns that allow you to grow your business and continue improving the experience for your guests.
4. It will improve your ability to manage revenue
In addition to accepting bookings and automating communications, your all-in-one B&B business solution will collect data about your guests and compile it into useful, easy-to-digest reports.
These reporting tools allow you to evaluate your business at a glance, and give you insight into the ways that you can and should improve your business.
With valuable, accurate data available at any given moment, you can easily adjust your room rates based on seasonal demands and local competition to generate as much revenue per booking as possible.
5. It will allow you to update your website quickly and easily
You should not be forced to hire a web designer to create a website for you. This is an expensive, lengthy process and often leaves you with a fancy website that you cannot update on your own.
An all-in-one B&B business solution will also include a website builder that allows you to create a customised website that will increase your visibility online and boost your bookings. Best of all, you'll be able to update it whenever and wherever you want to.
6. It will help you deliver a better guest experience
The way that a high quality PMS streamlines your operations and gives you greater control over your property means that you can spend more time enhancing the guest experience. Little Hotelier, for example, can save you up to 35 minutes per booking – time you can spend on treating your guests.
And if your PMS features a guest engagement feature like GuestJoy, you can use it to nurture the sort of guest relationships that create loyal return customers, even brand ambassadors who tell their friends about your establishment.
7. It will give you the power to operate your property remotely
The best property management tools allow you to escape the office within your B&B. You should be able to access your all-in-one business solution from any mobile device that you prefer.
With remote access, you can spend less time at your desk and more time interacting with the guests who are staying at your property.
In fact, you might even be able to sneak away for a vacation of your own!
Outcomes you can expect from a hotel PMS system
Here are the seven big life changes you'll experience when you find the perfect business tool to run your small property.
1. You don't need to confirm bookings anymore
Let's face it – the simple act of making a reservation requires you to play a significant amount of phone and email tag to lock the booking in.
With an all-in-one PMS system, it takes exactly zero minutes for you to confirm a booking, because your system does that for you, even while you sleep! You wake up to a whole bunch of new bookings because your customers self-serve through your website when it's convenient for them.
2. You don't need to process payments anymore
Money is always a touchy subject, so you need to be extremely professional in this area. Your customers will expect an easy way to pay you, and an instant receipt confirming their booking. The experience should not be a clunky process.
Your booking engine should seamlessly allow customers to enter their payment details so that they can self-serve.
3. You don't need to answer frequently asked questions
At the beginning of their experience with you, your customer needs to be well-informed. They won't make a booking without a clear idea of what it is you're offering.
An all-in-one PMS will let you give them all the information they need to make a decision:
A clear description of their room and the amenities
Photos and videos
Testimonials
Availability
Map
Bonus points for a separate FAQs page with all the typical inquiries you get over the phone.
4. You save a lot of time on guest communications
Once a booking is made, you still need to communicate with your guests properly. Otherwise they will wonder if you have forgotten about them – or they may even forget about you!
An all-in-one PMS system will allow you to automate reminder emails, which tell them what to bring, and follow-up emails, which ask for feedback. This gives you a way to get glowing online reviews!
You should also consider sending promotional emails to get them to come back or refer a friend. You can set up promotional codes very easily in all-in-one PMSs.
5. You can eliminate risks
Often staff can waste a lot of time just trying to figure out what room needs to be cleaned at any given time, and any mistakes are disastrous for guest satisfaction.The property management system should include housekeeping software as a matter of course, meaning you will eliminate the risk of errors or missing information and you can stay on schedule with maintaining your rooms and preparing for the arrival of guests. You also avoid double-handling any tasks or performing more updates than you have to
6. You can ensure consistency across your listings
The best hotel PMS solutions will offer comprehensive booking channel management, which will reduce your need to visit and work within the portals of each OTA that you have a listing with. Perhaps you've just installed a pool, extended the hours of your on-site bar, or had some professional photos taken of your hotel, and need to let prospective guests know. No matter the reason for the listing update, a quality PMS will allow you to simultaneously update all of them at once through a single, simple portal, which also helps you to ensure consistency across your online presence.
7. You don't need to update your availability anymore
An all-in-one PMS system that supports your sales channel management will automatically update your inventory across all your booking sites. This means that you don't need to go through each and every OTA to update availability, and risk double booking your guests, or losing out on missed sales. Instead, you can sit back, relax, and watch the bookings pour in!
How to choose a hotel property management software provider
Your PMS will effectively work as the heart of your business, so take your time and do your research before making any final decisions.
In your search, it would be wise to put each company under a magnifying glass, including these five essential traits when comparing them against each other.
1. More than a front desk
Hopefully you understand by now that an all-in-one solution is the way to go, so look for a provider that looks beyond front desk management and offers solutions for improving your marketing and distribution (channel manager), paying less commissions (direct booking engine), and creating an attractive and effective website (website builder). If you want the best hotel PMS, you need a complete business solution.
2. Flexible pricing
As a small accommodation provider, we recommend that you go with an all-in-one system that offers you the most flexibility in working with them.
Does it lock you into a contract? Choose pay-as-you-go software to minimise risk if it doesn't work out for you. A small hotel PMS should operate off a no contract, fixed monthly fee, which makes it easier for you to budget your expenses.
Is pricing transparent and fair? Make sure there are no hidden costs. Look for an all-inclusive solution. Some companies have been known to charge an expensive additional fee when hotels want to integrate a booking channel.
Make sure the software you choose lines up with the needs of your small property, especially in terms of flexibility and cost. Some solutions will enforce contracts, and structure their pricing based on a percentage of commission per booking, but it is difficult to grow with such a pricing model.
For an all-in-one package like Little Hotelier you can essentially get four or five products in one, adding enormous value to your purchase – especially when you consider how easily they integrate with one another. Pricing will depend on the size of your property, i.e. how many rooms you have. Paying an annual fee will get you a discount on a complete business solution. Visit Little Hotelier's pricing scale to see how your property fits in.
A reliable provider should contact you within one business day to get setup after you express your interest in a free trial. All your initial setup and training will be covered during this time, with dedicated onboarding and support staff to ease you through any teething issues. It means that once you have completed your free 30-day trial, your systems will be running smoothly and the results you wanted, such as increased bookings and revenue, will have started to filter through. Your training can also include an online knowledge base and video tutorials, along with your hands-on Little Hotelier specialist.
3. Helpful support
If something goes wrong, you need to know that you can rely on your provider to assist you quickly.
How many days per week is support offered?
Can you reach someone in a time zone that works for you?
Can you speak to an actual person for assistance?
Is support offered in the language you speak?
Are they willing to train you and your staff to use the product?
Is there a wealth of online tutorials to minimise the need for phone support? There should be up to day step-by-step screenshot and video tutorials available for you to access.
Are there new feature releases being announced on a monthly basis? Make sure the company you choose is committed to improving the product instead of staying static.
4. Good reviews
Just like you would check reviews before booking a table at a restaurant, it's extremely useful to check the reviews of hotel property management systems. Reviews are submitted by your peers – other people who are running properties just like yours who experience the same challenges and pain points.
To get a quick idea of how a hotel property management system is viewed by its customers, visit Facebook and access the reviews section. There will normally be a star rating, written feedback, and recommendations. Reading comments on Facebook and Instagram, or visiting Twitter can also unearth very useful insight. For instance, how often does the provider have a technical or support issue that causes friction for users? This is a good place to start before you do a deep-dive into serious review sites.
A good company will also have many customers just like you. They may even have customers in your region!
Make sure you ask them for examples. When these examples are given to you, take it a step further and have a look at those customers' websites to see if they are similar in property type and size to your small hotel. You may even want to contact a few of their customers and speak to them for a first-hand review of the software.
Another good tip is to check out Hotel Tech Report for online customer reviews. Here you'll find reviews and overviews for many brands, that should give you the confidence you need to make a good investment.
5. Free trial
Any good provider will offer a free trial period. This should be risk and commitment free for you. You should not be locked into any sort of contract by signing up to a trial and you should be able to opt out of the product at any stage.
Make sure you take a free trial of each of the systems you look at – they are standard in the industry. If no free trial is available, at least request a demonstration of the product. You want to play around with it to make sure that it is truly the easiest and most comprehensive solution for your small property. On your trial, you'll be able to assess whether it has all the functionality you need.
Little Hotelier offers a free trial that extends to 14 days, giving you the full functionality of the platform. Across one month you should clearly see the benefits, including the time you save and the increased bookings and revenue you should gain – not to mention driving a better guest experience. When you choose to enter a free trial with Little Hotelier you'll be contacted within one business day to get started.
Top hotel PMS vendors
There are literally hundreds of hotel property management systems on the market, which is why it's so hard to narrow down your options and differentiate between them. That's why it can be handy to get a general idea of what are regarded as the top providers in the industry. One of the best systems you're most likely to come across in your research is:
Little Hotelier
Little Hotelier is a robust all-in-one system that includes a hotel property management system, channel manager, online booking engine, payments solution, and web design tool. Designed specifically for small accommodation owners/operators. With a high level of integration, ease of use, and ROI, Little Hotelier is the best solution for small hotels.Little Hotelier will allow you to:
View all of your reservations on a calendar page
Add additional rooms and extra sale items to a booking
Add new rate plans to existing rooms
Close out specific rooms for a spring clean
Move existing bookings around
Produce invoices
Check guests in and out
Send pre-arrival and post-stay emails
Remember your returning guests
Manage your housekeeping schedule
There is no better option for small hotels than an all-in-one solution like Little Hotelier. Ensure when comparing vendors that you look at the key features offered and the costs involved.
The best hotel PMS for small properties
So, to summarise, what does the best hotel PMS look like, particularly for small, independent hoteliers?
Little Hotelier ticks all the boxes listed in this guide. The front desk feature centralises and automates the day-to-day operations critical to running a property. Our channel manager handles your presence on third-party sites, allowing you to update all listings in a click, and automatically adjusting availability (say goodbye to double bookings!)
But you needn't rely on OTAs at all, as Little Hotelier makes it simple and seamless to add direct booking functionality to your site. By encouraging guests to book directly, you can do away with expensive OTA commission fees, add value to each reservation through upselling, and gather more data to use for marketing.
But this is just a taste of the functionality that Little Hotelier offers, and which has seen independent hotels increase bookings by up to 46% and revenue by up to 43%. Other features include:
Website builder: The Little Hotelier Website Builder uses stunning hotel-specific templates and drag-and-drop functionality to let any hotelier create a new, beautiful and functional direct booking website in less than an hour.
Competitor insights: Check exactly what your direct competition is charging at any given moment with Little Hotelier Insights, to ensure you're always offering the most competitive rate.
Payment processing: Simple, central, safe and secure, Little Hotelier payment processing saves you time by making cash flow simple.
By Dean Elphick

Dean is the Senior Content Marketing Specialist of Little Hotelier, the all-in-one software solution purpose-built to make the lives of small accommodation providers easier. Dean has made writing and creating content his passion for the entirety of his professional life, which includes more than six years at Little Hotelier. Through content, Dean aims to provide education, inspiration, assistance, and, ultimately, value for small accommodation businesses looking to improve the way they run their operations (and live their life).
We recommend the following articles for you
Back to top