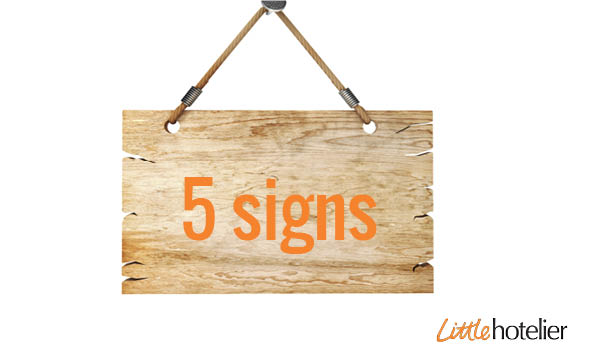 Many small accommodation providers are already using booking technology to run and grow their business. However, there are many that for whatever reason have not taken advantage of it.
If the below signs resonate with you, it's time for an upgrade to your reservation processes.
Sign #1 – Guests can't immediately check your availability & make a booking
You slow down your occupancy rates by forcing guests to either email you, fill out a contact form, or give you a call in order to check your availability make a booking.
It simply requires more effort for your guest, and for you.
This is probably why the combined share of online channels has continued to grow at the expense of offline channels (walk-ins, calls made directly to the property, and GDS' used by travel agents). Consumers are preferring to book online if only for convenience. This is especially true for leisure travelers who are unfamiliar with a certain area (TravelClick).
Online reservation systems will let guests select their dates and display your availability and rates in an easy-to-read interface. They don't need to ask you any questions because they have found all the answers to their questions on your site.
Another barrier to booking is the issue of sensitive data in the payment process. Guests will feel more comfortable entering their credit card details into a secure booking form, rather than over the phone or via email.
Not only does online reservation software allow for a professional payment process, but it will make sure your guests' sensitive data is safe from hackers.
Sign #2 – Double booking is a constant risk
Selling your rooms through other channels gets messy without an online reservation system. Each time a booking from one channel comes through, you're stuck updating your availability in each other channel individually.
Not only do you run the risk of having some very unhappy customers, but you don't maximise your revenue if you allocate a certain number of rooms to a particular channel, and not all the rooms get filled.
This is a massive time suck. Without online reservation software that supports channel management, there's no way to automatically update your inventory across all channels.
Sign #3 – There's no one source of the truth
All of your dealings with your guests – from payment to contact and booking details – are stored in multiple places.
You have to jump from one program to another to find what you're looking for, which takes a significant amount of time.
Storing your guests' data in this way is not going to work as your business grows. You need to be able to access it instantly, when you need it.
Online reservation software gives you immediate access to all the guest information you need. You could be at the golf course on your mobile, or sitting on your couch with your iPad – all you need is internet access to log in.
Sign #4 – Guest communication is inconsistent
You know that there are certain emails that each guest should receive – for example, booking confirmation, reminder before their stay, tips during their stay, and a feedback request following their stay.
Without an online reservation system, small accommodation providers have no way of making this an automatic process. At best, they are stuck creating templates in word documents, relying on their own memory to send individual emails at the right times.
A task that could be so easy to set up becomes a massive waste of time. Automating this process gives your guests confidence in your business.
Sign #5 – You have no idea what works
As a small accommodation providers, you have a limited budget, so you need to be smarter about where you allocate your money.
Without advanced reporting, you won't be able to see the return on your investments. You'll be stuck trying to manipulate data in spreadsheets – which could take you an entire day – instead of being able to access it within a few clicks.
An online reservation system gives you a complete overview of the daily running and performance of your property. Instantly view guest payment details, easily generate monthly performance reports, or select a view of outstanding payments in one simple click.
And there you have it! If you feel like you can relate to the above points, then you know it's time to invest in online reservation software. Don't get left behind.
An online reservation system can give you your time back by helping you run and grow your small accommodation business. Why not try Little Hotelier?

Share with your community:
We recommend the following articles for you
Back to top