What is a metasearch engine?
A metasearch engine is a single online platform dedicated to providing individuals with specific results on an individual topic. For example, a hotel metasearch site can sift through the internet in order to find the comparative rates of each hotel in a destination across different booking sites.
Hotel search engines, or hotel aggregators, compile comprehensive travel data into a single location for interested users. With hotel metasearch, travellers can search for accommodation in a particular city and it generates search results that include the property name, location and current room rate, among other details.
Travellers today find these sites both convenient and useful, which is why they are relying more heavily on them during their online booking journey.
They want to get the most relevant information about their accommodation options in the shortest amount of time, which is why an increasing number of people are relying on metasearch engines when exploring their possibilities.
As a small accommodation provider, it's important to understand how a metasearch engine works and to learn how to use this distribution channel effectively.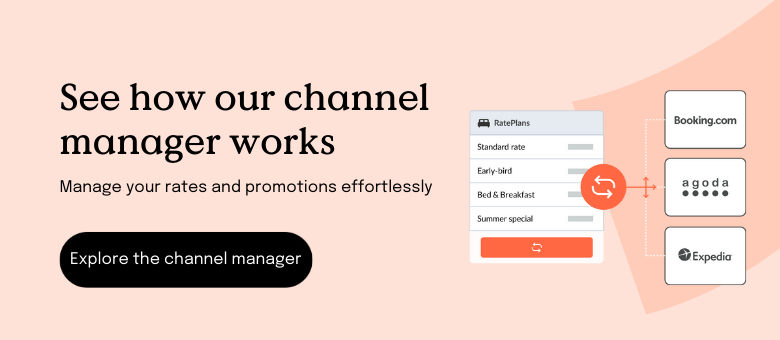 Metasearch engine examples list
If you've booked travel online before, it's more than likely you've come across a metasearch engine. Their unique ability to condense endless options into an easily digestible format has made them a popular option for modern travellers.
What are some of the biggest tools in the travel space? Travel metasearch engine examples include:
Orbitz: Perhaps the first travel metasearch tool, Orbitz began life in 2001 as a partnership between major airlines. Now owned by Expedia, it continues to be a leader in the flight and travel space to this day.
Skyscanner: Founded in 2003, Skyscanner started out as a flight search tool, but has since expanded to hotels, car hire and more.
Kayak: Since it began life as the Travel Search Company in 2004, Kayak has always aimed to offer a complete range of travel metasearch tools, including flights, hotels and tours.
Momondo: This Danish metasearch tool, founded in 2006, is now owned by Kayak, but focuses more on flights.
Google Travel: Beginning life as Google Flights in 2011, Google Travel now scours the web for the best flight, hotel, rental and sightseeing deals.
The metasearch engine list above doesn't include more generic tools that can be used for hotels and travel if you so choose, such as MetaCrawler.
Metasearch engines vs online travel agents (OTAs)
Metasearch engines and OTAs have different business models. However, they both work together to achieve greater online exposure and an increase in bookings for small hotels.
OTAs are a pivotal player in online distribution and the key to online sales for any hotel. While they may seem expensive for small accommodation providers, they are actually valuable partners to sell your inventory through:
They can help you reach markets that you don't have direct access to.
Each of them displays and sells hotel rooms with information, rates and photos.
Prospective guests can book their desired hotel from them (or visit your hotel's website).
They have a massive marketing budget, and will likely outrank you on just about any search engine result page.
Instead of trying to compete with them, you should create a distribution partnership with them so that they can promote your small hotel for you. While you do pay a commission, without them, you might go unnoticed by a large percentage of the population.
A metasearch engine collects all rates available for your hotel online, through multiple online channels and presents them as a list to your guests. They include your own website's rates. This creates a faster and easier process for guests to find and compare hotel prices and ultimately make their booking decision.
While metasearch engines display this information, the key difference is that metasearch engines don't sell their own hotel inventory.
Hotel metasearch: Trends and tips
To get the most out of a partnership with a metasearch engine, focus on the following:
Real-time pricing and availability
Daily, weekly, and monthly spends on clicks
Booking conversion ratio and costs
Pricing on booking channels to ensure consistency
Building up and monitoring online reviews
But most importantly, metasearch sites need to be managed regularly and not forgotten!
Some metasearch engines, like TripAdvisor and Google, are now displaying instant booking buttons that allow travellers to book directly from the metasearch results.
This new strategy means you could potentially get more direct bookings, because it's easier for travellers to book. On the downside, contact details are retained by Google or TripAdvisor, so you don't receive it directly.
Still, the commission you are required to pay a metasearch site is significantly lower and they are equally as popular.
The bottom line is, you would be missing out on potential guests if you ignored metasearch engines entirely. You run the risk of losing revenue if your guests ended up booking through an OTA and other booking channels, or if they never discovered your property at all. It's important to:
Connect to the most powerful and relevant metasearch engines, such as TripAdvisor and Google.
Invest in a channel manager and booking engine that make it easy to connect with these distribution agents. Little Hotelier connects to these sites and over 450 more.
Work your listings on these sites – monitor and respond to all reviews, whether positive or negative.
To learn more about Little Hotelier and how it can improve your distribution strategy, watch our on-demand demo videos today.
How does a metasearch engine work for small hotels?
What does a metasearch engine do? Well, when a user gives a location and dates, a metasearch tool brings up hotel options in the area, complete with rates and room availability. Users can then click on listings to view more details about each property, such as photos, amenities and reviews. If they decide to book, they will be directed away from the metasearch engine to an OTA or the hotel's direct booking website to complete the reservation.
The ability of hotel metasearch engines to collate endless hotel options into a single portal makes them popular tools for travellers, which in turn grants properties a way to reach a wider audience and increase their direct bookings. But how do these tools work from a hotel's perspective? Here's how a hotelier can get metasearch engines working for their property.
Step 1
Choose which hotel metasearch engines you'd like to partner with. Consider the audience, reach and cost of options like Google Hotels, TripAdvisor, Kayak and Trivago and more.
Step 2
Ensure you have a booking engine that is capable of integrating with the metasearch engine to keep it up to date with your availability and rates, and that connects a potential guest to your direct booking site, rather than through an OTA.
Step 3
Create a metasearch marketing budget then plan and set up your campaign (or get experts to do it for you!) You will pay the metasearch engine a commission or a cost-per-click (CPC) fee for each booking made through the tool.
Step 4
Track the performance of your metasearch campaign. Once you begin getting data-based insights, adjust your bidding strategy or target audience in order to optimise your return on investment.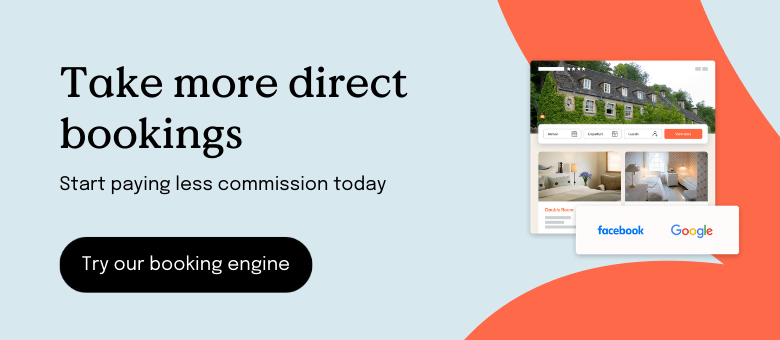 The benefits of working with hotel metasearch
Now that we have a metasearch engine definition, and we understand how hotel metasearch works, let's look at why a small, independent hotelier might bother with metasearch. Working with these tools, particularly in terms of hotel metasearch marketing, can be hugely beneficial to your hotel business:
Metasearch engines allow you to increase your brand exposure online. It is essentially an extension of your partnerships with OTAs.
Metasearch engines are a cost-effective way of promoting your brand. You do not have to pay high commission rates, because they have a pay-per-click model that they follow.
Metasearch engines are popular among travellers, making them one of the most powerful online distribution channels.
Partnering with metasearch sites allows you to mix up your distribution channels so that you're never overly dependent on one over the other.
Metasearch drives direct bookings because it gives an opportunity for travellers to complete the booking on your website (in the case of the pay-per-click model) or choose to book direct without leaving the site (in the case of the 'instant booking' options now offered by Google and TripAdvisor).
Metasearch engines encourage positive reviews and showcase authentic photos of your business.
The cons of working with metasearch for hotels
While the reasons to focus on metasearch are compelling, these tools aren't all rainbows and lollipops. Before investing time and resources in hotel metasearch marketing, you should understand the limitations of metasearch, and the challenges you may face:
Travellers cannot book directly on a metasearch engine, so there's more chance of them losing interest before they finalise their booking.
Metasearch engines can increase the competition at the local level, as travellers are often searching for hotels in a particular city or destination.
Metasearch engines can take a surprisingly large cut of any booking they facilitate. The specific fee will vary, and can be charged on a per click, per impression or percentage basis.
As an accommodation provider you will have limited control over how your listing is displayed on a hotel metasearch site. Some metasearch engines allow you to edit your listing within their platform, while others will simply draw relevant information from an OTA or your direct booking site.
As a hotelier you don't want to become too dependent on third party platforms, as this places your future in their hands. If they fail, you fail.
By channelling bookings through a metasearch engine, rather than accepting them yourself, you'll be given a limited amount of customer data – essentially whatever the metasearch engine feels like giving you, which often isn't much.
Hotel metasearch marketing best practices
The whole point of metasearch for hotels is to give the user every hotel option possible. In the process hotel metasearch places every hotel in direct competition with every other hotel. This means that in order to fully capitalise on hotel metasearch, you need to find ways to rise above the noise. The following best metasearch engine practices are a great place to start.
1. Identify key metasearch engines and advertise your property accordingly
Currently, the most popular B&B metasearch sites include Kayak, TripAdvisor, Google and Trivago. These are the metasearch engines that will provide you with the most visibility, as travellers are more likely to rely on these resources versus other, lesser-known metasearch sites. Ultimately, working with the largest players in the metasearch industry will give you the most value for your investment.
2. Consider partnering with metasearch sites that offer instant booking
Instant booking allows users to book directly from the metasearch results page. Generally, the instant booking form is shorter and allows travellers to enjoy a seamless experience. Currently, Google and TripAdvisor offer travellers instant booking options from their search results page.
3. Keep your room rates consistent to maintain rankings metasearch results
Rate disparity, or the appearance that you are offering better rates through different platforms, is frowned upon by large metasearch engines, such as Google. Ultimately, you need to create a revenue management strategy that allows you to offer consistent, real-time rates to all of your distribution agents while still generating a profit for your property.
4. Adapt your strategy based on the metasearch engine that you are working with
For example, you may want to use a PPC strategy for one metasearch engine while utilising a commission-based strategy for another. It's important that you understand how each individual metasearch site works and how you can maximise your profitability through that specific channel.
Get direct bookings from metasearch engines using Little Hotelier
If you're a small, independent hotelier, metasearch might feel like a complicated world. And the challenge of competing against every other hotel is indeed a significant one, which is why Little Hotelier, with our combination of clever tools and deep expertise, is here to do the hard work for you.
Our metasearch feature is designed to help you attract more guests without lifting a finger. We manage, monitor and optimise your presence on hotel metasearch sites like Trivago, TripAdvisor and Google Travel – your job is simply to enjoy the extra business that comes with significantly enhancing your online presence.
Expand your reach: A huge amount of people use hotel metasearch engines – 100 million people a month use Skyscanner alone! With Little Hotelier's metasearch feature you can get a slice of that pie.
Attract more direct bookings: Avoid the OTA fees – use the Little Hotelier booking engine to accept direct reservations, then let us ensure your website comes up on the best metasearch engines.
Leave it to the experts: You can leave the hassle of setup, bidding and billing to us – we'll manage every aspect of metasearch for you, leaving you time to focus on your guests.
By Dean Elphick

Dean is the Senior Content Marketing Specialist of Little Hotelier, the all-in-one software solution purpose-built to make the lives of small accommodation providers easier. Dean has made writing and creating content his passion for the entirety of his professional life, which includes more than six years at Little Hotelier. Through content, Dean aims to provide education, inspiration, assistance, and, ultimately, value for small accommodation businesses looking to improve the way they run their operations (and live their life).
We recommend the following articles for you
Back to top