The ability to take direct bookings at your property is vital to your long term success as a small accommodation business.
Direct bookings reduce your reliance on online travel agents, help you build closer relationships with your guests, and increase your potential to profit. The idea of reducing the commission fees you pay to channels like Booking.com or Expedia, and improving guest loyalty is very appealing.
You might think it's necessary to have a property website to drive direct bookings, but as you'll see in this article that's not the case!
Direct bookings will give you a lot more freedom in how you run your property. So what's the easiest way to start driving direct reservations and revenue for your property?
Direct hotel bookings can be taken via Facebook
Facebook is one of the best ways your properties can take direct bookings, given it's the top online channel for destination discovery for leisure travellers aged 18-34.
With so many prospective guests on the platform, it makes sense to try to win their booking there. You can do this with call-to-action buttons. Facebook allows businesses to include these action buttons on their Facebook page and customise them to suit their purpose. For example, a hair salon might have 'Call Now', a construction company 'Get Quote', or a food service 'Start Order'.
There's a couple of reasons it's a great idea to use CTAs on your Facebook page:
It's a good idea to have as much detail about your business on your page as possible, to increase the chances of a click.

In the case of your property it's likely that 'Book Now' is the best option with which to label your CTA. When someone clicks this button they are usually taken to another page or website where they will complete the booking process.
And if you don't have a website?
Facebook direct bookings can link to an online booking engine
An online booking engine is a software tool that allows guests to make their booking directly with you. It creates a simple two-step process where they choose their room, including any extras or add-ons, before entering their details and completing their reservation. You don't need to do a thing.
The booking engine can be customised to suit your brand, will include all your relevant information such as address, phone number and images; and can accept payments from guests.
The best feature is that you can add a direct link to your booking engine from your Facebook page using the 'Book Now' button, removing the need for you to create a website.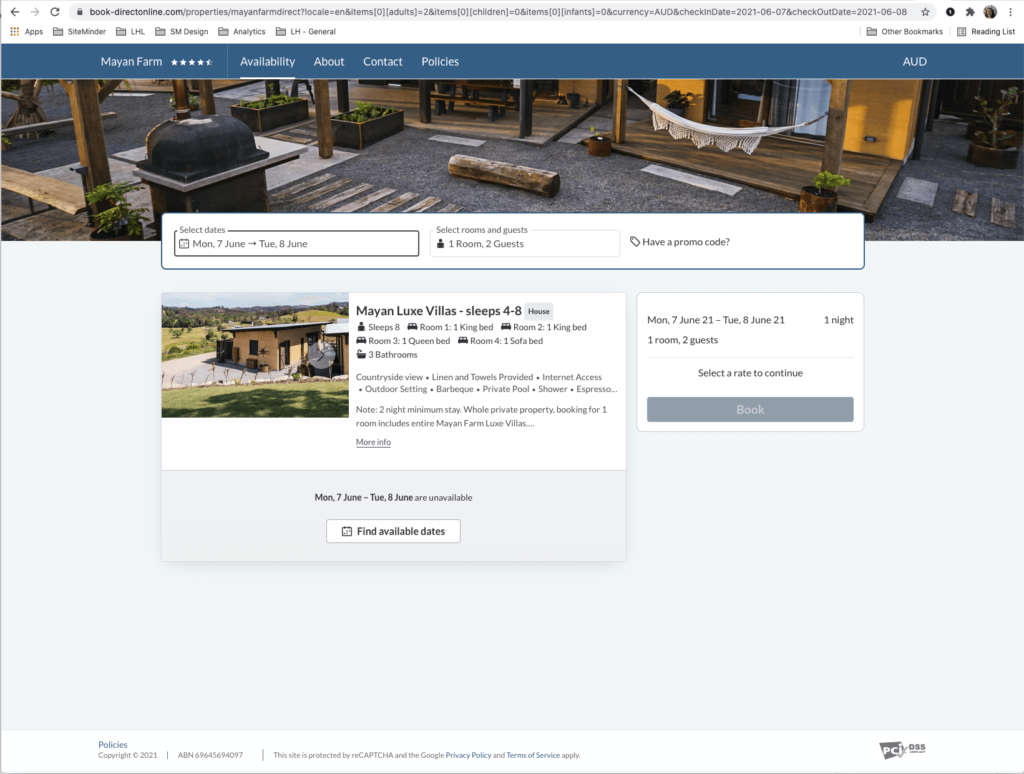 Other benefits of an online booking engine:
You can increase conversions with a simple guest booking experience
You can save time with quick and easy setup
You can eliminate manual entry with instant integration
You can make better decisions with data
You can gain an advantage over competitors who don't have one
Overall this allows you to improve efficiency at your property and simplify the way you acquire guests.
If you do happen to have other pieces of software such as a website, front desk system, or channel manager, the booking engine will seamlessly integrate with your other systems. This allows you to run your property on autopilot, taking a lot of the time and effort out of your daily tasks.
Sounds good to you? Why not try out Little Hotelier?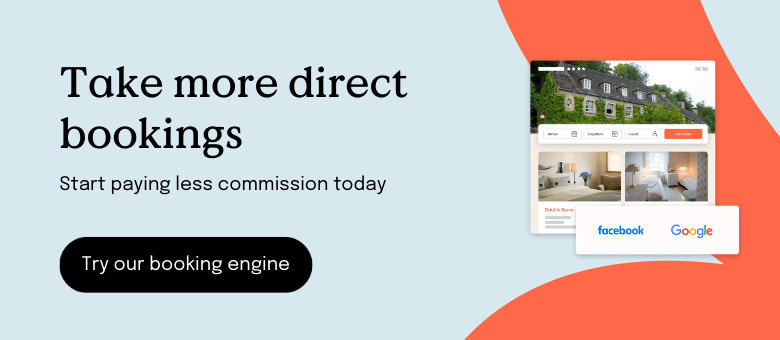 Share with your community:
We recommend the following articles for you
Back to top