Hi there! We know you're busy – small property managers always are – but you're in the right place if you want to start saving time on business admin and keep some extra money in your pocket too.
The answer is to start managing your business online via trusted and proven technology solutions. This blog will tell you all the reasons why it's a good idea and how easy it is for you to do it. Here we go!
Why you should move your property management to a cloud-based system
Think about your guests for a second. At the time of writing we find ourselves in 2021 and the state of the travel industry today is centred around online bookings and technological innovations. The vast majority of travellers make their bookings online via online travel agents, property websites, travel apps, and even social media platforms; often using their smartphones. Rarely today will they book via email or by calling up the accommodation provider. They also manage a huge amount of their day to day lives and trips away on mobile apps; also accessed from their smartphones.
They do this because it's easy, quick, convenient, and everything is connected. Technology brings speed and efficiency to parts of our lives we never thought could be so simple.Your guests have adapted to this world so it makes sense that you do too.
When you use a technology solution to manage your property, it takes care of business while you enjoy doing…anything else! Instead of manning phones, jotting notes in a logbook, or poring over spreadsheets, you can be off making sure your guests are happy or attend to your other chores.
It also helps you attract tech savvy travellers and is basically a set and forget method, when you calculate how much time you save compared to manual methods of managing your accommodation!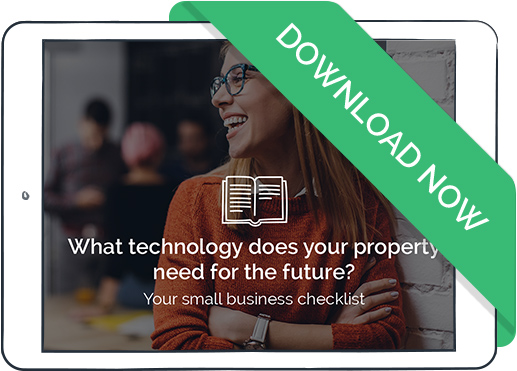 Property management system (PMS): The key ingredient to managing your business online and giving you time back
A property management system is essentially a digital front desk for B&Bs, hotels, and other accommodation providers. The biggest advantage it gives you is that it's a centralised location for you to manage your reservations, guest details, reports, and connections with other systems. You can probably already see how this will save you a bunch of time.
A PMS automates many of your daily tasks and speeds up everything else so that it can be done with a few clicks of your computer mouse – or your finger if you're using an app version. Any updates you make are instantly communicated within your PMS and to your website or other booking sites you connect to, as well as to other systems such as a channel manager.
This creates the 'set and forget' experience, by:
Instantly updating room rates and availability on your website and across all of your connected booking channels
Automating pre and post-stay emails
The bulk upload feature lets you apply rate changes, deals and stop sells instantly
Preparing insights about competitors and tracking their rates
And much more
If you think about everything you do right now; everything you can't do, and everything you wish you could do if you had more time; it can all be achieved with a PMS with no extra effort and less time.
So how does this save you money?
We'd hate to repeat the old line "time is money" but it really is! Not to mention, with everything managed in the cloud, there are no physical resources to consider.
Here's a list of ways you can save some cash or increase your revenue by using a tech solution:
Since a hotel management system like a PMS, channel manager, or online booking engine is not a physical piece of equipment, there are no major upfront costs, only a small setup fee. There's also no time wasted on installation, you can be up and running on your new system immediately.
No physical maintenance or updates
Another advantage of cloud-based systems being online is that you never need anyone to come and update your software, nor do you ever need to buy or replace new materials and resources. And you'll never run out of space to house all your data!
More time to spend on guests
The more time you can devote away from your desk or office and to your guests instead, the better. Happier guests are more likely to leave positive reviews, which contribute to future bookings and even give you the freedom to increase your pricing if you need to. Afterall, not many will say no to paying a little extra for a five-star experience.
More time to improve the property
We all have things we 'plan on getting to' and that includes property/amenity upgrades. With more free time, you can finally perform the renovations you've planned. This will enable you to give guests a better experience and, again, charge more for your rooms to increase your bottom line.
More time to develop strategy
Business plans and strategies are essential for long-term success, and good ones take time to develop, and adjust when necessary. With more time each day, week, and month to look at figures and create reports, you can make plans for your business that will net you more revenue in the future.
How can you take your property management online?
A great first step is throwing out that notebook or clunky time-consuming software you've been using up until now… No, we take that back.
Make sure you do your research first, since every property is different and some providers will suit you better than others. It's a good idea to look for a solution that is designed specifically for smaller properties like yours.
This means you won't be paying for unnecessarily complex features that you don't need, it will be quicker to learn and master, and it will feel tailored to your business needs.
If your property has 20 rooms or less, you need to be looking for providers who are dedicated to this space, have a track record of solving for properties of this size, and are trusted within the industry. It's most likely this type of provider can offer you an all-in-one solution for your property.
For more information on cloud technology and all-in-one solutions, check out this article.
Key Takeaways
Your guests are upgrading to new tech all the time – it makes sense to do the same.
Taking your property management online allows you to 'set and forget' your daily operations.
Automate and accelerate processes such as reservations and check-in
Spend less time on admin and more time on guests
Free up money for property improvements
Look for a property management system that caters specifically to small properties like yours
Back to top