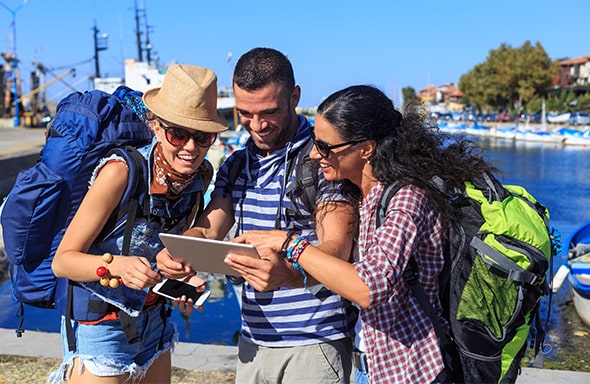 In just 60 seconds there are, on average, 45 thousand tweets to Twitter, 66 thousand photos uploaded to Instagram, and 3.3 million posts to Facebook.
With this much content being uploaded to the web daily, and considering 76% of travelers post their vacation photos to social networks, it's only natural that social media has become a very important tool when travellers choose their destination.
B&Bs should be aware of this platforms' importance in the travel industry because it's leading role is affecting every stage of the traveler's journey, from dreaming and planning to experience.
There has never been a more important time for your B&B to have a dedicated social media strategy to bring travellers to your destination, here's why…
Social Media Causes FOMO
The current buzzword "FOMO" or "fear of missing out", describes an actual phobia for social media users who are exposed to their 'friends' best moments. In fact, a recent survey found that 69% of Millennials regretted not taking a last-minute trip due to FOMO.
Seeing what our friends, family and even strangers are doing online makes us want to experience their amazing journeys too! 52% of Facebook users say that friend's photos inspired travel plans.
As a hotelier, you should be utilizing FOMO to increase bookings by showcasing all of your not to be missed B&B characteristics on your social media accounts.
Social Media Is A Travel Inspiration Generator
Pinterest alone has over 1000 boards titled 'travel inspiration', over 3 billion travel related ideas, and almost 80% of their travel-related searches are for specific destinations. CEO Ben Silbermann has even described it as a 'catalogue of ideas' explaining that "'We show you the right idea, you go out and do that thing".
For B&Bs to become "that thing" travelers on Pintrest need to go out and do, they should be:
Using

keywords

to inspire and attract your

target market

Pinning things beyond travel –

because travellers will be looking for direction on every aspect of their trip.
Social Media Is Making Planning A Holiday Easier
Planning is the most important stage to win guests over. Customers are now looking through websites and Facebook pages rather than the pages of a guidebook, so you'll need to convince them of your destination whilst allowing them to easily book with you from whichever platform they are visiting.
Social media is serving up a smorgasbord of travel options to users every day: flights, hotels, packages, experiences and destinations. So you need to be sure you are an available option.
For example; using your direct booking engine effectively on social media platforms like Facebook will allow your customers to book whilst they are browsing their feeds.
This allows you engage with your guests on a personal level while still focusing on your business goals.


Share with your community:
We recommend the following articles for you
Back to top