What is occupancy rate?
Occupancy rate determines how full your hotel is at any given time. Your property's occupancy rate is one of the most important indicators of success. It's also one of the easiest to measure.
When you consistently have a lot of rooms booked over a length of time, your occupancy rate will be high, whereas many empty rooms will mean a low occupancy rate.You can look at this figure by day, week, month, or even longer, though the rate will be different depending on the length of time you consider.
What is the formula for occupancy rate?
Your occupancy rate is calculated by dividing the number of rooms occupied by the total number of rooms available, multiplied by 100. For example, if you have 20 rooms, but only 10 are occupied, your occupancy rate will be 50%.
Why is occupancy rate important?
Your occupancy rate is a key performance indicator of how well your property is attracting bookings. A low occupancy rate indicates that your property isn't resonating with potential guests. Room prices may be too high, competition may be strong, or they may not be able to find your property online.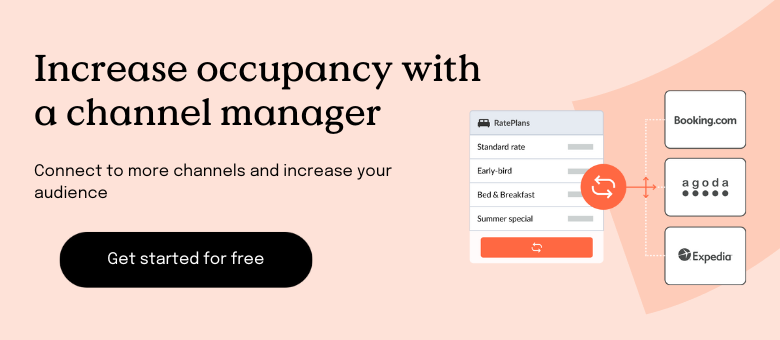 The top 6 ways to increase your occupancy rate
Increasing your occupancy rate doesn't have to be difficult – here are a few ways to help get you started.
1. Understand your competitors
It's important to keep tabs on your competitors' pricing. Staying on top of what other local properties are charging for similar rooms and accommodation types will give you more context when setting your own rates.
You can also look at any extra services your competitors are offering, as these 'in-demand' upgrades can increase your average daily rate (ADR).
2. Adjust your rates
The travel industry fluctuates frequently. Leaving your rates the same for too long means you will miss out on major opportunities during business booms and may drive customers away from your door during downtimes. Track market changes, then reflect them in your own rates. With travel returning to pre-pandemic levels across the globe, it's never been more important to ensure that you are regularly adjusting your rates based on local market conditions. Little Hotelier offers a range of insights and reports about your property and competitors to help you make informed decisions when adjusting your rates.
3. Audit your booking channels
If you advertise your property on online travel agents (OTAs) such as Booking.com or Airbnb, make sure you monitor your performance.
If one site is performing better than another, try to identify the reason and make necessary changes. Sometimes it can be as simple as updating property images or tailoring the wording on your listing to better appeal to the site's audience.
Also make sure that you are listed on enough channels. There are over 450 that your potential guests can find you on globally – make sure they can find you easily wherever they are. With so many people making bookings through OTAs, you can't afford to ignore them.
4. Monitor your occupancy rates over time
Every destination has a high season, and most have events at different times of year that will increase traffic. If you fail to take this into account, you may miss high-volume windows, causing campaigns to flop and your efforts to amount to nothing.
In line with revenue management best practice; during peak times, as occupancy rates increase, so should your rates.
During low occupancy, know what is going on in your area and prepare a market strategy in advance. This will allow you to advertise to guests already looking for accommodation. For example:
Partner with local festivals
Offer special event packages
Offer to host some events
Monitor when your occupancy rates have been particularly high, then replicate what you did during this time for periods of expected low occupancy.
It's easy to make the mistake of predicting the same success throughout the year, but don't get dollar signs in your eyes just yet. Proper revenue management means taking into account the low times as well before you make any long-term plans. Look into the data surrounding your destination to know when business might drop, and create a plan to avoid it.
5. Ensure you have a website that allows people to make a direct booking
A functioning, well designed website that is mobile friendly and can be found on Google is key to increasing your direct bookings and occupancy rate. Without a website, potential guests will struggle to find details about your property online. Potential guests will often spend time researching where they would like to stay, and a clean website with great photos and imagery will make your property more attractive.
Also, by allowing people to make a direct booking, you can avoid some of the fees paid to other channels.
6. Implement Length of Stay restrictions and offer discounts for extended stays
The adoption of length of stay restrictions (LOS) is an effective way to control your occupancy rates – and boost revenue per available room (RevPAR).
It is best to implement minimum LOS restrictions when you are expecting a period of high occupancy so that the period after remains lucrative. This means busy periods will spill over into quieter times.
Maximum LOS should be implemented when you plan to sell rooms at higher rates. You shouldn't accept discounted rates for multiple night stays during this time, and guests who want to stay beyond max stay can be charged a high rate.
---
Increase your occupancy rate with Little Hotelier
Increasing your occupancy rate is one of the keys to running a successful hotel or property, but there are many things that you need to manage as a hotel owner day to day. Little Hotelier is an all-in-one technology platform with robust reporting and insights capabilities, that enables hotel owners and revenue managers to effectively increase their hotel's occupancy and revenue through:
Dynamic Pricing: Set up a dynamic pricing strategy that takes into account various factors like seasonality, demand, and events in the area so that hoteliers can optimise their prices.
Direct bookings: Accept direct bookings from their website, social media pages, and other channels. By encouraging direct bookings, hotels can avoid commissions paid to third-party booking sites.
Channel management: Manage all distribution channels from a single platform. By managing inventory and pricing across multiple channels, hoteliers can ensure that their rooms are sold at the best possible rate.
---
We recommend the following articles for you
Back to top