Small accommodation providers are learning that their websites are one of their most important marketing resources.
Unfortunately, many innkeepers are making simple mistakes on their B&B websites that can be limiting their potential to increase their bookings.
Recently, Tnooz reported the most common website design mistakes made by hoteliers around the globe.
Here's a list of the top 5 mistakes, and the ways that you can avoid making them on your B&B website:
1. Phone number is too hard to find
You need to make it as easy as possible for guests to contact you.
It's a digital age, but guests still need to be able to contact you in the way that they prefer.
For example, many hoteliers bury their phone number in the footer of their website. This requires guests to scroll and search for a number if they need it. Sometimes, it's too difficult to find so they give up and move on to a different hotel.
Instead of burying the number, you should prominently display it on your website. The top right-hand corner is the ideal location for your phone number.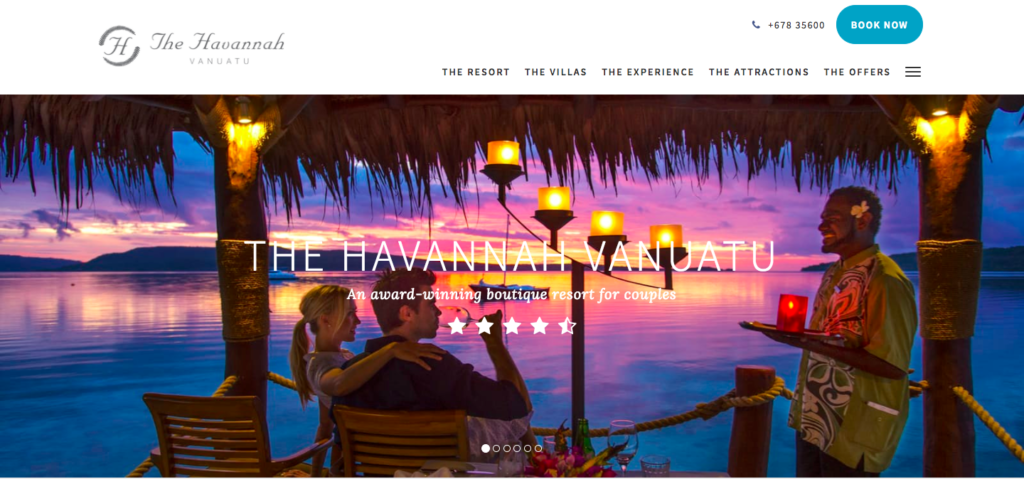 2. Tag lines are meaningless
Most guests are looking for simple answers during their online booking journey. They want to know where you are, who are you and what you offer.
You only have a few precious seconds to capture the attention of your guests. It might be tempting to use flowery, descriptive language in your tag lines, such as "pure bliss island getaway in the tropics." This sounds nice, but it doesn't provide any real information.
Instead, opt for a more powerful tag line, such as "award-winning couples retreat in Bali." A specific location is necessary to attracting the right target audience.
3. You send people away from your site
You want to make your website sticky — which means that you don't want to have a high bounce rate. (A bounce rate is the rate of visitors exiting your website after only viewing 1 page and not taking any action on that page.)
You want your guests to spend time browsing your website. The best way to do this is to encourage engagement and provide opportunities for exploration on your B&B website.
While it might be tempting to include plenty of links to your social networking pages, this simply encourages your guests to click off of your website where they can quickly become distracted by the vast expanses of social media.
Rather, embed tweets, Instagram posts and TripAdvisor reviews right on your website. Give them all of the information they need in one useful location.
4. YouTube videos are embedded poorly
The way that your YouTube videos are embedded into your website will directly affect the amount of time that people spend on your site.
Use the settings available on YouTube in order to keep the attention focused on your videos and your bed and breakfast.
For example, there's a box near the YouTube embed code that says "Show Suggested Videos When Video Finishes." If you don't uncheck this box, YouTube might automatically suggest videos from your competitors in the local area, inadvertently directing your customers to other options for their stay. Uncheck this box before you pull the embed code for your website.
Also, offer full-screen viewing from your website. Some users may click off your site in order to see the video in full-screen if this option is not available.
5. Booking process is cumbersome and difficult
You need to integrate your booking engine with your website, and the booking process needs to be simple and seamless. This is the first experience that your guests will have with your property, so it's critical that you make a good first impression!
It may seem like the easiest way to collect data on possible guests is to offer a booking enquiry form, which requires your guests to fill out a contact information form in order to get more information about your availability.
But this requires you to put in a significant amount of time and effort in the hopes of reaching that guest again and finalizing their booking, leaving you at risk of losing potential customers or overbooking your rooms.
Instead, invest in an automated booking engine that allows guests to self-serve at check out, viewing their availability options and rates.
They can finalize their booking and make their payment on their own, and your property management system is instantly updated. You will have more time available for more important tasks, and the risk of overbooking is virtually eliminated!
If you're considering buying a booking engine, download our buyer's guide.
Or you can watch an on-demand demo of Little Hotelier to see how it works.