Recent research has revealed that bed and breakfast owners have something to celebrate!
The results are in, and the numbers prove that bed and breakfast properties are more highly rated than hotels.
A TripAdvisor study found that in England,
Guest ratings at bed and breakfast properties were about 89.6% in 2015; and,
During that same time period, guest ratings at hotels were about 80.8%.
In fact, the study also discovered that small accommodation providers were responsible for the overall rating of the United Kingdom as a destination.
The reason for these high ratings is clear: Travelers enjoy the personal touch that can be found at bed and breakfast properties. A bed and breakfast is a unique accommodation, and feels like a destination in and of itself.
Here are a few personal touches that you can add at your bed and breakfast in order to attract more guests and earn higher rankings on popular review sites, such as TripAdvisor:
Tell your story on your B&B website
Your website plays an integral role in the online booking journey of your guests.
By offering your story on your website, you are adding more insight into the type of experience that your guests will enjoy when they visit your bed and breakfast.
For example, if you're a third generation bed and breakfast owner who has been operating out of the same facility for a century, then share that history and knowledge with your guests online.
Here's how Bell In The Woods does it: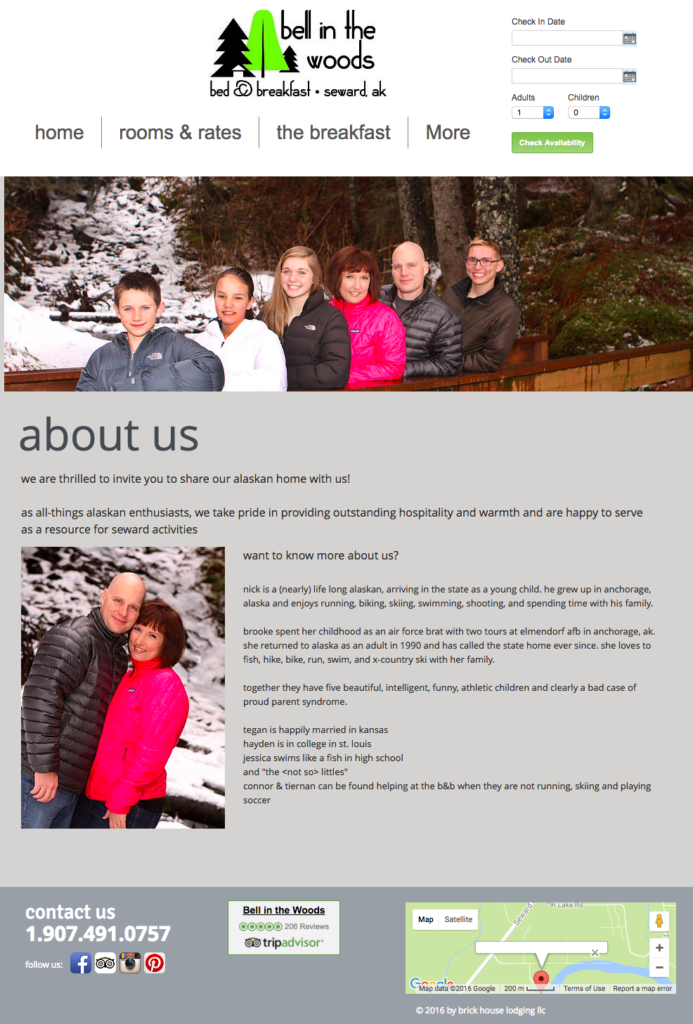 This type of story appeals to travelers who are interested in booking at bed and breakfasts, and it may be the motivating factor when they decide to book with you.
Create a theme that enhances your brand
Many times, people book a room at a specific bed and breakfast because of the theme at the property.
If you have a theme at your bed and breakfast — such as Victorian Charm or Rustic Appeal — then incorporate that theme into every aspect of your bed and breakfast.
Make it obvious on your website. Add details in each room that help bring the theme to life. Use it in your marketing materials, as this is the best way to develop your brand.
Here's how Avocado Sunset Bed and Breakfast have different themes for their rooms: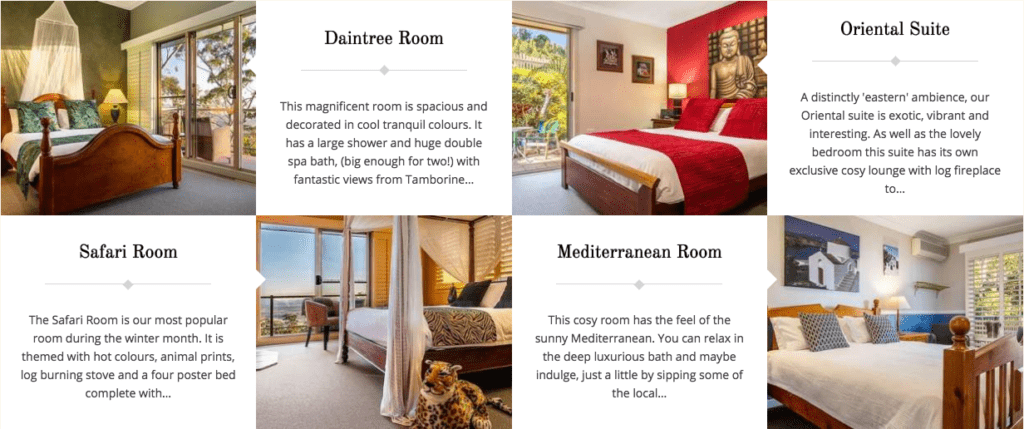 Personalize the guest experience
You can use technology in many different ways to personalize the guest experience at your bed and breakfast.
Many bed and breakfast operators mistakenly believe that technology reduces their interaction with their guests. The reality is, you can…
Use text message reminders to encourage your guests to check-in early.
Use automatic e-mails (like the ones sent by Little Hotelier) to send a pre-stay message that upsells Extras, and a post-stay message that asks for feedback and reviews or offers discounts when you book a subsequent stay.
Technology is one of the best ways to improve personalization at your property.
To find out more information about the best way to promote your bed and breakfast to the right target audiences and improve your brand recognition online, download our free eBook: