The world of web design is much like the fashion industry – if you don't update it frequently, your small hotel's website looks so last season.
However, it's not just skin-deep. Your website is the key to your online direct reservations. By investing in upgrading its design, you can significantly boost your online presence and your revenue.
If you're wondering whether it's time to revisit and improve your small hotel's website, use our decision tree as a guide.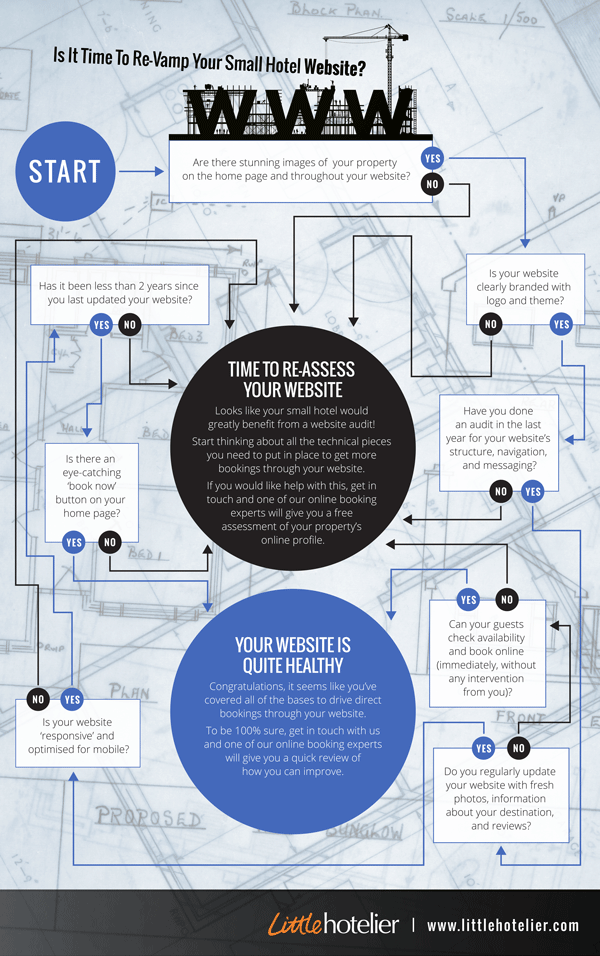 What key elements does your small hotel's website need?
Here's a bit more detail on the elements we've listed in our decision tree.
Stunning imagery
Without high resolution images of your property on the home page and throughout your website, it will be difficult to sell your rooms online. Plus points if you have some kind of virtual video tour as well.
Easy path to booking
If it takes more than 3 seconds for guests to find your 'book now' button after landing on your home page, you're in trouble! Many guests learn about your property from online review sites and simply head to your website to make a direct booking. This is called 'the billboard effect'. Make it as easy for them to book with you as possible.
Clear branding
Part of being a professional establishment is having clear branding guidelines for your small hotel. Make sure your logo is clear to see and you have a colour palette for your site to give first-time visitors a good impression.
Modern
The web design industry is so fast-paced that most businesses will find themselves doing a re-vamp every year at the bare minimum. If you can't keep up, your site will look totally out of date, leaving the impression that your small hotel is not as professional as it should be if your site can't get with the times. Remember that your website is your hotel's face to the world, so put your best foot forward!
User experience
Catering to your website's visitors is the key to turning more lookers into bookers. Make sure that your website's structure, navigation, and messaging are as easy and useful as can be.
Responsive
Having a responsive, mobile optimised website is a non-negotiable element of small hotel websites in 2015. To refuse to change in this respect is to deny reality, with Google reporting that mobile search has surpassed desktop this year (and that excludes tablets!).
Updated regularly
Every time you update your website (be it with fresh photos, what's on in your destination, or new reviews), it sends a message to Google that there's something new to check out. After all, why would they send traffic to your site when there's nothing new for website visitors to see?'
Online booking functionality
This is part and parcel with user experience – but so key to increasing your direct online bookings! Your guests must be able to check your room availability for the dates they would like to stay, and instantly secure an online booking.
Hopefully, this post has brought you one step closer to understanding the requirements any modern hotel website needs to maximise direct online bookings.
Want a guest-converting website for your property?
Create a beautiful hotel or bed & breakfast website effortlessly and turn browsers into guests. Little Hotelier's direct booking technology is proven to convert guests far and wide! Learn more about it here.
If you would like additional advice with this, get in touch and one of our online booking experts will give you a free assessment of your property's online profile.