Business travelers are a segment of the market that all small accommodation providers should seek to attract.
Why? Leisure travelers tend to only stay on weekends. They come and go depending on factors like what time of the year it is, and the state of the economy. On the other hand, business travelers book mid-week stays, and travel all year round.
Below are some facts and tips on what small hoteliers need to do to attract more business travelers.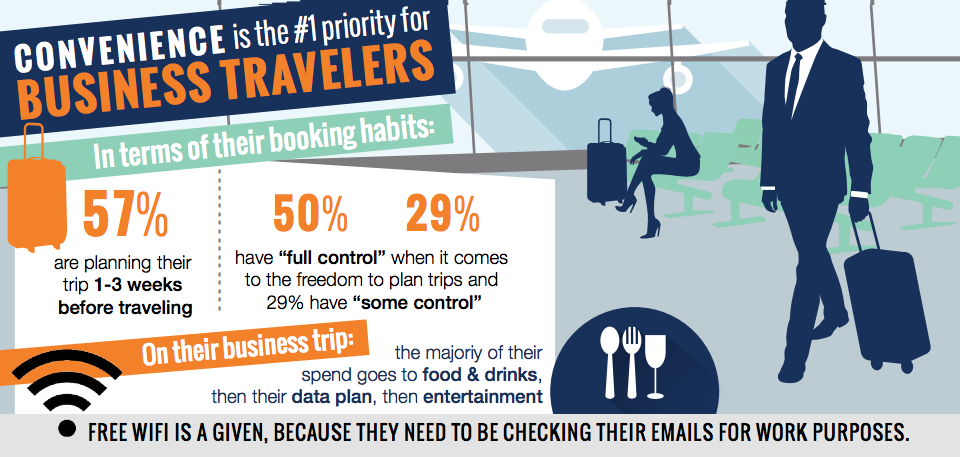 In terms of booking habits, research has found that:
Those traveling themselves have plenty of control in planning the elements of their stay. In fact, 50% have "full control" while 29% have "some control" (Source).
The majority (57%) of business travelers plan their trip 1-3 weeks before traveling (Source).
Business travelers tend to stay between 1 and 5 nights (Source).
So what kind of features can you use to attract business travelers to your small property?
Convenient Service
The business traveler's need for convenience starts with the booking process.
Allow business travelers to check your availability and book online. You should also touch base before their stay to offer extra services (eg. meeting room, transport). If you have an online booking engine and front desk system like Little Hotelier, this process can be automated.
Adding that personal touch in servicing each business travel booking should be one of the ways that small hotels can stand out from their competition (who are usually only across the street).
Wifi
Complimentary high speed internet is an essential feature that your small property must offer to entice business travelers to choose you over the big hotel brands that charge extra for it.
Since business travelers need constant connectivity to answer emails or jump on Skype, refusing to offer free wifi as an in-room amenity will get you removed from their shortlist.
Location
Business travelers want to be close to their meeting location. You can't change the location of your hotel, but you can be more descriptive about where you are located.
For example, name which exhibition centres and business districts are close by, and easy they are to get to.
Spaces
If you have a spacious terrace or meeting room, why not encourage your guests to use them to hold meetings? It's a great way to upsell other services, such as catering. This kind of setting is unique and more appealing than using an office.
Transport
Business travelers tend to have short stays, so they may not want to hire a car. In addition to offering an airport pick-up and drop-off service, you can upsell transport to and from their meetings.
If you're centrally located, show goodwill by handing them a guide containing important information on how to get around and what restaurants and attractions your destination has to offer.
In the room
Some obvious business-friendly features of the room itself include:
Desk and chair
Coffee pot
Hair dryer
Wake up call or service
Iron and ironing board
Full length mirrors
All the facilities of the room need to be presentable, functional, and modern.
If you would like more tips on how to sell more rooms online to specific traveler segments, download our ebook.