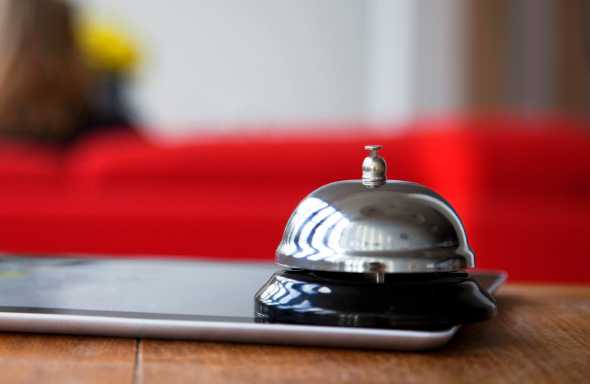 There are so many different kinds of tech solutions out there that small accommodation providers can use. But what are the core pieces of technology that will help you efficiently manage your bed and breakfast business?
Instead of thinking of it from a technology standpoint, think about what you want the technology to do for you and how they all the pieces will work together.
Here are all the benefits you'll want from the software you choose.
1) Accept online bookings
Technology needed: Online booking engine
This should be a top priority for your small hotel. Not only have booking engines become an expected standard among today's international travelers, but it's an investment that enhances both your experience and your guests' experience.
With your booking engine, certain emails that each guest should receive (booking confirmation, reminder before their stay, tips during their stay, and a feedback request following their stay) can become an automatic, standardized process.
Pro tip: Part of being able to accept online bookings is the ability to process the payment. Make sure the system that you choose is secure (ask for proof of PCI compliance) and it allows you to get paid directly into your bank account. Click here to find out what factors go into the cost of your booking engine.
2) Manage online inventory
Technology needed: Channel manager
If you want to be able to distribute rooms through as many online channels as possible (without having to worry about double bookings), then a channel manager is absolutely necessary.
For example, your inn may only have 10 rooms, but you're connected to 5 online travel agencies (OTAs). A channel manager makes sure that your rooms are bookable on all of these sites, and your true inventory at that point in time is what's being seen by your customers – whether it's direct on your website or through the OTA's website.
Pro tip: Make sure your channel manager integrates with the online channels you're connected to, and gives you opportunities to connect to more channels without any extra cost. For example, Little Hotelier connects to hundreds of third party sites.
Also, your channel manager should integrate seamlessly with your booking engine and front desk system, so that your direct online bookings and phone bookings are included in your inventory.
3) Time management
Technology needed: Front desk system
There are many admin bits and pieces that go into running your small property. Unfortunately, they can be very time consuming!
Front desk systems exist to help that day-to-day management become easier. You'll be able to close rooms to arrival and departure (handy for when you need to renovate or take a day off), print out check-in and check-out sheets, and print out housekeeping schedules.
Pro tip: Solutions like Little Hotelier come with a built-in channel manager and booking engine, so that you don't need to update several systems if a reservation is changed.
If one of your guests calls you to change their dates, all you need to do is drag and drop the reservation. The availability of your rooms will be seamlessly updated across all your online channels, including your website.
Minimize logins!
The less logins you have, the better it will be for you and your guests. You'll only have one point of contact for support, and all the elements will be tightly integrated with each other.
An all-in-one business solution like Little Hotelier contains all three components (booking engine, channel manager, front desk system), giving you your time back by helping you run and grow your small accommodation business.
Watch a demo or take a free trial of Little Hotelier to see how it works. It's completely commitment free.

Back to top