Do many of your business challenges and frustrations centre around your front office? With bookings, check-ins, check-outs, accounting, housekeeping and more to manage, it's not surprising that your front office can easily be overwhelmed.
But it's the heart of your operations, and we all crave a little calm among the chaos. After all, it's so important that you get to focus on making a great first impression and providing the seamless experience your guests expect.
The good news is there is so much you can do to improve your front office operations, outdo your guests' expectations and save time. Here, we'll explore tips to get started, outline how software can help and run through the key systems you could try at your property.
How to improve front office operations
When your guests walk through the door, they generally have a clear picture in their mind of what's next.
A business traveller might be expecting an efficient check-in, fast wi-fi and a clean and comfortable room. A couple might be looking for a cosy lobby, plush room and great local restaurant recommendations. A family might be hoping for a kid-friendly experience with a little magic sprinkled in.
Whatever your guests are expecting, the ultimate goal of your front office is to make a great first impression and start delivering on the promise you made when your guests booked. Knowing your guest (and why they're visiting) is so important in making sure you can meet expectations.
As you know, though, your front office is responsible for so much more. From first impressions to checking in and out, managing rooms, reservations and rates, communicating with guests, and handling accounting, housekeeping, maintenance and more, it's always a juggling act.
So, how can you make sure you're doing everything you can to optimise front office operations? Well, you can start with these seven tips.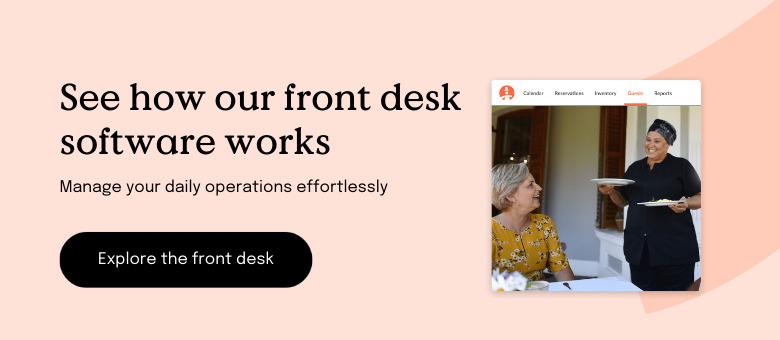 Seven tips to improve front office operations at your hotel
Be a good listener
Positive or negative, there's gold to be found in reviews. Listen to what guests are saying upon check-out and have a system for recording and reviewing this feedback. Monitor online review websites such as TripAdvisor, Google and the third-party channels you connect to. Don't forget the all-important feedback form at check-out so you can get more feedback from guests who may otherwise stay silent, leaving you in the dark. If housekeeping issues are coming up all the time, it's time to look at that area closely and iron out the problems.
Minimise human error
We all make mistakes, right? No matter how careful, trained and motivated we are, we can all make errors at work. Unfortunately, even tiny errors can add up to big disruptions for your guests. A simple typo can create confusion around check-in time, taking the shine off an otherwise slick check-in process. Get ahead of this by identifying and fixing problems before they crop up. Create processes – such as an automated check-in time confirmation – to minimise the potential for error.
Communicate, communicate, communicate
Errors, delays, misunderstandings, glitches and other issues with front office operations often have a common source: lack of information or misinformation. Luckily, there's a quick fix. Communicate more. Set expectations, confirm timings, provide advice on hotel operations, suggest activities and answer questions before they're asked. How? A well designed and informative website, a great email sequence and clever use of social media is a great start.
Prioritise efficiency
Fancy more time to spend on the things that matter? Greater front office efficiency can give you time to focus on your guests, marketing, training and other business-boosting activities. Your guests would love that extra time too, so they can get straight to doing what they've come for – whether it's relaxing, exploring or getting down to business. There are so many things you can do to buy a little extra time for yourself and your guests, from using apps for contactless delivery of extra towels to developing a comprehensive operations manual and empowering staff to make good, confident decisions.
Choose (and train) the right people
Great people skills and a knack for resolving problems quickly and efficiently are a must-have in the hotel industry. But there's more you can do. Understand where your own strengths and weaknesses are – and hire the people who can cover any skills gaps. Also remember that the location of your hotel is often why people stay, so make sure you and your people know the local area better than anyone else. Finally, invest as much as you can into training so your front office operations just keep getting better.
Know your guests
Has a guest stayed with you before? How many times? What is the purpose of their stay? Is it a special occasion like a birthday or anniversary? Do they have any allergies or food preferences? Knowing the answers to these questions can help you welcome your guests warmly and make them feel like a person rather than a room number throughout their stay. Collect this information with pre-arrival checklists, guest information databases and weaving in a few friendly questions at check-in.
Use technology
Technology is the ultimate game-changer for improving your front office operations. It can help you to easily action all of the above tips, taking your guests' experience to a whole new level and helping to ultimately boost bookings. You might already use different tech platforms for certain tasks, but if you're ready to get serious about transforming your front office operations it's time to look at specialised hotel front office software.
Want more regular tips delivered straight to your inbox? Join the blog
What is hotel front office software?
Hotel front office software provides the technology to manage reservations, rooms, rates, check ins and check outs, payments, housekeeping, guest communication and more – all in one place. It makes your guests' lives easier too, by allowing them to make direct bookings, check-in and communicate with you.
The best thing about modern hotel front office software is that it's cloud-based. Access it while you're on the go and from different devices.
How front office software can improve your hotel management
In a nutshell, this specialised software can take away many of the challenges and frustrations from your day.
It can improve the way you do things at your hotel by:
Automating processes – giving you the time and energy to add a personal touch to your guests arrival and stay
Allowing you to capture and record guest data accurately – giving you the understanding you need to create an experience guests rave about
Allowing you to manage your property from anywhere at any time – making your life-work balance a little easier to manage too
Minimising the chance of overbooking and other annoying and frustrating issues
Giving you access to data and reports – which means better business decisions (and a revenue boost)
Allowing integration with channel managers and online booking engines – so you can advertise and capture bookings more effectively
Keeping your data and systems in the cloud – adding to the security of your data and systems.
Hotel front office systems: Getting started
If you're ready to take the next step, congratulations. You won't look back once you take the leap into a more convenient, efficient and flexible way of operating your front office.
When deciding which system to go with, think about your main challenges and then ask yourself these questions:
Will the system help with your particular challenges?
Will the system provide everything else you need and work well with existing software?
How does the price compare to other options?
Can you pay month-by-month or are you required to enter a lock-in contract?
Have you checked out the online reviews for the product? Are there any familiar themes?
Is a free trial available?
Do you feel comfortable with the "look and feel" of the software?
What type of customer service is available in your region? Is training available?

Share with your community:
We recommend the following articles for you
Back to top