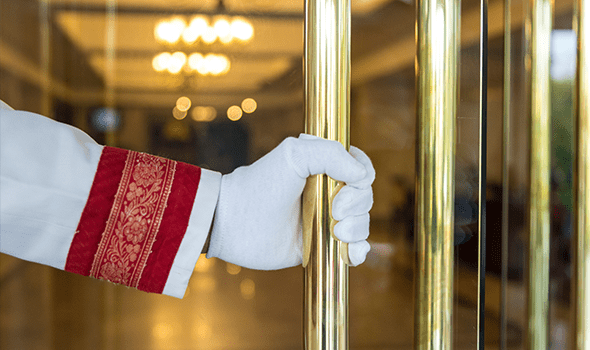 Small accommodation providers pride themselves in their ability to offer that personal touch to their guests – but how complete is your offering?
For a well-rounded customer service strategy, make sure you consider all the elements of your guests' experience – whether it's in person, or behind a screen.
Here's how to up your game when it comes to servicing your guests online and offline.
Face-to-face customer service
In person, you need to let your personality shine! After all, this is probably one of the reasons why you started your own bed and breakfast – you're simply a people person.
The fact that you can truly personalise each guest's stay is what makes your offering so special. Personality can't be taught and replicated by the big hotel chain next door.
Some tips:
Don't push the most expensive room, or try to upsell the most expensive add-on. Put the guest first and think about what would truly benefit them.
Pass savings onto your guests instead of pushing the bottom line.
Remember information they shared with you the last time they stayed with you.
Create a customer service standard statement (why you do what you do, how you want them to feel, and how you will accomplish this) and share it with them. Have it prominently displayed at your front desk.
How well you engage your guests in person is integral to giving them a good experience. They are more likely to remember you fondly and come back to your property.
Online customer service
In cyberspace, small hotels rely on tools like email and review sites to delight their guests.
Emails
Before your guests even stay with you, use email to get them excited about it! Your booking engine should allow you to send automated emails leading up to and following your guests' stay. Click here to learn more about guest emails you need in your booking process.
Review sites
While it can be tempting to steer clear of TripAdvisor because of its listing fees, a damaged reputation would cost your establishment far more in the long run.
"Our travelers are more savvy than ever, more global, and most certainly keenly aware of ratings and reviews from prior guests. There is no room in today's market for poor guest reviews."
Every day, you should be monitoring popular sites like TripAdvisor to see what past guests are saying about your property – and respond appropriately and quickly to both positive and negative reviews.
Some guidelines from 4Hoteliers:
Positive reviews
Say thank you for the review
Say thank you for specific compliments
Re-state your values
Invite them to return
Negative reviews
Say thank you for the reviews
Address specific problems with follow-up action
Apologise for the experience
Commit to improving the experience
Invite them to return
Emails and review sites are the keys to engaging with guests after their stay, driving loyalty, and convincing other travelers who are reading those reviews to stay with you. Ultimately, you're using customer service to drive more revenue!
Back to top