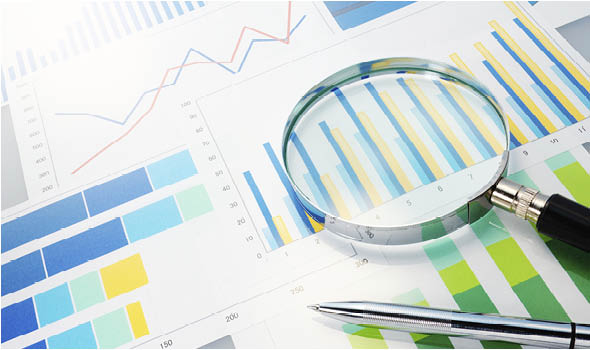 We know you can't afford to make as many mistakes as big hotels can when it comes to the way you spend your limited budget. Small accommodation providers need to be smarter about where money is allocated.
But without advanced reporting, you won't be able to calculate your budget, or see the return on your investments.
Can your hotel reservation system provide you with the following essential hotel reports?
Transactions report
An analysis of your daily transactions allows you to gain further insight into what works – for example, you may notice a pattern in high and low days, as well as which payment methods are most popular for your small hotel.
How much detail can you see when it comes to your payments and reservations?
For any time period you select, you should be able to see:
Payment method (cash, type of credit card, etc.)
Number of check ins
Number of check outs
Number of cancellations
Number of pending check ins
Number of pending check outs
Average unoccupied rooms
Here's an idea of how it should look: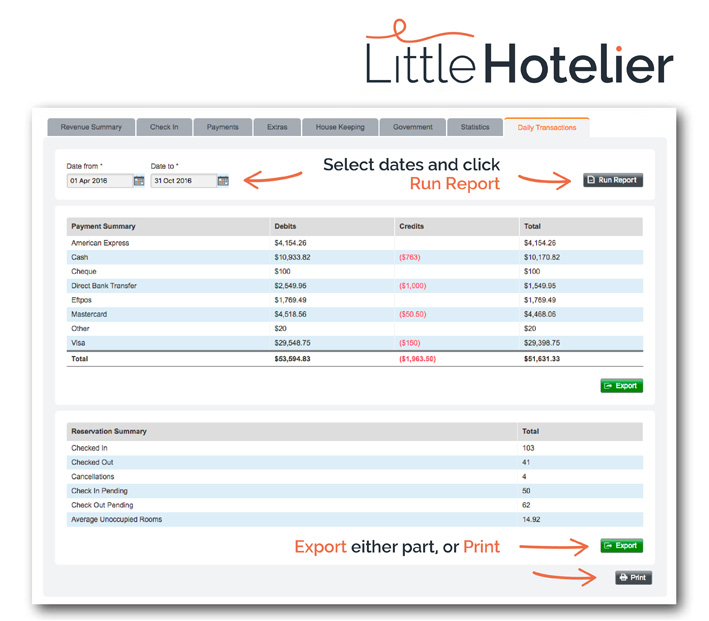 Statistics report
Small accommodation providers need to be able to track certain metrics that give them an overview of how well their business is doing.
Currently, how easy is it for you to drill down to a certain period and see:
Total closed, occupied, and unoccupied room nights?
Average occupancy, length of stay, lead time, revenue per booking, and daily rate?
Revenue per available room?
Cancelled reservations?
Measuring and tracking these statistics over time is crucial to be able to know whether you're improving or not.
Booking channels report
It goes without saying that in order to manage your revenue successfully, you need to be able to see all your revenue streams – from the online booking websites where you advertise your property, to your marketing and sales efforts.
To know what is and isn't working, you need to create a report of
Booking channels – number of reservations, and total revenue
Direct reservations – number of reservations, and total revenue
Extranet reservations (manually entered) – number of reservations, and total revenue
Without this visibility, you won't be able to make pricing decisions that are based on one of the most fundamental principles of economics: supply and demand.
Here's an idea of how it should look: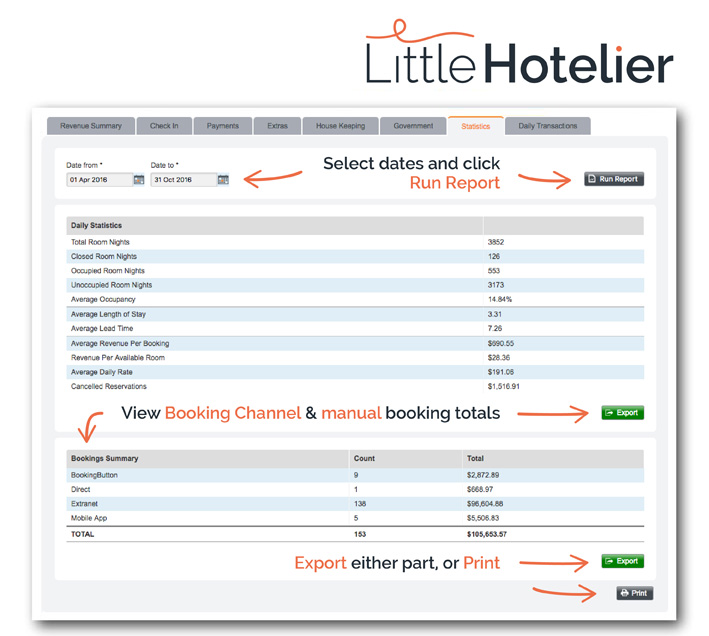 Does your hotel reservation system empower you with the right reports?
Without a comprehensive system, you will probably be struggling to manipulate data in Excel spreadsheets using formulas. Besides taking up a heap of time, one human error could mess up your whole spreadsheet!
With an all-in-one hotel reservation system, it's easier to slice and dice your data, exporting it if need be. A modern system will display it to you visually and allow you to print it out. You can spend more time making sense of the data and deciding what to do with it, instead of painstakingly manipulating it in Excel documents.
Make sure your all-in-one reservation system can track the revenue-related metrics that matter!


Back to top