The challenge of keeping costs under control is an ongoing one for most business owners. It's particularly difficult in competitive industries such as the small hotel industry – and is something that can keep you awake at night.
Perhaps you feel like your costs are starting to run out of control, eating into your profits? Or you might just feel your limited budget is stopping you from doing the things you want to do to improve your business?
In this blog we'll cover tips and advice to help you grow profitability, get a better return on investment and stop the issue of cost control keeping you up at night.
Getting started: hotel cost control and analysis
In business, cost control is defined as "the practice of identifying and reducing business expenses to increase profits."
To find all your costs, run through your credit card statements and other places where your spend is documented. If you're using software with accounting or reporting functions, this should be easily accessible.
Next you want to run a quick analysis to see where you're spending money and where you may need to cut back your spending.
With your list of expenses in front of you:
Compare your expenses to your budgeted expenses: are you going over budget and, if so, which areas seem to be the problem areas?
Categorise your expenses (labour, food and beverage, utilities, marketing, subscriptions, accounting, legal, insurance, maintenance and repairs, office expenses and other relevant areas) to get an understanding of where your money is going
Classify costs as fixed or variable: fixed costs are those that remain the same regardless of business activity while variable costs go up and down with changes in business activity levels
Find controllable costs: the expenses that can be adjusted or influenced by a person are the ones you really want to focus on – for example, switching off lights can bring down electricity bills but your monthly accounting software fees are generally fixed
Calculate return on investment to work out which expenses are justified by the amount of money they bring back into the business.
Methods and techniques for cost control in the hotel industry
If it looks like things have gone from bad to worse after your analysis, don't panic! There are plenty of ways you can start cutting costs, including:
Outsourcing: moving tasks that are currently handled in-house to an external provider often cuts costs through economies of scale (and by lowering your labour costs)
Focusing on efficiency: money could be seeping from your business simply because your processes are letting you down (or you're not allocating and using resources to maximise profits)
Bulk buying and other ways to reduce supply costs: negotiating a better deal across all your suppliers can add up to significant cost savings
Finding errors and unused services: running an eye over your bills to find costly errors or services you simply don't use or need anymore can deliver quick money-saving wins
Focusing on small savings: remember that making small changes consistently can add up to big costs savings in the long run.
Hotel cost control procedures you can action at your hotel
Ready to take action and start saving money now? Here are some practical ideas to get you started:
Reach out and make some calls
Call around and get a few quotes for major expenses such as insurance. At the same time, check in with your vendors and ask if they offer loyalty incentives or have any better deals for bulk purchases.
Review how you manage staff
If you employ staff at your property, could you train them to complete tasks outside their role when they have downtime? Could you better forecast when you'll need additional staff and when you won't? Could additional staff training allow more flexibility in rostering? Cut down labour and other costs by tweaking the way you manage staff.
Lose a staff member and you lose their experience along with the time and energy you've put into welcoming and training them. There are plenty of ways to keep your people happy (and avoid the costs of having to train someone else) from setting clear goals to recognising achievements, providing a few perks and adding flexibility and work-life balance to the mix.
Optimise your front desk operations
Your front desk is the heart of your hotel, and focusing on improving your front desk operations can lead to a better guest experience and a more efficient hotel – adding up to significant cost savings.
Fix it before you have to replace it
It can be more cost effective to fix something rather than letting it go and eventually having to replace it. Boost your maintenance schedule and work out if this helps cut down on replacement costs.
Going green in even small ways will help save the environment and also save you dollars. Educate staff on turning off lights. Install efficient lighting. Encourage guests to reuse towels. When replacing appliances, buy with the best energy rating high on your priority list.
Re-allocate your marketing spend
Effective marketing is critical in the small hotel industry, but traditional marketing can take out a big chunk of your budget. Consider reducing your spend and channelling the money into digital marketing, which is often more affordable and has the potential for massive reach and results.
Food and beverage cost control
A small restaurant or other food and drink offering can be a drawcard for guests, however the costs can quickly escalate.
Food and beverage cost control is one area that deserves special scrutiny. While some of the general areas mentioned above can help you cut costs, including looking at suppliers and labour costs, there are some additional ways to improve your food and beverage profits:
Get the pour size precise for alcohol by training staff or using jiggers
Reconsider portion sizes if meals are often praised but often left partly uneaten
Design menus so some ingredients and prep work are shared among dishes
Shrink the menu and go for quality over quantity
Make sure the kitchen isn't over-prepping or failing to efficiently store ingredients, leading to waste
Consider whether a breakfast buffet would work more efficiently as a "grab and go" style breakfast menu
Cut down the hours or room service if it's becoming a drain on resources.
Tools to help control hotel operations costs
If you're examining and managing your costs manually, using pen and paper or Excel spreadsheets, this time drain can also become expensive for your business – undoing your efforts to save costs.
Investing in hotel technology and software can not only help you manage costs, it can improve efficiency and decision-making across your entire business and boost your guests' experience.
Imagine being able to:
Connect your channel manager and booking engine
Take direct bookings on your website
Track and measure which online sales channels are generating the most bookings 
Manage reservations with a simple drag and drop calendar
Organise and streamline housekeeping
Use a mobile app to manage your property from anywhere
Get more time back to spend in the business or simply doing what makes you happy.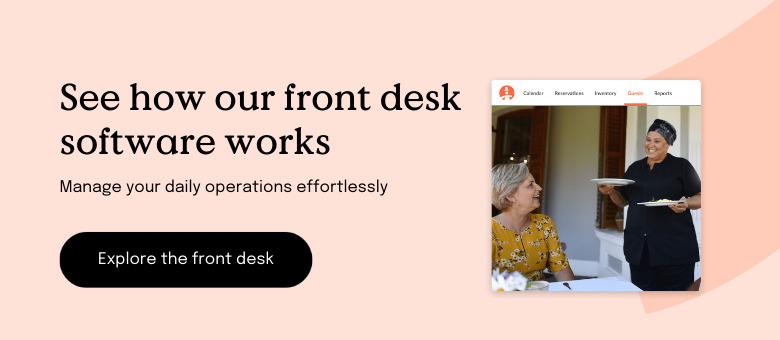 Share with your community:
We recommend the following articles for you
Back to top