Pre-TripAdvisor, it was difficult for small accommodation providers to build credibility against the larger hotel chains.
Now, with nearly 260 million unique monthly visitors and over 170 million reviews, TripAdvisor allows small hotels to reach markets that were previously unattainable.
How can small hoteliers take advantage of the world's largest travel site?
Getting started
When you first sign up to TripAdvisor, make sure you:
Upload stunning photos and videos of your rooms and facilities.
It will help you to attract visitors.
Add TripAdvisor widgets to your website.
Some widgets display your latest reviews and awards, which can help lend your business authority.
Other widgets can be used to encourage customers to give you a review on TripAdvisor. There are different kinds of widgets available, so you can match them to relevant pages on your site.
Remember to also add them to your Facebook Business Page and any other social media accounts that your business has. Use these widgets to ask for reviews, link to reviews, and link to your photos.
Get genuine reviews regularly.
For small hotels, building positive reviews is totally necessary in order  to succeed.
Consider this:
TripAdvisor is the go-to website for travelers who are hunting for accommodation reviews. As long as you show your guests a good time, and ask for feedback after their stay, over time, your profile will be filled with genuine reviews, and will bring you more customers.
Bidding on TripConnect
TripConnect allows you to compete for more direct bookings, using a pay-per-click advertising model. (Update: TripAdvisor has now added an Instant Booking format where they charge a commission percentage for successful reservations – click here to learn more).
Use TripConnect to link your booking engine to TripAdvisor. This means that people can check availability and cost straight from your TripAdvisor page, and then click through to book with you.
Your booking engine must support integration with TripAdvisor to do this (Little Hotelier does).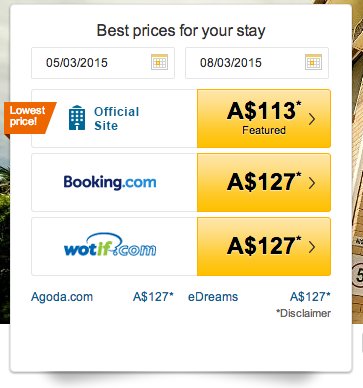 The higher your bid, the higher your property's listing will appear in TripAdvisor's Hotel Price Comparison Search box, thereby increasing the likelihood that TripAdvisor users will click the link to visit your property's booking page. So it's possible to outbid major OTAs and have your listing appear first in the results.
Ongoing management
TripAdvisor is not something you can set and forget. It's important to actively monitor your profile to make sure it works to sell out your rooms.
Respond to reviews
Monitor and respond to all reviews, both negative and positive. Show that you're actively listening and adapting to please your guests.
Show appreciation for positive feedback, and for complaints, apologise for the inconvenience it has caused them and explain why it occurred.
Show the person that you understand their situation by summarising and repeating it back to them. Explain the steps you will take or have taken to rectify the situation.
You may also want to offer them something in return for the inconvenience it has caused them. If you're starting to notice a pattern in complaints, you need to adapt quickly and communicate this so that future guests know it's no longer something they need to worry about.
Automate inventory management
If you manage your inventory manually, you run the risk of double booking your rooms. This is because your inventory isn't instantly updated, so TripAdvisor sells the same room that has already been sold through another channel. It's an absolute nightmare to deal with the unhappy guest, who has to be moved to another room (at a discount), or worse – turned away. What's even worse is they are likely to call you out in a public forum, like TripAdvisor.
It would be smart to invest in a channel manager that distributes your rooms to a variety of booking sites (in Little Hotelier's case, over 250).
This means that your rooms are bookable on all of these sites, and your true inventory at that point in time is what's being seen by your customers – whether it's direct on your website or through the OTA's website.
Give Little Hotelier a try to see how this works. Or keep learning about how to play the web like a professional with our free ebook.
Back to top