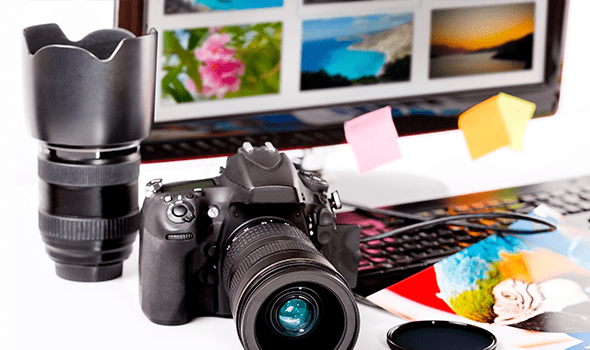 As the saying goes, a picture is worth a thousand words – and in today's online age, it's the photographs of your small property that do the talking for you.
A large portion of hotel reservations are made online, whether it's directly on your website, or through an online travel agency (OTA).
In fact,
In 2014, 86% of travelers made their bookings online.
Expedia reports that doubling the number of your property's photos on OTA listings can boost your booking rate by 4.5% and will allow you to increase your ADR by $3.5.
Online, a written description of your property will never be as powerful as a photograph. Why? A photograph triggers the visual senses, allowing guests to subconsciously interact with the story you paint in their mind with the photos you have of your small property.
But you can't just use any old photo – it's important to present the best features of your property in an irresistible way.
Here are the best tips to seduce web-browsing guests with photos of your small property.
Lights… Action
The secret to a spectacular photo is impeccable lighting. When taking photos of your small property, make sure that your setting is well lit.
The best times to take photos are early in the morning or late in the afternoon, because natural light is the best kind when it comes to property photos.
Depending on the type of property you have, you could also shoot late in the evening with interior lights on. This type of shot would make your property look enchanting.
Boreale Ranch provides a good example of this working extremely well:
The Space Illusion
If your small property looks a bit small in photos, it's not problem – with the correct photography, this can be taken care of.
There are a few visual tricks you can use to make rooms look larger than they truly are.
If you are taking the photos yourself, position yourself at the corner of the room and take each shot from the corner. This makes the room look much wider.
Here's another example from Boreale Ranch:
Another good trick is to take photos through doorways.
If it's within your budget, you may want to consider hiring a photographer to take the spacious shots. They would have a wide angle lens that helps to make every room and your property look wider. They can also use their photoshop skills to touch up and correct the images.
Keep It Clean
The most common error rookies make is forgetting to tidy up the property prior to the photo shoot.
Do a check and go through each room and around the exterior of your property and look out for rubbish, hanging washing, clutter and anything else that could detract from the shots. You will be amazed with what could show up in your pictures.
Shoot To Thrill
What is special about your property? What makes your regular guests keep coming back? Is it your uniquely themed rooms, the stunning interior designs, your welcoming porch, or even the landscape?
Here's a great example of the Mediterranean themed room from Avocado Sunset B&B:
Whatever it is, it's time to put the spotlight on it and put it on show. Take photos of all those special moments that guests could experience at your small property.
It's all about painting a story and triggering emotion so that guests will see themselves staying with you.
Get Low
While it's a myth that shooting a room from above gets you the best shot, shooting from a lower angle actually does.
If you or your photographer are using a tripod, set it low – below shoulder height and make sure to keep the camera level (not pointing to the ground).
Here's an example from Prairie Guest House: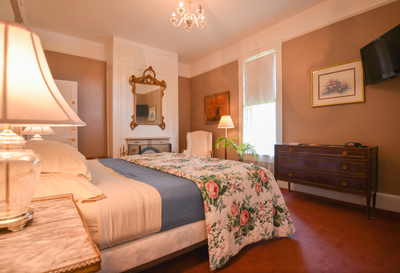 This type of shot will create a perspective of the walls going up from lower, giving each room more presence. When your camera sits lower than eye level, your photos will look like room interior photos you see in magazines.
Use A Tripod
The best tool you could have to take photos is a tripod. A tripod steadies your camera, because the camera can be affixed to it. When taking photos from a tripod, you will be able to capture a sharp photo with no hand held blur.
Capture Your 'Hero' Shot
This will be your main image used for your property across the internet. This is your chance to capture something spectacular and set the scene of your property.
This could be an image of the overall property or a special room or view from your property.
Get The Most Out Of The Photos
Whether you hire a photographer or not, it's important to start with a brainstorming session and create a schedule of all the types of shots that are a must-have. The more comprehensive your list is, the better.
This way you won't miss a thing and get the most out of your photography session.
Start improving your photographs today
It's very important to showcase your small property online with complementing visuals. Most guests choose where they will stay based on the photos they see on OTAs or directly on your website.
Taking photos doesn't have to be an expensive thing either. The smartphone is just as good for photos if you don't have a professional camera.
The top apps you can get to take some great shots are Camera+ (99c), Snapseed (free) and VSCO Cam (free).
If you would like some help on creating the ultimate online presence for your small property, download this free ebook guide on Establishing an Irresistible Online Presence for your Accommodation Business and get noticed!
Share with your community:
We recommend the following articles for you
Back to top