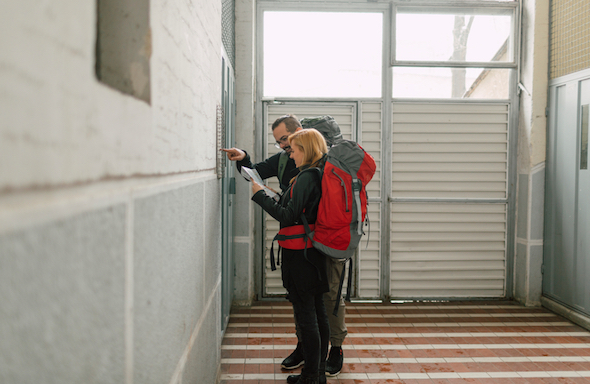 Do you ever worry about getting a bad review? You're not alone. I, too, have had the concern. I've also heard it at least a hundred times from other vacation rental owners and property managers, so you're among many like-minded peers.
In today's online world, we have to accept a few things if we want to achieve success with our vacation rental marketing. You cannot satisfy everyone, all the time. No matter how hard you try, some folks will be left wanting – or expecting – more. Even when you've provided a world-class stay.
I'm going to share with you how to embrace this concern with seven essential vacation rental marketing principles. You'll learn how to think differently about your rental business, about getting bookings, "selling" your property to potential travelers, and yes, dealing with not-so-great reviews. Plus you'll pick up a few actionable tips along the way.
Strap in, here we go!
7 Essential Vacation Rental Marketing Principles
1. Be Transparent
"A poor review is generally not because of your service or home itself – it's because their expectations may have been unrealistic based on your [lack of] transparency."
Transparency, or being open and upfront about who you are and what you're offering, builds trust with your prospects and potential guests. Building trust is the key to converting a traveler into a booked guest.
Some owners and managers think transparency will hurt their business: i.e. hiding certain aspects of your property, or "sugarcoating" the quality of your furniture. Believe it or not, guests aren't always expecting perfection. You're better off telling them upfront that the "deck has a little wear" than them finding out upon arrival. A poor review is generally not because of your service or home itself – it's because their expectations may have been unrealistic based on your transparency (or lack thereof).
Transparency is shown in other ways, too. The idea of using a photo of you on your owner profile page may be intimidating, but it humanizes the process and shows that there's a real person on the other end – a person who cares about the guest and wants them to have a great experience on their vacation.
Lastly, what about those unfiltered online reviews for everyone to see? Scary, I know. However, these are the ultimate form of transparency. They are one of the most essential components of your vacation rental marketing strategy. Embrace transparency. Embrace reviews. I'll show you how.
2. Are You Trustworthy?
"Transparency is the currency of trust for millennials and the future."
Trust is an extremely important part of the psychological buying process. Having reviews about your vacation rental offers some transparency (that word again) to people who are considering booking with you. Good reviews are the ultimate sign of approval from an unbiased party that your potential guest can relate to: a fellow traveler.
Did you know? 72% of travelers will not book a vacation rental if there are no reviews?
Why? Studies have shown that people are not likely to move forward with a purchase (booking your vacation rental) unless they feel like they can trust you.
This is even more important when it comes to millennials. A study by PEW Research Center asked the question, "Can most people be trusted?"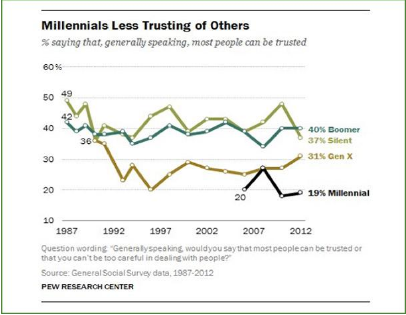 Only 19% of Millennials said most people can be trusted. Whereas 40% of baby boomers said most people can be trusted.
Millennials, the largest growing market of travelers, are less trusting than any other age group. Transparency is the currency of trust for millennials and the future.
3. Storytelling Selling: The Power Of Reviews
"Every review is a short story: a memoir of the traveler's vacation."
"Storytelling" is the buzzword in marketing these days, and for good reason. Savvy marketers know that people don't like to be "sold" things, but they do like to buy stuff.
Telling a story is a great way to sell and communicate the benefits of your vacation rental, without the pressure and tension of making a sale – or closing a booking (tell a good story and that will come). That is why reviews are so important for your vacation rental marketing. You can also tell a story through your property description and high-quality photos, for sure.
But every review is a short story: a memoir of the traveler's vacation. Reviews are essentially the traveler doing the selling for you. They resonate more powerfully with other travelers than anything you could tell them, because it's from a fellow guest's point of view.
Did you know? 89% of consumers believe that customer testimonials are the most effective content in helping them make a buying decision, according to a marketing study by B2B company, Spiceworks.
But you don't always need five-star customer testimonials…(more on this later, it gets interesting).
4. Social Proof
"If you don't have reviews, people may assume you are hiding something."
Social proof, or social influence, is the idea that people will take the same action as others, assuming it is the correct choice.
Good reviews are more social proof than you could ever create yourself. Consider the concept "wisdom of the crowd." Travelers see how wonderful others' vacations were – those delightful short stories – and are more willing to book your property themselves because they trust the "crowd's" recommendations.
With online communities and platforms like Facebook and Twitter social proof is now expected. If you don't have reviews, people may assume you are hiding something.
"You can and should leverage reviews in all of your marketing strategies."
Reviews are more than just social proof, too. They are essentially marketing assets that people leave on your vacation rental listing(s). You can and should leverage reviews in all of your marketing strategies.
Have you added customer reviews on your websites, into your emails, newsletters and other online advertisements? If not, you're missing out on results.
It's important that you get as many reviews as possible so you can flaunt them in all of your marketing channels.
5. Realize You Will Mess Up
No matter how great of a host you are, you will likely have a complication at some point. Especially when you've been doing business for a while.
It's called the law of probability. Or maybe you're more familiar with Murphy's Law: "Whatever can happen, will happen." Both are true.
Something might happen that you have no control over like the power going out during a storm at 3:00am or the air conditioning deciding to clunk out on your guest while they're in your vacation home.
Preparation Prevents An "Issue" From Becoming An Actual Issue
By simply preparing for unforeseen situations, as rare as they may be, you can avoid a bad review. In fact, you can receive a positive review from a negative situation. What!? Yes, really (more to come in #6).
Try to anticipate some basic "problems" that could arise during a guest's stay, and have a plan for if/when they happen.
Having a game plan will make you feel prepared; giving you added confidence and putting your mind at ease. It'll also make you look like a pro if something does happen.
6. Can A Bad Review Be Good?
Okay, so here is the good news about a bad review – or a bad experience during a guest's stay. Let's say you've done all you can to prevent a traveler from having a less-than-perfect experience, but they still post a negative review of your vacation rental property.
A negative review and a proper response can show your customers you really care.
People are sometimes skeptical of vacation rental properties with only perfect review scores. They know that nobody is perfect, and expect a variance in reviews. And don't worry; your overall property rating score can still be five stars, even with a few four-star reviews.
However, what if there are two- or three-star reviews? Having a few less-than-glowing reviews actually gives you a ripe opportunity to show you care, and in turn can be a positive thing if other travelers come across it. Respond to the reviewer and provide a reason or solution to each of their pain points. Explain the efforts you went through to remedy whatever it is that bothered them. If you did your part during their stay, other travelers will see that shine through in your response. Even if the reviewer remains a bit…sour.
Or, think about if something goes wrong during their stay. That gives you the chance to be a superhero and save the day.
Guests won't really know they're in capable hands until something doesn't go exactly according to plan. When something goes wrong, you get a chance to resolve the issue fast and effectively. That's what the guest will write in the review: that you were extremely helpful, fast-acting and accommodating in the face of adversity.
Even if they were upset about the particular problem, you jumped in and rolled up your sleeves and made sure they were well taken care of during the situation. That speaks volumes about you and your rental service.
7. At The End Of The Day, Show You Care
It was said by Theodore Roosevelt, "No one cares how much you know until they know how much you care."
You can be an expert vacation rental manager but if trust doesn't translate to people, your marketing efforts may be overlooked. On the flip side, develop a trust with your potential guest, show you care immensely about their experience, and they will tell the world about it.

Recap: The Journey To A Good Review
If you're scared to list your property because of a potential bad review, hopefully I've changed your mind.
Remember that building trust and closing bookings starts with transparency: set proper expectations and understand that people don't need perfection. When they inquire about your space, respond honestly and thoughtfully – put yourself in a vacationer's shoes. What matters most to them? Answer their questions realistically and a trust will develop. Make sure your property has a strong description and great images to start the storytelling process.
After closing, show them you care immensely about their trip by treating them over-the-top and being prepared for unforeseen problems.
Follow these seven principles and your guests will be screaming from the mountaintops how great of a stay they had in your property.
Lastly, include those amazing reviews in all of your future marketing strategies! They'll do the selling for you.
Written by Jay William, a vacation rental marketing guru and seasoned sales strategist who's partnered with some of the biggest names in the vacation rental business to help empower owners and managers. Want more bookings? Check out www.villamarketers.com for the best vacation rental services to help you succeed.
Share with your community:
We recommend the following articles for you
Back to top