The world's most trusted small hotel management software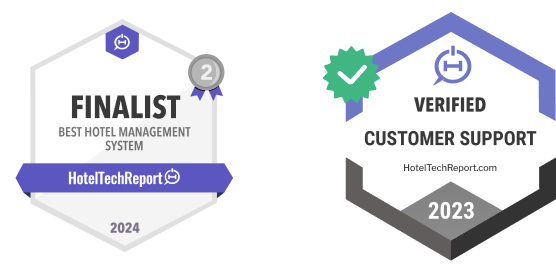 Advantages of using a B&B channel manager
As something that manages your bed and breakfast rates and availability, your channel manager is an integral piece of software that will sit at the heart of your day to day property management agenda. This is why getting everyone to use it quickly and easily is going to be key to your success. Here are 4 of the best advantages you'll gain when using a channel manager for your B&B:
Market your B&B online from one place
Have the ability to sell the most rooms possible through as many channels as possible without risk of overbooking through a pooled inventory model. With a bed and breakfast channel manager, manage as many channels as you want simultaneously, while being supported in multiple languages and timezones.
Avoid double-bookings
With a B&B channel manager, you can easily manage your availability, offer advanced bookings, and significantly reduce over bookings. Without live availability, travellers could double book the rooms at your bed and breakfast for any given date, resulting in frustration and cancellations.
Centralise your operations
Experience lesser admin tasks by managing inventory and bed and breakfast rates from one central place. There's no need to log into the backend system of each booking site. With a channel manager, easily set up multiple room types for each channel you connect to. Multiple staff can also use it at the same time.
Get valuable performance insights
With a channel manager for your bed and breakfast, you'll be able to access reports on which channels are bringing the most reservations. Gain a clearer understanding on which booking sites are performing the best, so you can make quick and easy adjustments.
B&B channel manager features for your bed and breakfast
A channel manager will help you increase the number of distribution agents you partner and distribute your rooms with in the most effective way possible. It is a tool that you can use to steadily increase your profits while improving your brand recognition around the globe. Consider the following key features that bed and breakfast operators will need to look out for in a channel manager for their B&B:
Pooled inventory
Pooled inventory means you can sell all your B&B rooms on all your chosen channels at the same time, without needing to worry about double-bookings. The channel manager will automatically update your inventory in real-time across all channels whenever a booking is made. There's no lag time in inventory updates! All your booking sites will display the right inventory without you having to adjust a thing.
Live rates and availability updates
A channel manager lets you update your rates and availability across your website and connected sales channels with the click of a button, anytime you like. An all-in-one online booking solution like Little Hotelier will combine your booking engine, front desk system, and channel manager, meaning you only have one place to manage your hotel from. The channel manager will automatically reduce availability when your B&B is booked on any one of your sales channels.
Channel reporting
It goes without saying that in order to manage your revenue successfully, you need to be able to see all your revenue streams – from the online booking websites where you advertise your bed and breakfast, to your marketing and sales efforts. A good channel manager will allow you to easily track and measure which online sales channels are working. This gives you the knowledge you need to negotiate commissions and end partnerships that aren't working for you.
Pricing control
By analysing data on customer booking patterns, occupancy rates, and market conditions, B&B owner-operators can determine how much to charge for each room depending on how many rooms are available and how many people want to stay at your bed and breakfast. With yield management features, you'll know exactly what price and rooms to set for each channel to make the most revenue for your small property.
A complete channel manager buyers guide for hoteliers
If you need a full rundown of how a channel manager works, why it's so important, and how to identify which features are essential for you, a buyers guide will really help.
Use this guide to understand how your potential provider will be able to respond to the goals and objectives of your small business.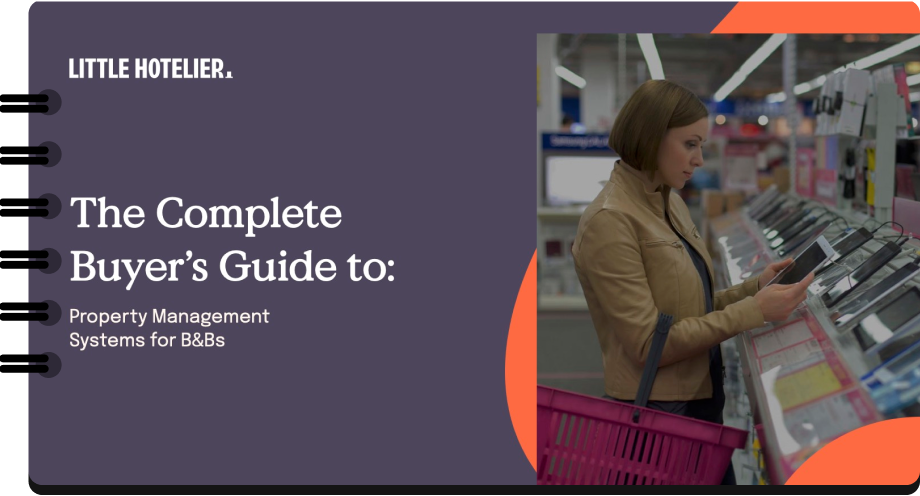 Why choose Little Hotelier's channel manager for your B&B?
Trusted by more small independent properties globally than any other provider
Superior coverage with more than 400 connected booking channels
User-friendly features and interface designed specifically for small property operators
Double-bookings a thing of the past with pooled inventory
Frequently asked questions about B&B channel managers
What is a bed and breakfast channel manager?
A B&B channel manager is a platform that enables your bed and breakfast to market its rooms on as many sales channels as you like at the same time and from the same place. A channel manager can instantly update your bed and breakfast's availability so that everyone has access to the most recent and most reliable information. Not only will a channel manager help you attract more guests, it will also remove the logistical issues such as double-bookings. Whenever a booking is made on one channel, your channel manager will automatically update your inventory on all channels in real-time. This minimises the need for the staff to complete manual booking entries and subsequently eliminates the risk of overbooking the rooms at your B&B.
What is the benefit of listing my bed and breakfast online?
Listing your bed and breakfast online lets you display your availability and offer advanced bookings more effectively. In the mind of the modern traveller, if they can't find what they want online it's not worth their time. Planning a trip is fun, so they want to be able to access and book hotels quickly and easily so they can start anticipating their trip. Their anticipation is often when they're feeling the most excited. B&B owner-operators need to recognise that different types of guests prefer to reserve a room at different points in their booking journey. Millennials, for example, love to grab a last-minute room using their mobile device. Older travellers who are enjoying retirement are more likely to book several months or even a year in advance. By managing availability more efficiently, you can allow bookings from every type of traveller who may be interested in staying at your property.
Why is it important for B&Bs to get listed on different booking channels?
It is important for bed and breakfasts to get listed on booking different channels because making sure international travellers can easily book with you should be your top priority. Your B&B channel manager should help you do this by allowing you to partner with a variety of OTAs that can allow you to reach markets you could never access directly. Think about all the different kinds of travellers you would like to reach, and make sure that your channel manager connects with sites that cater to that niche. For example, a channel manager that connects you to a last-minute accommodation website would be perfect if you want to target deal-seeking travellers. As your network increases, your reach in the industry expands and you will notice an organic growth in your B&B bookings. You can also sell more rooms during your peak season at a higher rate and still sell out during the slow travel times. As your bookings increase, your revenue will grow as well. A channel manager is an essential piece of technology for B&B operators who want to succeed in the instant, global travel industry.
How and where can I list my B&B property online?
There are actually a number of ways your property can sell rooms online. One of the most popular methods is to connect to online travel agents (OTAs). These channels have a huge international reach and will put your B&B front and centre for thousands of travellers. You can make the connection manually, but this becomes hard to handle once you have more than a couple of channels which is why a channel manager is the best option. You can also sell hotel rooms directly through your website and social media pages. To do this, you'll need an online booking engine that enables these reservations to be made. Your channel manager can manage the booking engine in the same way as an online travel agent. Metasearch engines such as Google Hotel Ads are another way to get your B&B rooms booked online. By partnering with Google, you can make your bed and breakfast appear to travellers looking for accommodations in your city. The reservations will be processed through your booking engine, and your channel manager will update from there. Finally, a channel manager can also oversee a global distribution system. GDS' are used by travel agents or travel managers to book accommodation and airfares etc on behalf of other parties. They'll be able to trawl the GDS and book your B&B if you are connected.
Why do I need a channel manager for my B&B?
From a more strategic point of view, you should always work on increasing the number of channels and distribution agents that you use. You need to develop a vast, diverse distribution network filled with a variety of online travel agents to maximise your bookings through your channel manager. As you connect to different channels, you will uncover new ways that can be used to attract additional guests to your property. When you add new channels to your B&B distribution network, you will be able to increase bookings as well as profit. There's always room to generate more revenue, so you should never consider your distribution network to be complete. Little Hotlier's channel manager is designed to make it easier for bed and breakfast owner-operators to market and sell their rooms online. Watch a demo to see the value we can bring to your small B&B.
How much does a B&B channel manager cost?
The cost of a B&B channel manager will vary across providers and will mostly depend on the size of the bed and breakfast you are running. The full functionality of channel managers often don't come free, and that's because the impact it has on your business is worthy of investment. However, reliable providers offer a free trial period for their products, so you can be convinced of their value before you start paying a fee. You can start with a free trial of Little Hotelier for 30 days.