The world's most trusted small hotel management software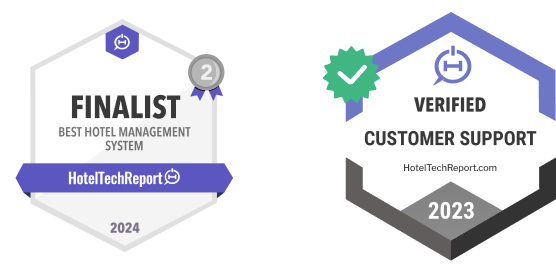 Hotel check in system functionalities in a PMS.
A PMS handles all of your operational tasks, including check in and check out. That means no more being scared to leave your desk because you're not sure when guests will check in.
With a PMS, you can automate the check in process, and plan the day ahead (from your bed… or the breakfast table… or in between holes on the golf course) by doing the following with just a few clicks:
Specify your property's check in and check out times.
Enable guests to alert you to their check in time.
See your check ins and check outs for the day.
Allow guests to check in ahead of time.
Process check out payments and print/email invoices.
Send pre-check in and post-check out emails.
Why a PMS is better than hotel check-in software.
Check in/check out calendar.
Get a clear view of which guests are arriving on a given day. You can choose from two views; two weeks and one month, and see the reservations, availability of rooms, occupancy percentage and housekeeping status for these periods. This visibility helps you prepare for future check-ins and plan accordingly. You can also set check in and check out times, let your guests tell you when to expect them, and print out a run sheet so you are totally organised for the day.
Check in/check out housekeeping schedule.
Housekeeping is a very important aspect for hoteliers to be on top of, and one that is closely related to the check in/out process. With Little Hotelier's housekeeping feature, you can view the list of rooms with their status (check in, check out, stay through) and see the "cleaned" status of the rooms, for today, tomorrow, a specific date and for a duration. Print-outs can be given to cleaners and notes can be recorded to personalise housekeeping for particular guests.
Hotel mobile check in software.
Check ins and check outs can be done anywhere, anytime with Little Hotelier's app which is available on both Android and iOS. The app enables you to create and edit a reservation, create and reopen a room closure, check in and check out guests, switch to another property, and set up mobile notifications for any cancellation, new reservation, check in and check out. All you need is an internet connection and your smartphone or tablet to keep an eye on your hotel.
Incentivise remote/early check in.
Little Hotelier enables you to create online codes that allow guests to check in on your website 24 hours prior to their arrival. This means that when they arrive, they can head straight to their room without waiting. Alternatively, if you want to be there to greet your guests when they arrive, you could create a check in code that guests can input into their computer, phone or tablet that alerts the front desk staff that they will be arriving shortly.
Use hotel check in software to send email to guests.
Little Hotelier allows you to send customised pre-check in and post-check out emails automatically. For example, booking confirmation, reminder of check in times and other information before their stay, tips during their stay, and a hotel review request sent upon check out.
Easy check out payments.
With Little Hotelier's in-built payments feature, you can accept deposits, payments, and process refunds instantly within the same system you use to process the check out, making payment seamless for you and your guests.
Comparing hotel check in systems.
As with any new investment, you should think carefully and compare the various options available to you.
When it comes to a hotel check in system, you can narrow down your focus by looking at some important factors:
Price
As a small operator, you probably have a strict budget and want a quality solution that's affordable.
Functionality
Obviously you want to be sure the product can deliver exactly what your business needs.
Ease of use
The whole point of making such a purchase is to simplify the way you run your business so the quicker you can learn the system the better.
Reputation
Majorities aren't always right but when it comes to technology, your peers will give you a good idea of what to rely on and what you shouldn't trust.
Support
It's extremely important that any concerns or queries you have can be resolved efficiently throughout your trial and billed use periods.
What is the easiest system to use to check-in hotel guests?
Little Hotelier's PMS stands apart functionally as a leader in the check in software space thanks to all the features mentioned above. And if ease of use is what you're after, then you'll find that it delivers in this department too, with an intuitive design and user-friendly interface.
Little Hotelier was created for small accommodation providers (30 rooms and under) who want to spend their time on their guests rather than on technology and admin.
Many PMSs, on the other hand, are built for larger hotels, which often have the resources to dedicate to managing such systems. But when you own and operate a B&B, inn, motel or hostel, you don't have time for complicated technology.
That's why Little Hotelier was built to be a complete online reservation and property management solution, packed with value-adding features to help you run your business with ease. As well as a front desk system (which provides the check in and check out functionality), it offers:
Use this guide to understand how your potential provider will be able to respond to the goals and objectives of your small business.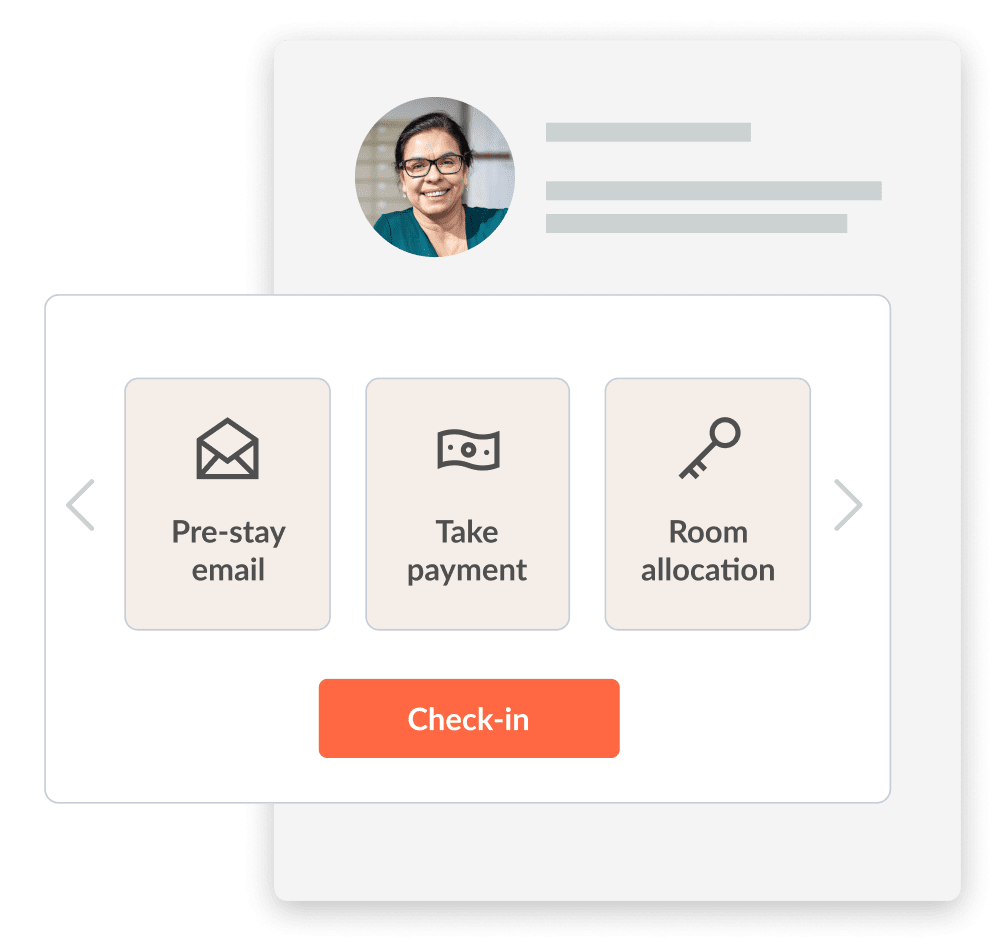 An online booking engine
to take commission-free reservations on your website and social media pages.
A channel manager
to manage the distribution of your rooms on booking sites like Booking.com, Expedia and Airbnb.
A website builder
to create a beautiful, functional website that converts lookers into bookers.
A payments solution
to process deposits, payments and refunds quickly and easily.
Why choose Little Hotelier to manage your hotel-check ins?
Trusted by more small properties than any other global provider.
Connected to 400+ booking channels.
Backed by SiteMinder's powerful technology – processing over 100 million reservations each year.
Designed with small properties in mind, prioritising ease of use and putting you back in control.
Frequently asked questions about hotel check-in software
What is hotel check-in software?
Hotel check-in software allows you to manage your guest check-in processes with ease by managing it all through one system. This includes your calendar, housekeeping schedules, and more.
How does hotel check-in software work?
Hotel check-in software works by checking in (and out) your guests via a system which automatically updates with your property management system.