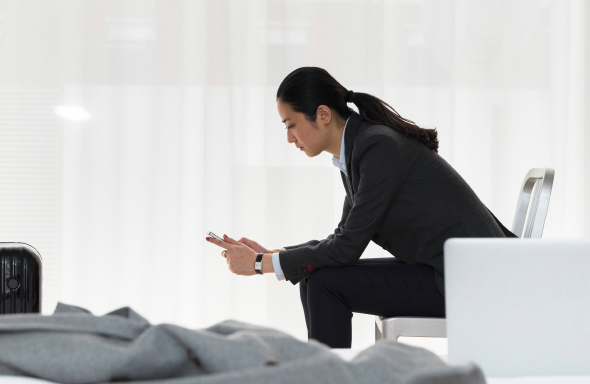 It's easy to understand why your business guests are so valuable. While your leisure guests only visit you during peak holiday periods, your business guests travel all year round.
Not only that, but they tend to shop online and are 3.5x more likely to have spent $1,000 on the web than others (Tnooz). No wonder total business travel spending is expected to rise to 389.9 billion USD (GBTA).
Here's everything you need to know about how you can attract and cater to them in the best way possible.
Who is your typical business traveler?
Because they're traveling for business, it's only natural that work is their number one priority while traveling. This is probably why they are constantly connected to their mobile devices!
Leonardo reports that…
More and more business travelers are booking travel for themselves, with the majority (64%) beginning their journey with online search.
At this time, they love watching videos – in fact, 69% watch online travel videos (that's 20% more than leisure travelers).
You should also highlight your loyalty program, because it increases a business traveler's likelihood of booking by a whopping 84%! After all, if they frequently visit your area on business, why not stay with you again?
What should you offer business travelers?
You can up-sell relevant services to business travelers, like a daily cleaning and housekeeping service. If your property is an apartment rental, offer a personal chef or shopper.
To reach business travelers, it would be wise to partner with retail and online travel agencies who are established in this market.
Why not create group activities in your region by partnering with a local corporate event company? That way you can offer team building activities and entertainment, offering discounts and earn a commission!
For more information on the top travel trends, download our free ebook:
Back to top