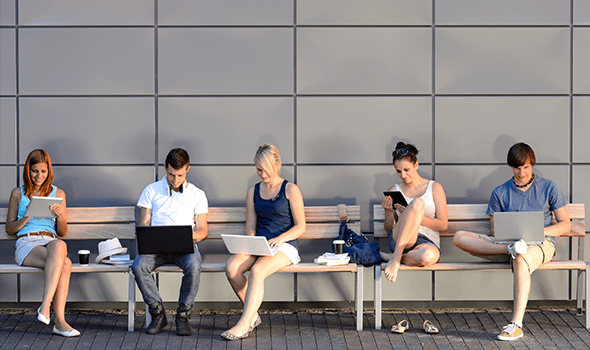 It's easy to see why small hotels are keen to attract millennial travelers – the millennial market represents a massive opportunity for the hospitality industry.
Millennials are young, hip and they like to spend big when they travel:
However, it can be difficult to understand their perspective and get into their demanding little heads.
Here are your most burning questions about millennial travelers answered – so that you can capture their online reservations for your small hotel.
What travel products do millennials buy online?
Millennials buy everything online – from groceries, to clothing, to furniture. So it comes as no surprise that they also buy travel products online.
Accommodation ranks in the top 3 travel products that millennials research before they make a travel purchase online.

Tnooz reports that 60% of millennials are most interested in researching accommodations before they make an online booking, while 74% research destinations before booking flights, and 68% research travel activities before booking tours and activities.
How do millennials research accommodation?
Millennials use their devices for everything – including online research.
In fact,
Most millennials (90%) research travel plans online using a desktop device, while 75% also use a mobile (Tnooz).
In 1 month, millennials spent 4 full days online on all types of devices (Hospitus).
Millennials hate finding missing/unavailable info, and not finding info quickly and easily (The Millennial Impact).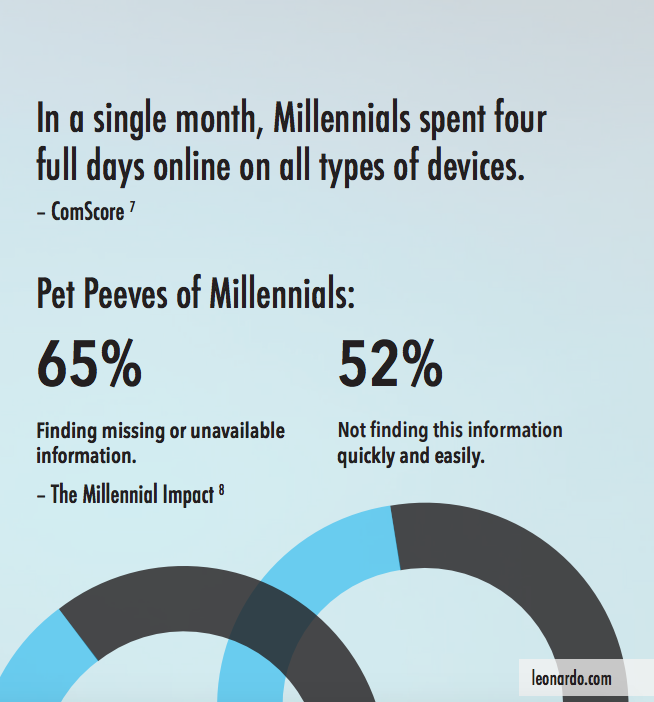 And this research is extensive – a millennial will check 10.2 sources before booking (Leonardo).
The same report from Tnooz found that during the research process, millennials are most interested in photos of accommodations, articles about accommodations, and videos about accommodations.
This means that to capture their attention, you need to work on crafting an irresistible online presence – all across the web.
How do millennials book accommodation online?
In terms of booking behavior, half are booking travel on mobile devices, while most still prefer to use a laptop (Tnooz).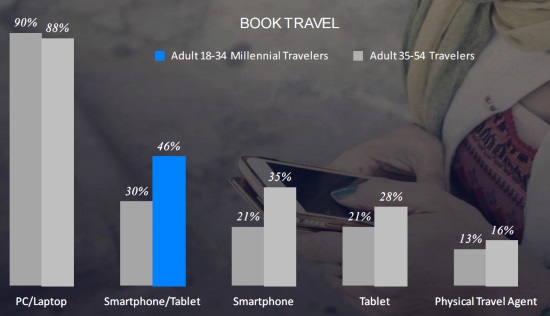 When it comes to making the ultimate decision, 65% of millennials like to compare prices across different sites (Leonardo).
Allow them to learn about your property and book themselves in online, from any device. Millennials are "fluent and comfortable with booking plans online, as well as on mobile and tablet devices" (HVS), and 76% of millennials surveyed by The Millennial Generation Research Review said their biggest pet peeve is navigating non mobile friendly sites.
If your website is difficult to use across devices, and they can't check availability or book with you immediately, you will immediately lose points and they will look for an alternative.

Share with your community:
We recommend the following articles for you
Back to top