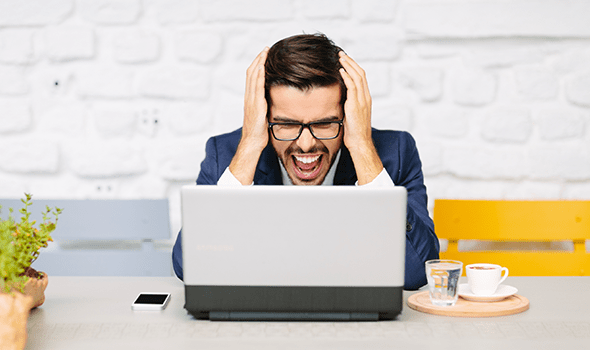 There's no doubt that your millennial guests are the most difficult to please, because they have such high expectations of your bed and breakfast or small hotel.
However, it's important to get your hands on them, because they are such a lucrative market! In fact, the rise in youth spending "vastly outstripped" that of other international travelers (WYSE).
Here are 10 ways that you will surely annoy them, to the point that they will shy away from your small hotel.
1) When you don't have an online presence
Millennials do everything online. If you're nowhere to be found, you've basically pulled yourself out of the race! Millennials will wonder just how legitimate you are if you haven't adapted to the internet.
Before you even get a chance to pitch your property, they want to take a good hard look at your website and booking site listings for photos and descriptions of your property, and browse through your online reviews and social media profiles to see what other guests have said about you.
2) When you have a bad mobile site
If your website has a bad mobile experience, you can forget about attracting millennial guests. Millennials are so attached to their mobiles that they touch their smartphones 43x per day (SDL) – including to research and book travel.
Google reports that 38% of leisure travelers and 57% of business travelers use mobile for travel information and 52% of travelers used a smart phone or tablet to complete travel bookings.
3) When you don't let them check your availability and book online
Millennials want things now – including the ability to reserve a room at your property. They are "fluent and comfortable with booking plans online, as well as on mobile and tablet devices" (HVS). And it's not just millennials, either – 60% of leisure and 41% of business travelers are making their own travel arrangements, generally via Internet (Amadeus).
4) When you don't confirm their booking immediately
Don't confuse your millennial guests by failing to confirm their reservation straight away. Your online booking engine should send an automatic email immediately after your guest enters their details to make a booking.
Usually, a credit card is required, so the purpose of this email is to reassure your guests that the reservation was successful. Millennials know there are heaps of credit card scams out there. They need peace of mind that your hotel is legitimate and their sensitive financial data is safe with you.
5) When you don't touch base with them before their stay
Millennials feel neglected when they don't hear a thing, because they need that reassurance that you're prepared for their stay. They are used to a high level of service – the expect you to contact them before they come and stay with you! Get them excited about their stay with you, remind them what they need to check-in, and upsell any additional services like transport.
It shows them that you appreciate their business and look forward to meeting them, giving your hotel that personal touch so they have a warm fuzzy feeling about you. We recommend that you send it through your booking system a week or so before their stay.
6) When you're not there for their check-in
If the room isn't ready, your millennial guests are stuck waiting for it to be prepared. Sometimes, at the moment you do decide to leave your desk, that's when they need you to check in. Even though you have a bunch of things to do around your property, you know that you can't afford to have no one greet your guests as they arrive.
First of all, to be efficient, you need to be able to access your reservations calendar remotely from your mobile devices. You don't need to be physically at your front desk to keep an eye on everything. Just bring your smartphone or tablet with you. Secondly, your hotel's booking solution should allow you to request important information like check-in times, no matter what sales channel you're booking through.
7) When it turns out you've double booked their room
Your booking sites didn't have the correct inventory, and allowed two bookings to be made for the same room. You try to schedule your guest in for another date – but within that time you received another booking that wasn't updated on your calendar! So the cycle continues. You have to contact the guest that just booked, apologise profusely, and repeat the process.
This annoys your millennial guests to no end (unless, of course, they get a free upgrade). You need one source of the truth. Get your hands on a front desk system that integrates with your online sales channels, so that it updates your inventory on all the other websites automatically, and in real time.
8) When you forget any special requests they made
Millennials can be very particular about their requests. For example, they have dietary requirements for their included breakfast – it has to be gluten, meat and dairy free. If your booking engine doesn't allow you to add notes to a booking, or request custom information at the time of booking, then you may forget this information when they stay with you. In that case, expect to deal with an annoyed guest (or worse, a bad review).
9) When you respond unprofessionally to a negative review
No matter how tempting it is to argue against negative reviews, don't do it! Becoming overly defensive and arguing against negative reviews hurts your reputation. Stay professional, hold your tongue, and thank them for their feedback.
Why? Online guest reviews significantly influence the booking decisions of your potential millennial guests. Over the last 12 months, 81% of travelers said they found user reviews important, and 49% of travel customers refusing to book a hotel without reading reviews (HotelCluster).
10) When you completely ignore a positive review
On the other hand, if reviews are left unchecked or not responded to, online review sites can foster negative opinions about your small hotel in plain sight of your prospective guests. Online hotel guest reviews represent an invaluable opportunity for small hotels to know what their guests really think of them, not to mention act as free advertising to millennial travelers.
Whether those opinions are positive or negative, bed and breakfasts, guesthouses and motels can use this valuable information to engage with their guests, increase travel customer satisfaction, identify operational problems and promote their small hotel to future guests.
…but when you use clever booking software to get it right
Little Hotelier's all-in-one solution can help you manage your reservations, engage with your guests, and build up your online reputation. Watch our videos to learn how.

Share with your community:
We recommend the following articles for you
Back to top