The travel and tourism industry is now so dominated by the internet and online transactions that your hotel website is one of the most important parts of your business – if you don't want to rely too heavily on third-party booking sites.
Listings on third-party OTAs and booking websites will only ever get your property so far. These listings aren't searchable on Google, aren't as deep and detailed as many guests need, and see you hand over a percentage of your earnings to the platform that facilitates the booking.
A hotel website solves each of these problems, making you Googleable, granting you the opportunity to build a more valuable personal relationship with guests, and earning you more revenue via direct bookings. The next question: how do you build one?
One answer is via a DIY tool like Squarespace. But is Squarespace the best hotel website builder? Read on to find out the pros and cons of Squarespace, and your other options.
Can I build a hotel website on Squarespace?
Squarespace is one of the world's most popular website building platforms for a reason: it allows users with minimal expertise to create high-quality and fully functional websites, including hoteliers (though not exclusively hoteliers).
The ultra simple and intuitive user interface is the secret behind the success of Squarespace. Not only is it a matter of just dragging and dropping elements into place, the predefined regions make it almost impossible to mess up the look and layout of your site.
But, while you can build a hotel website on Squarespace, the real question is whether you should.
Should I build a hotel website on Squarespace?
There are a couple of notable drawbacks to using Squarespace for your hotel website build. These stem from the fact that the tool isn't focused specifically on the hotel and travel space. Of the over 100 Squarespace templates available, hotel-specific options are hard to find – you'll see a few in the 'Travel' tab, but may have more luck in the 'Real Estate & Properties' section.
Squarespace doesn't offer much hotel-customised functionality either. In order to manage bookings and availability, and to sync all your disparate booking channels with your site, you'll need to integrate a third-party tool.
This means that compared to a purpose-built website solution like Little Hotelier, the process of building a hotel website on Squarespace can start simple but become complicated quickly, and ultimately deliver underwhelming results if you don't choose the right integrations.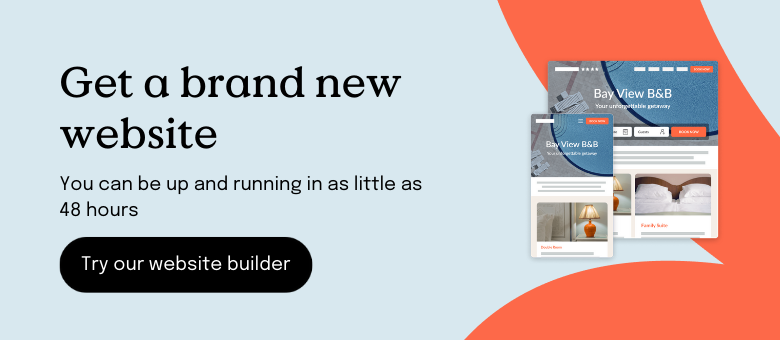 How do I make a hotel website on Squarespace?
The process of building a hotel website on Squarespace will be familiar to anyone who has created their own site before. The basic steps are as follows:
Choose a website template.
Build your website out by creating and designing the pages.
Customise each page by dragging and dropping content into place.
Add the necessary apps and add-ons for booking, payment and channel management functionality.
Choose and pay for a custom domain.
Optimise your website for search engines.
Choose your paid plan (the free trial lasts 14 days).
While it looks relatively standard, the devil in the Squarespace process for hoteliers is in the detail.
On the plus side, the user interface is intuitive, the building process is relatively quick and pain-free, and the results are beautiful. In the cons column, the fact that Squarespace isn't a hotel-specific tool can make life difficult for hoteliers. Standard functionality is limited, and securing the right add-ons and integrations can be a long and complex process, particularly when compared to a fully-featured, purpose-built tool like Little Hotelier's website builder.
How much does Squarespace hotels cost?
The cost of creating a hotel website on Squarespace will depend on the subscription you choose. There are three business and commerce plans available:
Business: $35 per month.
Basic Commerce: $40 per month.
Advanced Commerce: $61 per month.
Not included in those prices is your custom domain, for which prices vary, and all the hotel-specific functionality you'll need to add, such as your booking system and channel manager. Squarespace offers a 14-day trial that gives users a taste of the website builder before they fully commit.
Compare that to Little Hotelier, a solution we've built specifically for small, independent hoteliers. Little Hotelier is far more than just a website builder: you also get all the other functionality you need, including a market-leading channel manager software, booking engine, payment processor and digital front desk, included in the price.
At 30-days, our free trial is more than twice as long as that of Squarespace, so you can fully test us out before you commit. What's more, all that built-in functionality, and the peace of mind that comes with 24/7 phone support, is enjoyed for one low price.
How do I add my hotel booking to Squarespace?
To manage bookings through Squarespace you need to find, purchase, implement and integrate a third-party tool. If you choose well and set it up correctly, you'll be able to create a hotel booking website, accept bookings from OTAs, and manually add direct bookings to your system.
You can also do this with Little Hotelier, though there are a few key differences:
Our website builder exclusively builds hotel websites. You won't need to find, purchase or integrate hotel-specific add-ons – they're all pre-loaded into the solution.
The Little Hotelier channel manager syncs your website with over 450 OTAs – more than any other solution. No matter how niche your preferred OTA is, we're likely to offer a connection.
We're proven to work. Little Hotelier users have reported saving 35 minutes per booking, an increase of 46% in bookings, and a 63x return on investment!
What is the best website builder for hotels?
Given the proven success that thousands of hotels have already experienced with Little Hotelier, we're confident that we offer the finest hotel website builder on the market.
But why listen to us when you can try it yourself?
Click here for your free, fully featured 30-day trial and try it out today or watch a demo below.

Share with your community:
We recommend the following articles for you
Back to top