Some good advice in life is to do more with what you already have, and we think it's worth talking about! The bookings that you win at your hotel – the guests you have already confirmed – can hold much more value to you than a customer you're still trying to catch.
Profitability is a big challenge right now (even aside from COVID-19), with an increasing reliance on online travel agents (OTAs), the emergence of strong competition, and higher expectations from guests.
In this blog we'll take you through some of the keys to upselling at your property. Ready?
What is upselling and why is it important?
Upselling is the process of selling a customer more expensive items and generating extra revenue by way of upgrades, extras, or add-ons. It might involve selling a more expensive or personalised version of the same product or offering a product that hadn't been previously considered.
Upselling works best when you have some knowledge of what the customer is interested in and what they will see as valuable.
Upselling at your hotel can be crucial because it allows you to make more revenue from each individual reservation you receive. Doing this will enable you to increase profits because you won't need to max out your occupancy to reach your revenue goals.
Upselling is important for a few reasons:
You can build deeper relationships with customers
You can boost revenue more easily
You can create profitable long term customer relationships
Personalising upselling means the customer is more likely to return
What does upselling mean at your hotel?
At your hotel the 'product' you're upselling could include your rooms, various amenities, on-site services, gifts, or consumable goods such as food and beverages.
Introducing upselling to your strategy will allow you to make better use of your entire property, and increase the level of personalisation you offer your guests.
It will allow you to make better use of your hotel's amenities and products, and increase the level of personalisation your hotel extends to guests.
However there are other reasons to upsell and many ways you can do it, so let's look at how you can master it.
How to master upselling
An immediate piece of advice is to upsell at every opportunity. Any chance to make more revenue is something that should be explored. However, any action you take must benefit the guest first and foremost. Don't try to push something purely for the sake of profit, because guests will probably see right through it.
If you can increase guest satisfaction, positive reviews and build closer relationships, more revenue will naturally follow, so think about how your upsells will actually impress your guests. With a customer-first approach, guests will grow more loyal knowing every time they book they'll be offered products or services that will enhance their stay.
Naturally, this means you need to get to know your guests as well as you can before or when they arrive at your property. Having some background will give you a basic understanding of which of your offers they're likely to respond to.
Some tips for this include:
Ask open questions to get a feel for what they want
Ask them if they're aware of any potential upgrades
Frame the upsell as a unique opportunity that you are helping to facilitate
Try to make it an exercise in awareness, rather than a sales pitch – don't be pushy
Let the guest initiate further interest – if they do, you know you can offer more in the future
Considering that returning customers spend 67% more than those who are new to your business, it is in your best interest for customers to know and trust your brand. You can also use data from previous stays to inform your upsells and promotions.
The methods you use to upsell do need to be handled with a degree of subtlety. Timing, tone, and regularity all play a role in the success of your upsells.
For instance, consumers are becoming more often annoyed when businesses keep to strict hours. They want to feel like they are able to inquire about purchases whenever they decide to. Having a chatbot or messaging service act as that point of contact can keep potential guests interested at all times.
Hotel upselling software
Using an online booking engine and front desk system will help you set up and automate upselling to your guests. This software will also help you build guest profiles, and build loyalty.
Interested in checking out Little Hotelier?

Your script for upselling in your hotel reception
Your front desk or reception area is obviously a great place to upsell, since you get to speak to your guests face to face and build a rapport with them.
If you can give them an amazing first impression of your staff and your hotel, they'll be much more likely to consider upsell opportunities.
Greet guests with a smile
Make eye contact
Use their name
Take a genuine interest in getting to know them
During check-in is the perfect time to offer room upgrades and extras, if the guest didn't take that opportunity during the booking process. For example, you might say "For an extra $25, we have a room available with views of…"
Hotel upselling examples
Here's a list of other upsell offers you might make from your front desk:
Encourage guests to kick-off their stay with a drink at your bar
Add fruit, chocolates, or other extras to their room – especially if they are staying for a celebration
For long haul travellers, you might offer massage services
Create exclusive hampers that include items the guests get to choose from a list of options
Inform them of leisure activities such as renting bicycles, tennis courts, gym, sauna etc
Advertise your partnerships with local cinemas or tour guides and sell tickets to guests
Give guests something to go home with – such as local art or crafts which you display around your property
Upselling hotel rooms
Most revenue opportunities from upsells typically revolve around room upgrades or adding items or packages to existing room bookings. More than 60% of consumers would be open to spending more if an additional service complements or enhances their main purchase. A good way to do this is to send an email prior to their arrival enquiring about any preferences or requests they may have.
Room upgrades are such a popular upsell method because the rooms are ready and available, there is no need for additional arrangements, and they also have the highest margin of profit. Guests will often be open to upgrading because they will be pleasantly surprised by the offer and will likely be less worried about their finances because they won't be in saving mode anymore, like they were before booking their trip.
You can also offer special features in the room. For example, if a family has arrived and you have a room available with a larger bathroom or just more floor space in general, it's a good opportunity to upsell.
Make sure you don't wait for the guest's arrival to push these offers. Send pre-stay communications the day before or even a week before to see if you can close a deal.
7 tips for hotel upsells
With so many upselling methods and products available to you, what you do will be specifically related to your individual property and guests. However it's important to note that wellness offers are among the most purchased, according to GuestJoy.
Here are 7 more tips for your upsell endeavours:
Taxi and room service offers tend to be popular
Restaurants, theme parks, and museums are other businesses you might consider partnering with
Continue to upsell throughout the guest cycle, not just before or during their arrival
Use the right technology – allowing you access to rich guest data and the ability to automate selling processes, your property management system (PMS) and booking engine can make effective upselling easy
Let your staff experience everything you want them to sell so they can adequately explain it to the guest
Personal touch is everything at a small property – pack your offers full of local flavour
Encourage additional room nights with special weekend or weekday offers, depending on if a guest's stay is feeding into the weekend or coming out of it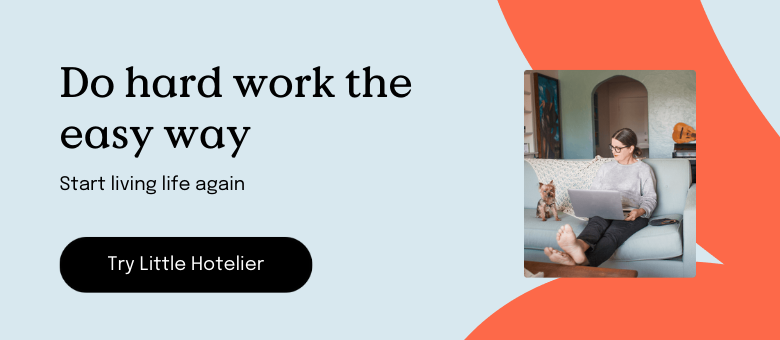 Share with your community:
We recommend the following articles for you
Back to top