Not only is breakfast the most important meal of the day, it is also the most important amenity when staying at a hotel; large or small.
Your small hotel could have it all – beautiful rooms, wifi, pools or gyms. However, an experience without a good breakfast would be incomplete. After all, travelers choose Bed & Breakfast or smaller accommodation for the personal hospitality associated with smaller establishments.
In fact, Hotels.com surveyed a thousand travelers globally, and found that breakfast is now the number one most important hotel amenity for guests when booking accommodation. According to Alison Couper, senior director of global communications for Hotels.com, 'Travelers seem to have become fixated on where their next meal is coming from'.
Why is a good breakfast important to guests?
A breakfast brings many benefits to guests that accommodation providers may not initially think of. A satisfying breakfast adds ease and comfort to a guest's stay, making it a far more pleasant experience overall.
This is what a good breakfast at your property means to your guests:
No searching around. Travelers wouldn't know where to go to get a decent breakfast, because they aren't familiar with your destination. Without your breakfast, a lot of time would be wasted searching for a good place to eat.
Ready and waiting. There is nothing more comforting for a guest than knowing that from the moment they wake up, their first and most important meal of the day is ready and waiting.
No need to go far. Some guests have no intention of leaving the hotel and would be very happy to eat where they are planning to spend the day.
Looking forward to breakfast. Turns out from the moment guests make a reservation for breakfast, they are already thinking about what they will eat. Google conducted a consumer survey on 'Which hotel feature do you most look forward to?', and 42.4% of respondents said they most look forward to eating breakfast!
What are the latest breakfast trends for small hotels?
Breakfast has become so popular that trends have started to take place around the globe, with unique and new ways to offer guests breakfast.
This may be a whole new world for small accommodation providers, and you may be thinking where do I start? To help, we have put together some of the most desired trends to get your imagination rolling.
Ethnic Inspired. This involves Asian flavoured syrups, scrambled eggs with a spicy chorizo edge, and coconut milk pancakes.
Traditional Ethnic. This is where the menu options get a little wild for the adventurous traveler. Serve a Moroccan omelette with veggies and cream or whip up a shakshuka, a Tunisian inspired egg dish.
Fresh Fruit & Organic Foods. Your menu has to be able to cater to the health conscious traveler who enjoys fresh fruit baskets, organic breads, organic fruit pastries and oatmeal.
Egg-White Omelettes. A protein breakfast is ideal for fitness and health minded guests. Provide egg-white omelettes alongside a range of grilled vegetables such as spinach, tomatoes and mushrooms. You can offer to include these veggies in the omelette, or stack them in an omelette sandwich.
Yoghurt. Different yoghurt variations are the latest craze. Your small hotel could offer plain, flavoured, or Greek yoghurt with honey, berries, mixed fruit, muesli, granola or even nuts.
Breakfast can be served in many different ways – from a buffet breakfast, a la carte to in-room service. It really depends on what direction your small hotel wants to go in, and what would suit your guests the most.
If your hotel doesn't have sufficient kitchen facilities or equipment, a partnership could be formed with a local café or bakery to cater breakfast to your guests.
If you are looking for more generic breakfast options for your guests, a recent traveller survey was conducted in six European countries, showing the results of the most important breakfast types.

How can you turn breakfast into additional revenue?
Breakfast doesn't only benefit and bring value to a guest, it can also generate incremental revenue for your small property.
This is an easy upsell that can be added to your guest's tab.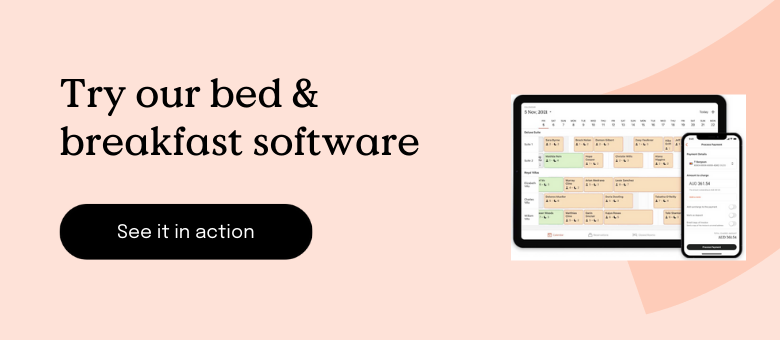 A breakfast-in-bed package could be created and added to all the different rooms your property has, or you could have a simple breakfast extra that could be added to reservations.
Does your property management system allow you to offer your guests extras on their bookings?
Little Hotelier does! If not, you're missing out (and so are your guests) on having a key value-adding and revenue generating feature.
See how Little Hotelier allows you to capitalise on the breakfast tradition. Watch a demo now!
You can also get in contact with Little Hotelier for a free trial to experience all the benefits of having extras on reservations.
You can also get in contact with Little Hotelier for a free trial to experience all the benefits of having extras on reservations.
Or to learn more about the hottest trends in travel, watch our video.
We recommend the following articles for you
Back to top