What is the Wix website builder?
The Wix website builder is a versatile tool that allows users to build almost any type of website they can think of, including hotel websites. It features a simple user interface that allows a user with no coding or web design experience to use it. You begin with a standard template, then drag and drop website elements into place.
However, it only lets users sell at one currency at a time, does not provide fully functional design, and even with the Wix Hotels add-on, it can't limit your hotel check-in to specific days. Let's review key considerations when opting for the Wix hotel website builder and see if it is the right solution to build your hotel brand and drive more direct bookings.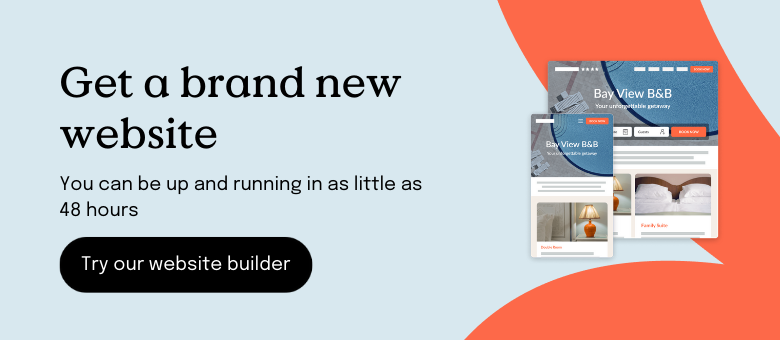 The importance of creating your hotel website
It's hard to understate the importance of a website for a modern hotel. The internet is where travellers browse their options and book their stays. To get in front of endless potential guests you need to maximise your online presence.
Sure, you can upload profiles to any number of online travel agencies (OTAs), but these third-party listings are limited in how much they can promote your hotel. Your specific profile won't rank well, or perhaps even show up, on Google. It won't offer the deeper information that many of your guests will be looking for or allow you to foster a direct relationship. And the OTA will take a commission fee from every booking you complete.
A website will make your hotel more visible on Google. It will allow you to go into detail and outline all the reasons that a traveller should choose you. And it will grant you the opportunity to take direct bookings free from often significant OTA fees.
You need to create a website, and you've heard of the website building tool Wix. But should you use it?
Is Wix a good website builder for hotels?
While you can build a hotel website on Wix, the tool does come with a few drawbacks. Wix isn't focused on the travel space, and instead attempts to offer something for anyone and everyone looking to build a website. This lack of focus means that at the time of writing, amongst the 800+ templates available on Wix, only four were hotel-specific.
While it describes itself as a 'free website builder', that's only true to a point: in its free form Wix offers very limited functionality, and hoteliers looking to build a functional website will need to pay for premium features.
The Wix Hotels add-on, provided by HotelRunner, does offer a lot of the functionality that a hotelier may need, such as booking, payments and channel management, but it's not quite as feature-rich nor powerful as a more purpose-built solution, such as Little Hotelier.
Wix website builder tutorial: How to use for hotel websites
To understand whether the Wix website builder is the right choice for you, let's run through the basic process of building a hotel website with the tool:
Create a Wix account.
Choose your level of subscription.
Choose a domain name.
Select a Wix hotel website template.
Design your website by creating pages and dragging and dropping images and elements into place.
Add apps and add-ons for website booking and payment functionality (Wix Hotels).
Optimise your website for Google.
Hoteliers who have built their own website before will note that this is a familiar process. The difference in making a hotel on the Wix platform is in the detail.
In terms of positives, Wix is one of the world's most popular website building tools for a reason: its user interface is intuitive, making it a quick and rather pain-free process to create your own hotel website.
The drawbacks of Wix mostly relate to the fact that this isn't a hotel or travel-specific tool. Wix hotel templates are limited and hotel-specific functionality, while available, isn't as deep, innovative or integrated as what a hotelier would enjoy from a more purpose-built tool like Little Hotelier's website builder.
Wix website builder cost: How much is it?
The cost of creating a hotel website on Wix will depend on the subscription you choose. There are three business and ecommerce pricing plans available:
Business Basic: $32 per month.
Business Unlimited: $44 per month.
Business VIP: $58 per month.
Not included in those prices is a subscription to Wix Hotels. To access the channel manager and other functionality offered by this add-on – which, for hoteliers using Wix, is a must – you'll need to pay an extra $15 per month.
If you're looking to test whether Wix is right for you before investing, a free version of the tool is available, but it is very limited. You can gain a sense of what the free Wix website builder is like, and play around with basic templates and elements, but you can't enjoy the whole experience until you sign up for a paid plan.
Little Hotelier, on the other hand, offers a 30-day trial that is free, no obligation, and grants you access to the fully featured version of the tool. Built specifically for small, independent hoteliers, our solution is far more than just a website builder: it's also a booking engine, channel manager, payment processor and digital front desk.
And you get all this hotel-specific functionality for one low price.
Wix website builder review: Hotel bookings
To manage bookings through Wix you need to subscribe to the Wix Hotels add-on. Once fully set up you'll be able to take bookings through your website or use the channel manager to accept bookings from OTAs. If you take a direct booking over the phone, you can add it in manually.
The same applies to Little Hotelier, though with a few key differences:
Little Hotelier's feature exclusively builds hotel websites – you won't need to search for, install or pay for hotel-specific add-ons, as they are all pre-loaded into the solution.
Little Hotelier's hotel channel manager software syncs your website with over 450 OTAs and booking services, approximately three times more than Wix Hotel (~150). No matter how niche your OTA is, we're likely to offer a connection.
Little Hotelier users have reported an increase of 46% in bookings, saving 35 minutes per booking, and enjoying a 63x return on investment!
What is the best website builder for hotels?
Given the proven success that thousands of hotels have already experienced with Little Hotelier, we're confident that we offer the finest hotel website builder on the market.
But why listen to us when you can try it yourself? Unlike Wix, we offer hoteliers a free, fully featured 30-day trial to test our solution out. Click the link to claim yours!
By Dean Elphick

Dean is the Senior Content Marketing Specialist of Little Hotelier, the all-in-one software solution purpose-built to make the lives of small accommodation providers easier. Dean has made writing and creating content his passion for the entirety of his professional life, which includes more than six years at Little Hotelier. Through content, Dean aims to provide education, inspiration, assistance, and, ultimately, value for small accommodation businesses looking to improve the way they run their operations (and live their life).
We recommend the following articles for you
Back to top