Hoteles MX is a 19-strong group of hotels based in Mexico City. Driven by a purpose to help travellers turn their stay into a unique experience, Hoteles MX offers local experience and a focus on connecting guests closely with the purpose of their trip.
At any of the properties offered by Hoteles MX, guests can feel comfortable, safe, and like they are at the start of an adventure.
Business challenges made the need for software obvious
Revenue Manager Mauricio Hernandez and Operations Manager, Erika Martinez, help oversee operations, saying two factors in particular led the team to look for a tech solution for the business.
"Cost-benefit was one of the most important factors, the other was being able to support a growing portfolio of properties," Mauricio said.
Little Hotelier presented as the perfect provider
Hotel software should be able to save hoteliers time and money as a bare minimum and that's exactly what Little Hotelier has done for Hoteles MX, according to Mauricio.
"Savings have been very noticeable, since time is now optimised both in connections and solving integral problems. Having a single provider always provides administrative benefits, since support is focused on the same team for all hotels."
"We've become much more efficient in our service and day-to-day operations," added Erika. "The mobile app is also good for reviewing each reservation as it arrives."
The brand has been using Little Hotelier since 2017 and has also driven some amazing revenue results with the software.
Direct bookings grew significantly
Hotel operators are always looking for ways to increase profit, with direct bookings a popular way of getting more revenue from each reservation and also building relationships with guests in the process.
"We've seen a 35% growth in our direct bookings," Mauricio said of the time using Little Hotelier.
This is a huge figure – congratulations Hoteles MX!
Little Hotelier offers a simple, convenient, and effective solution
Getting started with tech can often be daunting for hoteliers who haven't used it to run their business before. That's why it's important to find an experienced, supportive, provider who will make everything easy.
For Mauricio and team, Little Hotelier ticked every box.
"All expectations were met when setting up. The process was simple and fast, and we were always guided by the support team," he said.
With Little Hotelier, you'll always be supported; via email, chat, or phone, whenever you need it.
Mauricio and Erika's advice for other hoteliers thinking of joining the Little Hotelier family?
"Little Hotelier facilitates the operation and connection processes for your hotel by giving you the possibility of having a channel manager with an impressive number of sales channels, providing you with fast and reliable support."
Thank you Hoteles MX and keep up the great work!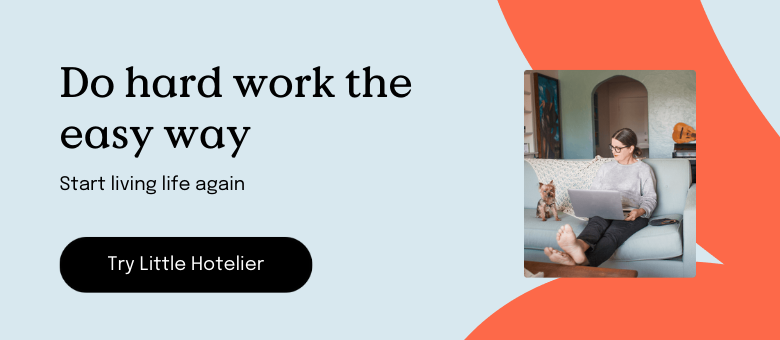 We recommend the following articles for you
Back to top