Many small accommodation providers struggle with how they are supposed to work with third party sites.
On one hand, online travel agencies (OTAs) bring you a lot of bookings. In fact, Phocuswright reports that around 59% of all online bookings come through these channels (source).
On the other hand, small hotels resent the listing and commission fees they have to pay, and the fact that in many cases much of the customer information is withheld.
How can you drive awareness and bookings through OTAs while retaining the guest relationship? How can you make guests feel more loyal to you than they do to these third party booking sites?
For whatever reason, your guests who aren't booking direct feel more comfortable booking via online channels. Here's what you can do to get them to book with you instead.
Partner with the channels they use
While it may seem counterintuitive, being seen on these channels is the first step to getting your foot in the door.
74% of leisure and 77% of business travelers rely on the internet as the top source for travel planning (source), and search engines are the most popular planning source.
By far, Google and TripAdvisor are your guests' favorite information sources – and now that they both offer instant booking options, they have the potential to become your guests' favorite online booking sites, too.
Refraining from working with Google Hotel Finder or TripAdvisor's TripConnect will significantly reduce your ability to attract and capture those guests that prefer to book through trusted third party sites.
Work on ways to encourage the billboard effect
The 'billboard effect' means that even if guests discover you through an OTA, they may ultimately decide to book directly with you. The benefit is you raise awareness from the OTA marketing your property, but the booking is commission-free.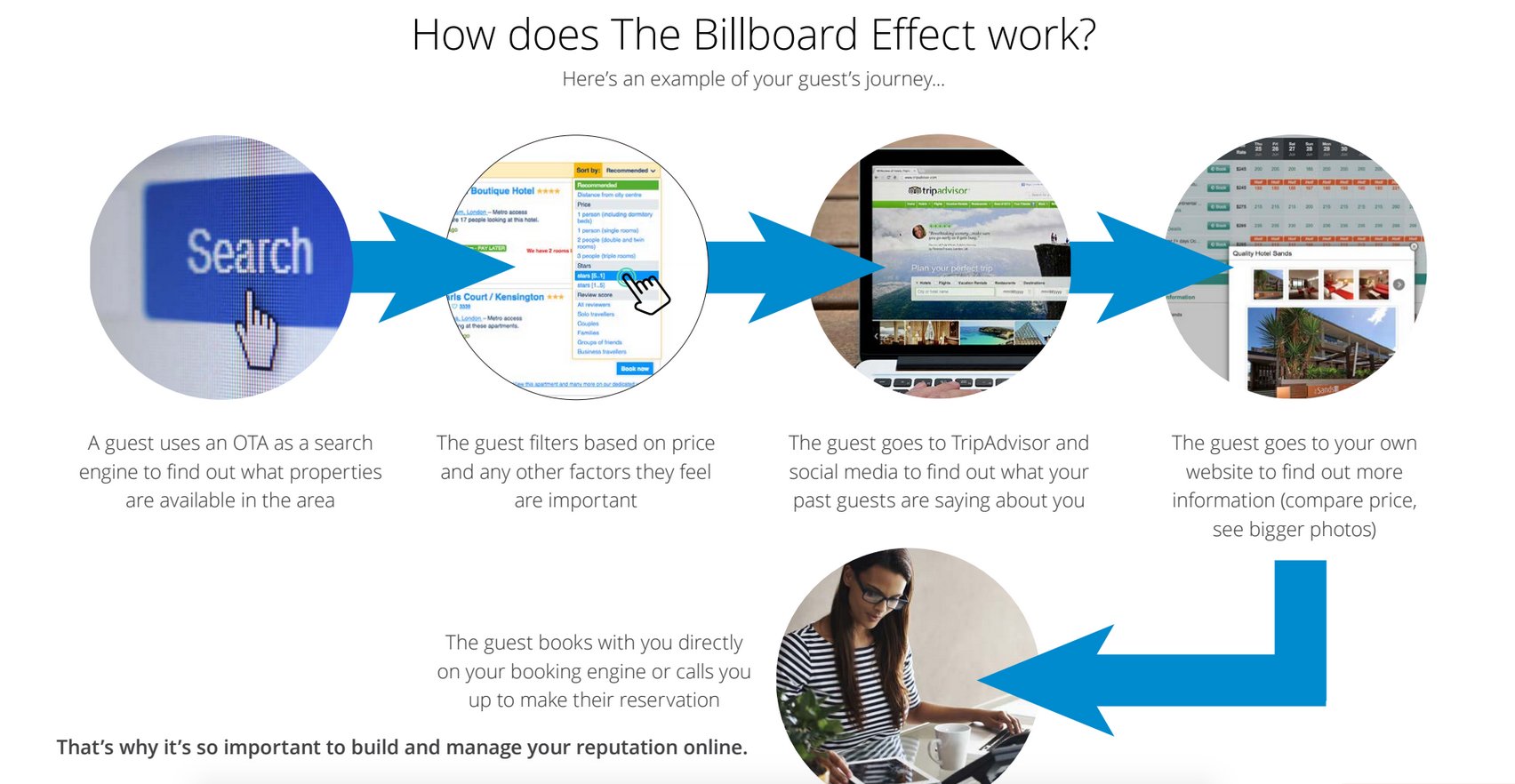 To encourage the billboard effect, it is imperative that you work on improving your online booking process. The ease of booking directly with you needs to match if not be smoother than booking with OTAs.
Make sure it's easy to understand what rooms are available and at what rate (don't overwhelm with too many choices), and that it looks and feels secure to make a booking with you.
Collect their details… and keep in touch!
Making sure you capture guest emails once they're at your property is a quick-win initiative that is easy to implement. All you need is self-discipline to ask for their email address upon check-in or check-out.
Once you have these details, it's easy to send them your special offers and promotions! They can either use them for themselves, or refer a friend who will be in the area and may need a place to stay.
For more tips on how small hotels can strike the perfect balance when working with OTAs, download our ebook: How to play the online channels like a pro.