Stay on top of your important daily tasks anywhere, anytime
Stay on top of your important daily tasks anywhere, anytime
Who wants to be tied to their desk? Luckily, our mobile app lets you take Little Hotelier with you — so you can manage those important daily tasks straight from your phone or tablet. Check guests in and out, create or edit reservations, and take online payments wherever you are, whenever you need.

Stay connected, and in control, with the  5-star rated Little Hotelier app. Available on iOS and Android.
Simplify running your small property
Easily communicate with your guests by email, or use your phone to click to call straight from their booking.
Close rooms in just a few clicks to remove them from your distribution channels and prevent overbookings or double bookings.
Effortlessly process deposits, payments and refunds — or send payment requests, anywhere, anytime.
Always know what's happening at your small property
Get all your key info in one place, and on the go, so you can easily stay across your day-to-day. You can even set up push notifications to get notified whenever you get a new booking or a change.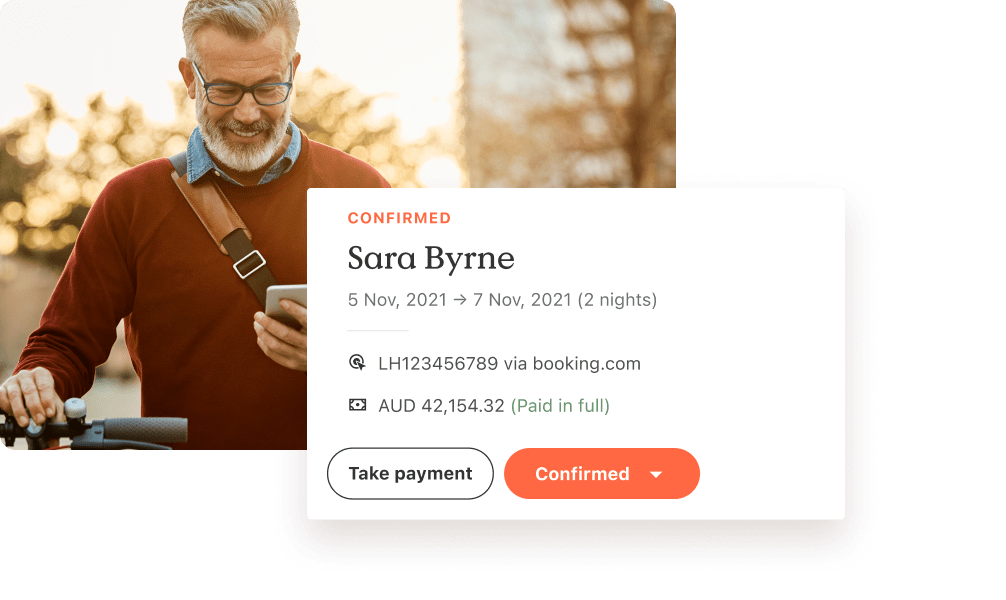 Get all the info you need at a glance
See a quick overview of all your bookings for the day. View your properties performance. Check out your revenue or channels in a simple dashboard. All on your phone or tablet.
Switch between your phone and desktop instantly
Our cloud technology automatically shares and syncs all your bookings, customer profiles and payment statuses across all your devices. So you always have the latest info.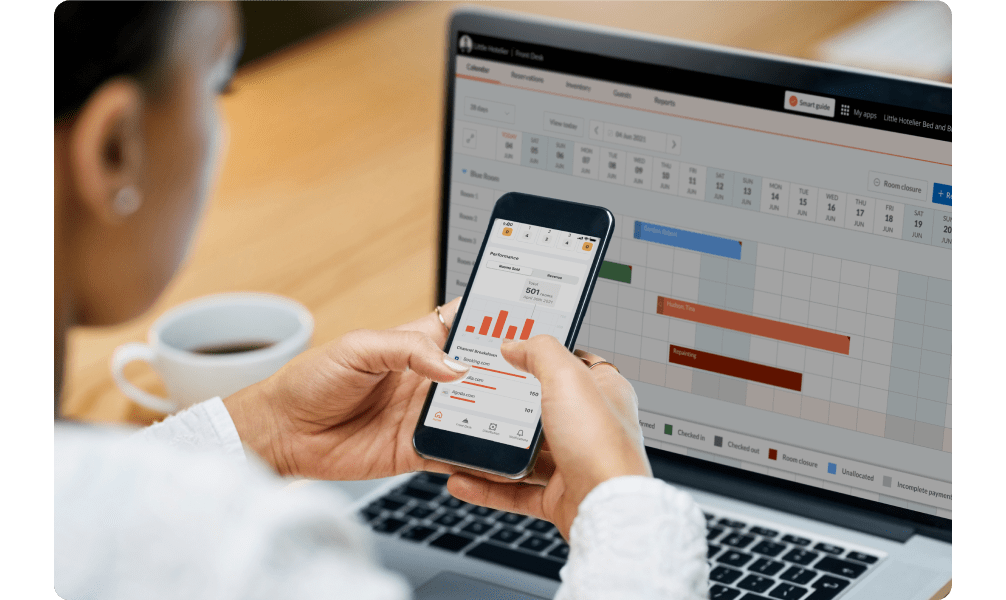 Less from us.
More from our happy customers.
"Little Hotelier's mobile app is super useful. I use it daily to keep track of my reservations and check my sales. Little Hotelier has certainly made my life easier."

El Samay Hotel Boutique,

Peru
"When it comes to Little Hotelier's mobile app, it's all there. Coordination of rooms and rates across providers is simple and straightforward, and navigation within the app is simple."
Riverhouse in Martinez,

USA
Get the world's most trusted small hotel management
platform today.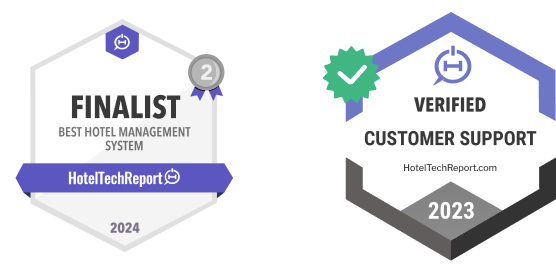 No lock-in contract. Cancel anytime.
Frequently asked questions.
What is a hotel management app?
A hotel app is a mobile app for phone and tablets, designed to help run your small property with ease and streamline your business operations while you're on the go. You can easily check guests in and out, manage your bookings and assign rooms —anywhere, anytime — as long as you're connected to the internet.
What are the advantages of using a hotel management mobile app?
One major plus is improving your efficiency, by streamlining both your back and front-end processes, particularly for small properties with limited staff and resources. Another, is immediate access to key data like guest information and room availability — so you can make good decisions at the right time. It also gives you more control and freedom over your property, with a smooth and hassle-free guest experience that will help your business grow.
How does the Little Hotelier app work?
Once you've downloaded the app onto your device, just login using your Little Hotelier account info. Next, you'll see a dashboard with handy features that can help you run your hotel. You can now take bookings, check guests in and out, collect payments, edit room closures and process refunds — all from your app, with the full functionality that's available on your computer. Wherever you are, whenever you want.
What features should be in a hotel management app like Little Hotelier?
You will have access to the full product you subscribe to.
Can I cancel my free period anytime?
It should have all the features that make it easier for you to stay on top of running your small property business. Features like these 5, which are all available on the Little Hotelier app:
Push Notifications: With the Little Hotelier app, you can get instant push notifications on your phone or tablet whenever a new booking is made. So you can even keep track of bookings on the go — and stay in the know, and be able to plan.
Check-In and Check-Out: The Little Hotelier app also lets you easily manage guest check-ins and check-outs, wherever you are, at your leisure. You can also update your guests' booking info in real-time — streamlining your front desk operations and enhancing the guest experience with smooth and easy check-ins and check-outs.
Availability Monitoring and Reservation Management: The Little Hotelier app lets you monitor your availability in real-time — so you can easily create, edit, and cancel bookings on the go, and even close rooms or set restrictions on specific dates. This keeps your property running smoothly and means you're always prepared to meet your guests' needs.
In-App Payments: The Little Hotelier app lets you collect in-app credit card payments securely and efficiently, directly from your device. It's also convenient for your guests and reduces the risk of chargebacks, saving you time and helping you focus on the other important aspects of running your business.
Performance Tracking: The Little Hotelier app comes with a handy widget on your dashboard that lets you keep track of the average number of rooms, and the total number rooms, you've sold for the next 14 days. As well as your average and total revenue for that period.
How much does the Little Hotelier app cost?
Our app comes free with your Little Hotelier subscription. So you don't have to pay extra to download and use the app on your devices. It's user-friendly and designed to be an extension of the Little Hotelier platform, letting you manage your small property on the go. And at no extra cost to you, it's a vital addition to the simple tech we offer.
Can I use the Little Hotelier app for free?
Yes, we invite you to explore our service for free, with access to the full product for 30 days. We're here to make your life as simple as possible, so there are no lock-in contracts and you can cancel anytime you choose. Once your free trial is over, you can either continue to use your Little Hotelier plan (and we'll start charging you through the payment method you selected), or you can simply reach out to us to cancel your subscription. Get started now, at no cost to you.