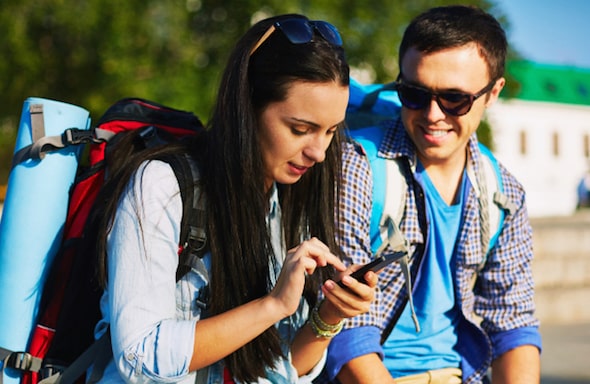 The fact of the matter is, the world is going mobile – and you don't want your hotel's website to be left behind. In fact, nearly 47% of smartphone users conduct travel-related research on their phones.
This is why Google is awarding 'responsive' websites with a higher ranking, and a small shaded box highlights each website in the search results as 'mobile friendly'.
If you haven't optimized your bed and breakfast website yet, you need to make it your top priority. According to Euromonitor, time is running out, because by 2017 nearly 30% of all bookings will be generated on a mobile device.
Follow this checklist in order to mobile-optimize your small hotel website:
Aim for user-friendly navigation
The screen size of most mobile devices limits a person's ability to scroll through the website. Keep your content short, and keep your design simple. Make sure your website is responsive (ie. it adapts to the screen size of the user's device).
Another important element is the visual aspect of your B&B's website. A mobile friendly website will have high-resolution images and large buttons that make it easy to click.
Note: people are using their thumbs to navigate, so make your buttons big enough for the average user. Don't forget to leave room for white space, it keeps your design clean.
Speed up your website's loading time
How many seconds does it take for your home page to load? To put it simply, if your site is too slow you are going to lose customers. People will simply leave your page if it takes too long to load.
In fact, 60 % of mobile users expect a site to load in 3 seconds or less (Forbes).
Smooth out the online booking process
As a small accommodation provider, the path to booking needs to be as smooth as possible. Limit the number of steps you require a user to complete in order to book. This keeps them engaged and simplifies the process.
Your mobile friendly website must have a "book now" button that allows users to immediately make a reservation from their mobile device.
Make sure it doesn't take more than 2 steps for your guests to check your availability and make a booking.
Only ask the most essential questions.
Make sure payments are processed securely, and that this is communicated to guests
Google has provided a mobile-friendly website check, where you can simply enter your website to see how well you score. Click here to check your website's mobile friendliness.
Remember, the key is to make it as simple as possible for your potential guests to learn about your property and make a reservation with you, no matter what device they are using to access your website.
If you would like to keep learning about expanding your online presence, download our free ebook on the subject.

Share with your community:
We recommend the following articles for you
Back to top