No small hotelier can argue with the fact that free Wi-Fi has become non-negotiable expectation among guests worldwide. More than 96% of Australian hotels offer free Wi-Fi, meaning it's no longer a premium offer but a necessity.
Some hotels have been reluctant over the years to adopt this friendly policy, especially large organisations that are likely to incur large expenses providing free Wi-Fi to all guests. However, for guests it's one of the most desirable in-room amenities.
The good news is that there are plenty of ways to offset the costs related to Wi-Fi, and you can also use Facebook Wi-Fi to boost your business! We'll talk about both in this blog.
The value of free Wi-Fi to your guests
Hotel guests believe that being constantly connected via their various devices is a key priority while they are travelling. It is such a priority that most booking sites are allow travellers to filter hotels based on whether they provide Wi-Fi, with more and more making their booking decisions based on this.
In fact, websites like Hotel WiFi Speed Test and SpeedSpot were even created for the sole purpose of allowing potential guests to check any hotel's wifi before booking in their stay. So quality is just as important as providing Wi-Fi in the first place.
At this point, a hotel not offering complimentary Wi-Fi to guests will be missing out on many opportunities to win bookings. The guest experience should always come first.
Your hotel's Wi-Fi challenges
Of course, sometimes it's easier said than done to offer free Wi-Fi to all guests at all times. Investment may be needed to install additional access points, with ongoing data and support costs. Other challenges include:
More wifi-enabled devices on the market.
More demand for bandwidth to support the activity users.
A need to periodically enhance wifi network to support a multitude of devices.
Spending more money on increased bandwidth.
The advantage for a small property like yours is that it's much cheaper to adopt than a large hotel or chain.
You can respond to the above challenges by:
Increasing your room rates as needed to cover the costs
Offering a premium Wi-Fi with greater bandwidth for a fee in addition to your free Wi-Fi
Winning back revenue via your up-sells, extras, or packages
Encourage spending via Wi-Fi – e.g setup an online shop to sell products that are used within your hotel
Need help selling packages and extras effectively? Check out Little Hotelier's booking engine.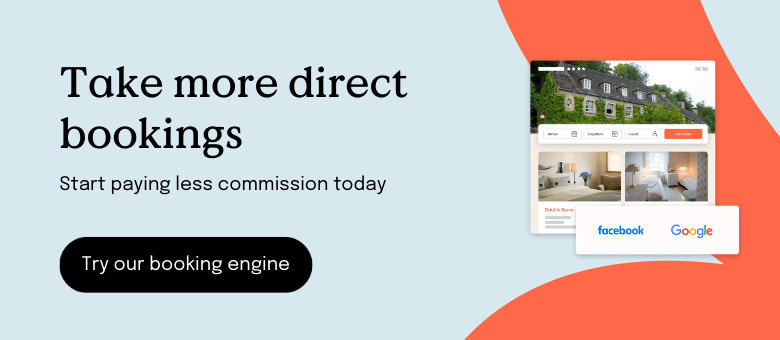 Using Facebook Wi-Fi to boost your profile
If you're not aware of Facebook Wi-Fi, it allows people to connect to your Wi-Fi without needing to share passwords. This can help increase the amount of Facebook check-ins you get at your business and make your property more visible to the connections of people who are using your Wi-Fi.
Facebook Wi-Fi is free and quick to setup, with Facebook listing three key benefits:
Get discovered by the millions of people who are searching for Wi-Fi with Facebook
Help your customers connect to your Wi-Fi faster. No more burden of sharing passwords
Increase likes and check-ins on your Facebook Page when visitors connect to your Wi-Fi
You can also connect your Instagram page if you have one to give users additional connection options and the opportunity to win more followers.
Additionally you'll get insights such as the ability to see how many people checked in to your business by connecting to your Wi-Fi, and the number of unique users who visited in a certain month, and how many are new users.
Facebook is a great place to attract direct bookings, especially if you don't have a website setup for your property. Click below to learn how to take direct bookings from Facebook without a website.
Share with your community:
We recommend the following articles for you
Back to top