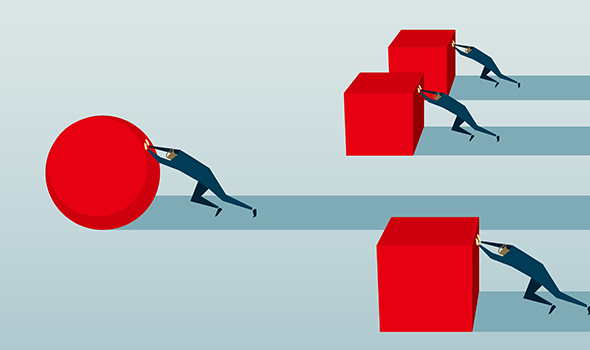 In a small establishment like yours, installing a new reservation system is all about one thing – efficiency through automation.
Thanks to modern technology, this is becoming increasingly easy to do (without denting your bank account).
Here are three aspects of your online booking process that should definitely be automated by your bed and breakfast's reservation system.
#1 – Online payment processing
According to data from payment systems industry information provider Nilson, credit card use in the U.S. will jump by 42 percent from 2012 to 2018, accounting for $120 billion in transactions.
Travelers are very comfortable with making purchases online, so your payment process is central to getting more of them to book with you.
In fact, Tnooz reports that almost 50% of customers abandoned their online travel booking early because of payment-related problems. Some reasons given were that "the checkout process took too long" and "the payment method I wanted to use wasn't available".
Make sure that your bed and breakfast reservation system:
Can convert your room rates into the chosen currency of your international travelers.
Supports the most popular and trusted online payment methods, like PayPal.
Allows international travelers to pay with the cards they use. For example, UnionPay is popular in China.
You should also consider how long it takes for someone to lock in a booking. The shorter the process is, the better. Check if your system will allow your guests to do everything on one page. This includes checking rates for specific dates, browsing room descriptions and photos, converting currencies, and filling out their personal and payment information.
#2 – Automated guest communications
Email is the best way to keep in touch with your guests, as a lot of your guests will be overseas in conflicting time zones, making it difficult to get in touch over the phone. However, trying to keep tabs on which guests you've emailed can be difficult.
Automating the process is essential to make the best use of your time and look professional, giving a consistent experience to all of your guests.
Consider that each guest should receive:
Reservation confirmation email
This is the automatic email that is sent from your hotel's reservation system immediately after your guest enters their details to make a booking.
Usually, a credit card is required, so the purpose of this email is to reassure your guests that the reservation was successful.
It also gives them peace of mind that your hotel is legitimate and their sensitive financial data is safe with you.
Preparation for stay
Now that their stay is nearing, the purpose of this email is to make sure everything runs smoothly, get them excited about their stay with you, and drive incremental revenue.
Remind them of their check-in and check-out times, and any of your terms and conditions (especially your late check-in and late check-out policies).
Tell them what they'll need to have with them to check in (ID, their reservation number, etc).
Feedback request
Whether or not your guest has had a good stay at your hotel, you should be asking them for their feedback afterwards. Ask them if they have any suggestions for how you can improve.
It's a win-win situation. If they leave you with praise, then you can ask them if you can use this in your marketing (eg. by putting it up on your website) and if they'd kindly leave you a review on TripAdvisor.
If your guest gives you negative feedback, then thank them for their honesty, and explain how you will take the necessary steps to make sure it doesn't happen in the future.
Either way, reaching out for feedback shows you care, and you're committed to improving each guest's experience.
Click here to learn more about keeping touch with your guests via email.
#3 – Shared room inventory across channels
In our survey of US hotels and inns with less than 50 rooms, 65% of respondents said that that time wasted on managing reservations across multiple reservation sites was their biggest challenge.
In this situation, your booking agents don't see your live inventory, and they accidentally sell the same room that another agent has already sold. It's an absolute nightmare to deal with the unhappy guest, who has to be moved to another room (at a discount), or worse – turned away.
Hotel reservation systems like Little Hotelier have built-in channel managers that distribute your rooms to a variety of booking sites (in Little Hotelier's case, over 250).
This means that your rooms are bookable on all of these sites, and your true inventory at that point in time is what's being seen by your customers – whether it's direct on your website or through the online travel agency's website.
A channel manager drastically reduces the chances of double booking, because each time an online reservation is made on any site, it reduces your room inventory accordingly. As long as you remember to update the system when walk-in or phone bookings are made, you will never have to deal with double bookings again!
If you would like to find the best hotel booking engine for your small hotel, download our interactive buyer's guide:
Why not try Little Hotelier's all-in-one reservation system? It can automate all of the above for you – and more. Watch our demo videos to see how we can improve operations at your bed and breakfast.
Back to top