What is The Billboard Effect?
The billboard effect is when a shopper discovers a property through a third-party booking channel, such as an online travel agency (OTA), then looks to book directly with the property.
This definition perhaps undersells the power of the billboard effect. It can be a huge driver of business for certain hotels, to the point that billboard effect marketing techniques are purposefully employed by many properties to drive more direct bookings via OTAs.This short video explains the idea that OTAs can actually increase your share of direct bookings.
More exposure means more direct bookings for your property
By putting your name up in lights across OTAs, and delivering direct booking functionality, Little Hotelier helps your hotel capitalise on the billboard effect.
Learn more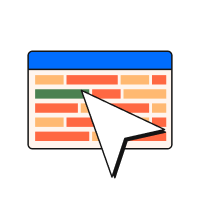 Is The Billboard Effect effective for small hotels?
There has been a lot of speculation over whether or not 'The Billboard Effect' is in decline, triggered by the 'Distribution Channel Analysis Report' by Kalibri Labs.To recap, the 'billboard effect' means that even if guests discover you through an online travel agency (OTA), they may ultimately decide to book directly with you. The benefit is you raise awareness from the OTA marketing your property, but the booking is commission-free.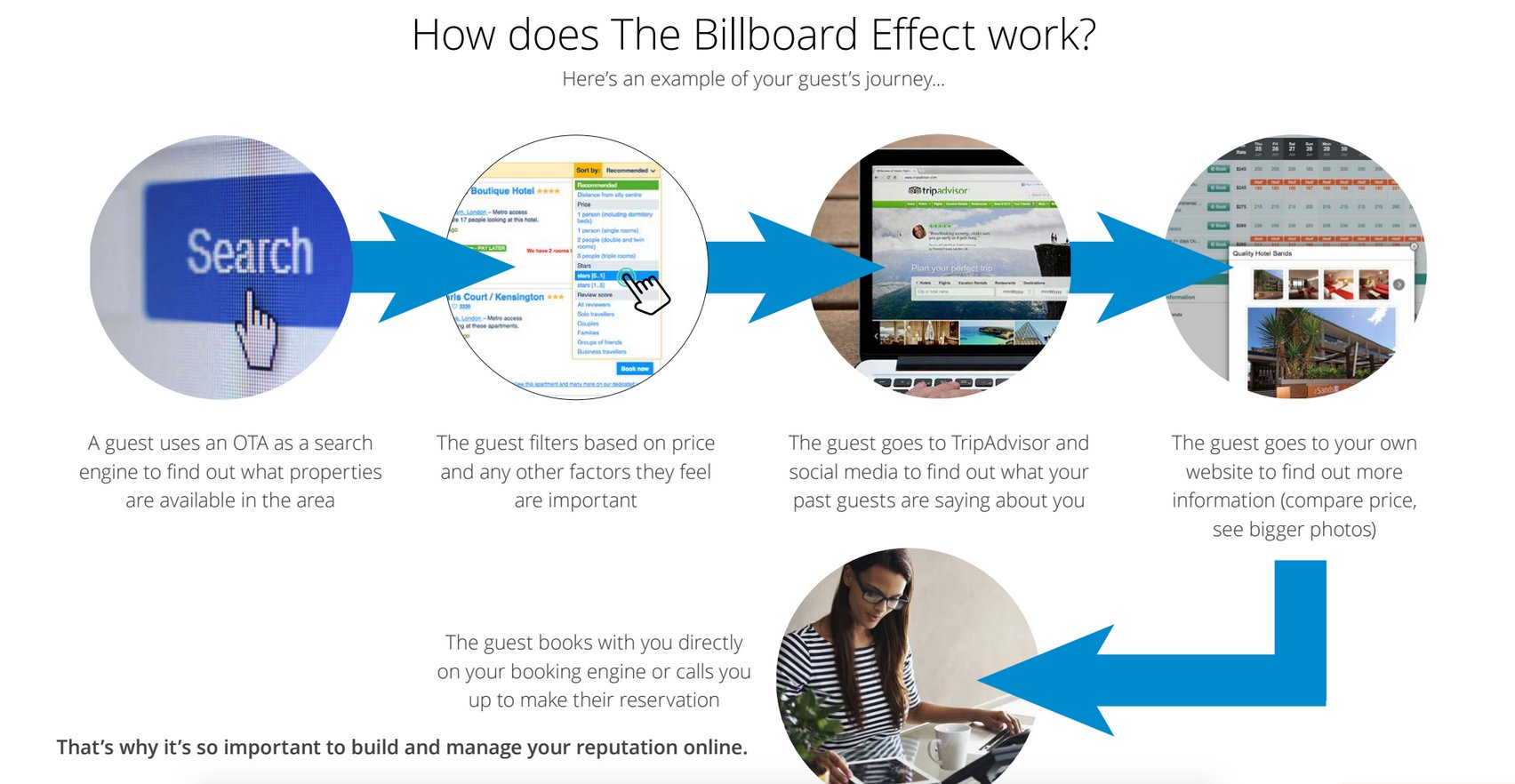 Here's a run-down of why some believe that 'The Billboard Effect' is dying, as well as our take on what this means for small accommodation providers.
Is 'The Billboard Effect' in business dying?
Kalibri Labs released a report stating that users who browse hotel sites tend to ultimately purchase their accommodation via online travel agencies like Expedia, Booking, and TripAdvisor. Additionally, OTAs are acquiring competitors and maintaining more of a monopoly in the market.
This results in less competition, declining service, loss of control of content by hotels, and higher distribution costs.
In fact, they say that independent hotels pay up to 5x more in distribution expenses as a percentage of sales than larger hoteliers do!
Are there signs of life?
Frederic Gonzalo points out that the study is flawed because it excludes mobile device users. This means that it excludes over 50% of online travel searches, and over 25% of online travel revenues.
It's a big mistake to be excluding the mobile factor from this kind of study.
Additionally, a lot of small hotels feel that it works for them, as long as a hotel booking engine is present on their website.
Ivan Drechsler of Tubac Country Inn says that his property has made a concerted effort to amplify its only presence, and believes that he is seeing dividends from the billboard effect. "We've stimulated enough interest for guests to call us, and our direct bookings from the website are certainly more than those from the OTAs."
Ralph Green of Greenmantle Estate says that the simple act of including a direct booking option on your website can be enough to set the billboard effect in motion. "We have a strong internet presence from a marketing perspective, so we attract a lot of people to our website, but the fact that we can complete it by allowing guests to make a booking is fundamental, because they'd rather do it online."
How the Billboard Effect works
Now that you understand what the Billboard Effect is, see how it works step-by-step. We start with the guest's initial search on an Online Travel Agent and end with a direct booking.
Tips to trigger The Billboard Effect for your hotel
Signing up to OTA websites helps you to be seen everywhere, but the billboard effect counts for nothing if this exposure isn't converted into direct bookings.
You need to ensure that your direct booking process is simple, smooth and seamless. If the experience on your website is lacklustre, then you will fail to drive more direct bookings through it – potential guests will instead be forced to retreat to the OTA website, where they will either book (and force you to pay a 15%-25% commission fee to the OTA), or potentially get distracted by another hotel option, and not book at all.
Here's what you can do.
Improve the booking process
To encourage the billboard effect, it is imperative that you work on improving your online booking process.
The ease of booking directly with you needs to match if not be smoother than booking with OTAs.
Make sure you…
Tug at their heartstrings
The best way to sell is by evoking some type of emotion. At your bed and breakfast, the best type of emotion to trigger is desire – a desire to stay at your property, for whatever emotional reason will resonate with them most.
It really depends on your type of property, and who you are trying to attract. To trigger emotion you need to make sure that guests want to picture themselves comfortably staying at your property for the duration of their break.
Make sure your website contains comprehensive information about your local area – they just won't spend too much time at your bed and breakfast!
Smooth out the payment process
A lot of travellers abandon your website at this point. To encourage them to stick around your online payment process should be:
Totally secure. Two thirds of US travellers are nervous about being redirected to pay.
Simple. 63% of Chinese travellers say an overly complex payment page frustrates them.
Flexible in terms of currency. A third of US + UK travellers would abandon the purchase if USD + GBP are not displayed.
Alleviate buyer's guilt
Right after your guest makes a booking, you need to reduce what's known as 'buyer's guilt'! How? By reinforcing the fact that they've just made an excellent decision.
Your small hotel's reservation system should send an automatic email immediately after your guest enters their details to make a booking.
Usually, a credit card is required, so the purpose of this email is to reassure your guests that the reservation was successful.
Lower your rates to a limited audience
While you can't publicly advertise lower room rates in order to drive direct reservations, you're allowed to do so to a limited audience. This means that to drive direct bookings you can offer deals to:
Facebook fans
Twitter followers
Your email database
Phone enquiries
Remember to invite people to join these audiences through calls to action on your website. Tell them they can get special discounts and promotions unavailable elsewhere.
Package your rooms to make them more appealing
You can enhance your direct offering by adding elements like free parking, wifi, and tickets to a local event.
Your OTA may be selling the room at a discounted price, but with your full price there are extras that are more valuable than the discount your guest would be getting if they booked with the OTA.
How to measure the impact of Billboard Effect marketing in hotels
While it might initially seem a difficult thing to quantify, a hotel should attempt to measure the billboard effect in business terms, first to understand if there is any effect to speak of, and second to reveal ways to maximise this effect. Here's how.
Website analytics: Raw website visitor numbers may be enough to tell you the impact of the billboard effect on your hotel, although more precise measurements, like data on where visitors have arrived from, may be more revealing.
Revenue analysis: What percentage of your reservations and earnings are coming from direct bookings vs OTA bookings? Are your total OTA commission fees going up or down?
Guest surveys: A great way to find out about the billboard effect – simply ask your guest about the process they went through to book your hotel!
Check other competitors: Which OTAs do your direct competitors appear on? How available do their properties seem? Over time this research can begin to paint a picture of whether other hotels are enjoying the benefits of the billboard effect.
By Dean Elphick

Dean is the Senior Content Marketing Specialist of Little Hotelier, the all-in-one software solution purpose-built to make the lives of small accommodation providers easier. Dean has made writing and creating content his passion for the entirety of his professional life, which includes more than six years at Little Hotelier. Through content, Dean aims to provide education, inspiration, assistance, and, ultimately, value for small accommodation businesses looking to improve the way they run their operations (and live their life).
We recommend the following articles for you
Back to top