Recent conversations about traveler behaviour have been permeated by talk of mobile. Exciting new trends are emerging of more people searching and booking their trips on mobile devices.
There's also been a wealth of content on what hotels require to ensure their business is optimised for mobile devices and how they can use mobile to boost bookings and increase revenue.
Your small hotel or B&B might have implemented some of these tactics and optimised your hotel website design but does it mean you're using mobile to its full potential? Is there more insight to be gained and a better service you can provide to guests?
There are a range of other factors mobile can influence besides search and booking, at all stages of the customer cycle. To be truly mobile-first hotels and B&Bs need to embrace them and adapt their marketing strategies, given that 2019 will see mobile account for the biggest proportion of digital spending.
This is backed up by Josh Herman, director of marketing and PR at Miami's Fontainebleau hotel. Since making the decision to go responsive and take a mobile-first approach two years ago, they haven't looked back.
"Everything we do starts with mobile because our audience is mobile. We launched the fully responsive site in September and mobile bookings have gone through the roof – traffic is nearly 300% up and revenues have doubled."
On top of mobile search, booking, and check in/out, here are some key considerations small accommodation providers should take note of for a mobile-first approach.
1. Email Marketing and Text Messaging
According to email and software group Litmus, 2015 was a tipping point for email open rates on mobile, which exceeded a global figure of 50% for the first time. These days, even the elderly are more engaged via mobile devices and most people are in possession of their phone 24/7.
This presents a great opportunity for accommodation marketers to get their emails seen and actioned quicker. Hotels need to adapt their email campaigns to suit mobile. Think about how easy the content is to view and digest in a mobile device. Make sure the customer can read it without needing to open their browser or go through multiple page views.
Text messaging can be used in the same manner, but more instantly in some cases. Not all people will opt in for text message notifications and the ones who do will soon opt out if what you are sending is too frequent or not relevant.
However, texts are very useful for:
Updating a guest on the status of their booking
Giving them reminders
Shopping promotions
Offering discounts
Welcome and goodbye salutations
2. Apps and in-app notifications
Mobile apps are becoming more prominent in the travel industry and sectors like airlines are jumping on board with their customers, but hotels are a little slower on the uptake. A statistic from eMarketer shows that half of US smartphone owners use 6-10 apps each week.
Among travelers, 70% use two apps dedicated specifically to travel. The fact consumers are so engaged with the medium means there is a huge opportunity for hotels to use them.
They can apply them in a similar way to airlines;
To update booking information
Highlight proposals
Provide travel tips
Give out weather and transport information
Plan an itinerary
Apps don't just have to be based around customer relations. Hotels can use external apps to improve the functionality of their website and enhance guest experience. For example, a smart and simple video editor can help you make amazing content to host on your web page. Check out some more examples here.
3. Personalization
The constant, full-funnel contact mobile allows hotels to have with guests provides the perfect chance to build a positive relationship. It can be a tricky process; you need to make sure your offers are relevant and you won't always find people willing to divulge personal information. Boxever has uncovered 56% of online consumers want offers tailored to their interests and needs, but 49% are reluctant to share data.
4. Geolocation
Being able to track where your guests are and how much time they spend on any particular activity is a good way of developing an understanding them and better meeting their needs. What makes it both difficult and confusing is the report from Boxever also stated 60% of customers did not want their location tracked but the same number did want offers and information targeted to where they are.
Geolocation can be used for other purposes related to your hotel, such as modifying a property's website once a guest has arrived to be more relevant to their needs. For example, the Fontainebleau adjusts its interface to display events, activities and amenities, rather than booking information after a guest has checked in.
5. Hotel operations
With mobile you can give guests the freedom to feel in control at your hotel. It enables guests to use their mobile over another, deeper, stage of the journey.
For example;
Allowing a mobile device to act as a room key
Using to order room service
Operate the air conditioner and TV
Book an activity
It doesn't end there. Research firm Forrester has compiled a brief showing the substantial opportunities some accommodation providers are missing out on in the mobile sphere. As you can see, there are countless ways to engage customers via mobile and with more travelers using them every year, this is a good place to start.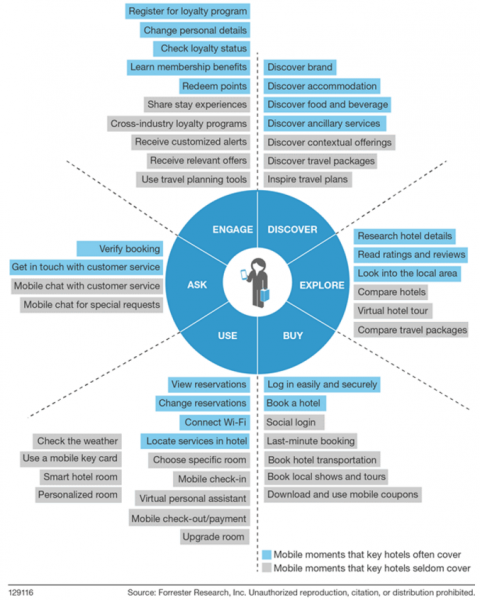 Want to take a truly mobile-first approach?
Check out the best apps available to run your small accommodation business. We've selected the best picks in this FREE eBook: