Having been cut off from other continents for around 100 million years, Australia has had more than enough time to develop a wealth of stunning and truly unique ecosystems. And many environmentally conscious travellers are keen to minimise the impact of their visit – take only photos and leave only footprints, as the saying goes.
In an era of extensive greenwashing it can be difficult to understand which Australian hotels offer a genuinely eco-friendly stay. So we've done the hard work and uncovered the properties prospective guests might be looking to stay at.
The following guide offers up some of the very best eco-friendly hotels Australia has to offer.
Think your property should be on the list? Get in touch at [email protected] and let us know.
What are the best areas in Australia for an eco-friendly stay?
Eco-friendly accommodation options tend to be concentrated in areas of natural beauty, where the effect of choosing an eco-friendly stay is most apparent. Some of the best areas in Australia for eco-friendly accommodation options include:
Far North Queensland: The Great Barrier Reef might be Far North Queensland's headline act, but this area is also home to the world's oldest living rainforest, the Daintree. Here a traveller will find a wealth of eco-friendly accommodation options nestled amongst the forests and reefs.
The Blue Mountains: A little over an hour from the centre of Sydney, the stunning Blue Mountains are a sight to behold, and boast a well established eco-hotel scene built to service the constant stream of visitors that drive up from the city.
Tasmania's east coast: Driving north from Hobart, a Tassie tourist will pass through historic villages, rolling hills speckled with wineries, and stunning Freycinet and Douglas-Apsley National Parks. Dotted along the path are a wealth of eco-friendly accommodation options.
What are the best luxury eco hotels?
Upon opening in 2009, the ultra-luxury Emirates One&Only Wolgan Valley resort, in Blue Mountains National Park, became the first in the world to achieve internationally accredited carbon-neutral status. Every aspect of this stunning hotel is built with sustainability in mind, and each decision only adds to the luxury of the overall experience. Likewise, Eco Beach Wilderness Retreat in Broome delivers luxury with the help of solar power and glamping tents. Crystalbrook Byron in Byron Bay, meanwhile, brings opulence while putting a focus on recycling and maintaining its own colonies of honey bees.
---
LITTLE HOTELIER TOP TIP: Ensure your website is mobile-friendly. This is especially important for hotels, as guests will often look for somewhere to stay while they're on the move or looking for a last-minute deal. Choosing a mobile-optimised website provider (such as Little Hotelier's website builder) makes it easy from the start.
---
What are the best eco hotels on a budget?
Located on the Sunshine Coast, and enjoying one of Australia's most famous views, Glasshouse Mountains Ecolodge is an affordable option that uses a portion of its profits to fund eco education. Eco-certified Bungalow Bay Koala Village is the only resort in Australia with an on-site wildlife park, and makes use of the enviable local climate to minimise power use. And for guests who have a flexible interpretation of the word 'budget' Boroka Downs, is a luxury Grampians eco-resort that can be surprisingly cost-effective, particularly in low season.
What are the best eco-friendly hotels for families?
Environmentally conscious families are spoiled for choice in Australia. The only thing better than visiting the zoo is staying the night, which is exactly what Wildlife Retreat at Taronga offers the opportunity to do. The focus on conservation ensures every aspect of this retreat has been planned through a sustainability lens, though families should be aware that a maximum of three people can stay in each room. Those looking to enjoy unadulterated nature need look no further than Bamurru Plains in Kakadu, while Ecopia Retreat on Kangaroo Island offers eco-friendly villas and homesteads on a vast property covered in native vegetation.
---
LITTLE HOTELIER TOP TIP: To get more bookings, test out fun promotions during your low season. Try offering significant discounts for a long-term stay, a free room upgrade, or a complimentary dinner on the first night.
---
What are the best romantic eco hotels?
Guests can show the planet some love while they show their partner some love at The Villas Barossa. Found in Australia's most famous wine region, the 'Ecosheltas' that dot the property offer maximum luxury and minimum environmental impact. The 'leave no trace' philosophy is immediately apparent at stunning Freycinet Lodge Coastal Pavilion, accommodation that blends seamlessly into the surrounding nature. And at Sal Salis Ningaloo Reef, lovers can drink in views of one of the world's most stunning reefs from the comfort of their eco-luxe safari tent.
What are the best Great Barrier Reef eco hotels?
The world's largest and most ecologically diverse reef is perhaps Australia's premier tourist drawcard. Over the years a wealth of eco-friendly accommodation options have opened along the Great Barrier Reef, including:
Airlie Beach Eco Cabins: This retreat is designed to both conserve and showcase the plentiful Australian wildlife that calls this area home.
Elysian Retreat: This ultra-luxury escape was the first Great Barrier Reef resort to be fully solar powered.
Daintree Wilderness Lodge: Found just a few kilometres inland from the reef, in the world's oldest rainforest, this beautiful lodge combines sustainability, conservation and eco education.
---
LITTLE HOTELIER TOP TIP: Create quality video content showcasing your property. Gone are the days where potential guests could be won over with photos alone. People want to get a feel for the place first, with video content more likely to be shared amongst friends and family members. 
---
We're travellers too.
At Little Hotelier we have a deep passion for travel. We also understand the challenges of running a hotel – which is why we've developed a simple yet powerful way for you to manage your property.
The Little Hotelier platform has been designed specifically for small accommodation providers. We help you minimise the fuss and maximise the profits of your hotel, while offering you more freedom and control while you do it.
Don't just take our word for it. Click here for your 30-day free trial!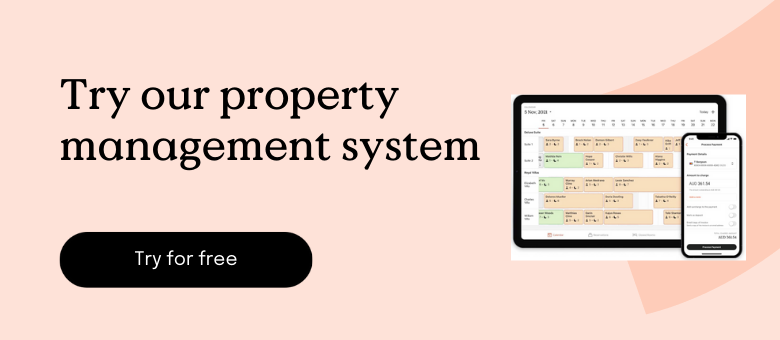 By Dean Elphick

Dean is the Senior Content Marketing Specialist of Little Hotelier, the all-in-one software solution purpose-built to make the lives of small accommodation providers easier. Dean has made writing and creating content his passion for the entirety of his professional life, which includes more than six years at Little Hotelier. Through content, Dean aims to provide education, inspiration, assistance, and, ultimately, value for small accommodation businesses looking to improve the way they run their operations (and live their life).
We recommend the following articles for you
Back to top