The world's most trusted hotel management platform
What's included
Front desk
Manage your property's operations and guests' from our digital front desk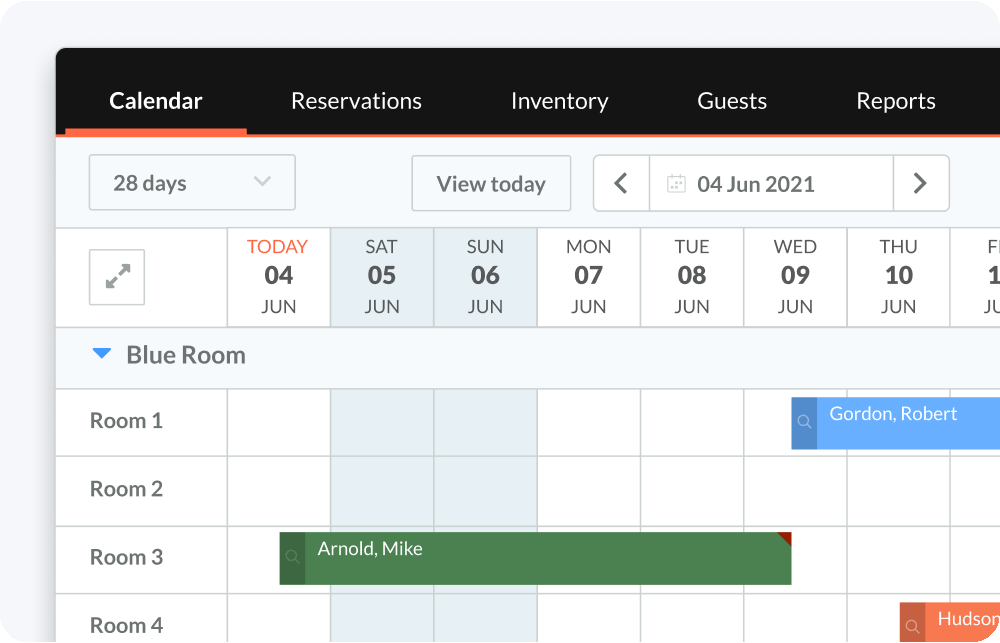 Channel manager
Improve occupancy and get up to 46% more reservations by distributing your property on the more local and relevant booking channels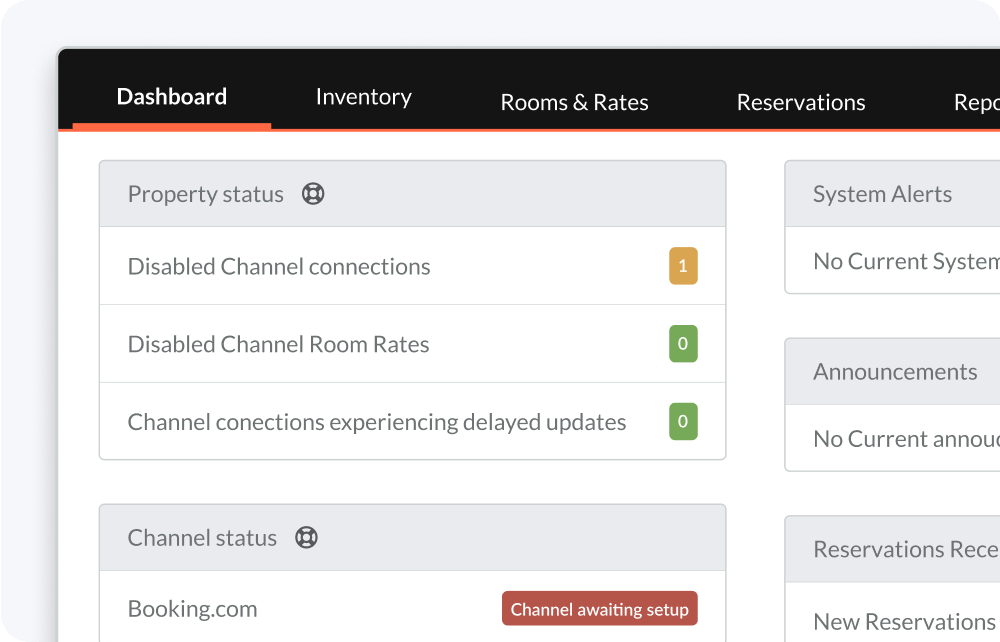 Direct booking engine
Increase revenue by 43% by taking direct bookings from your website and Facebook page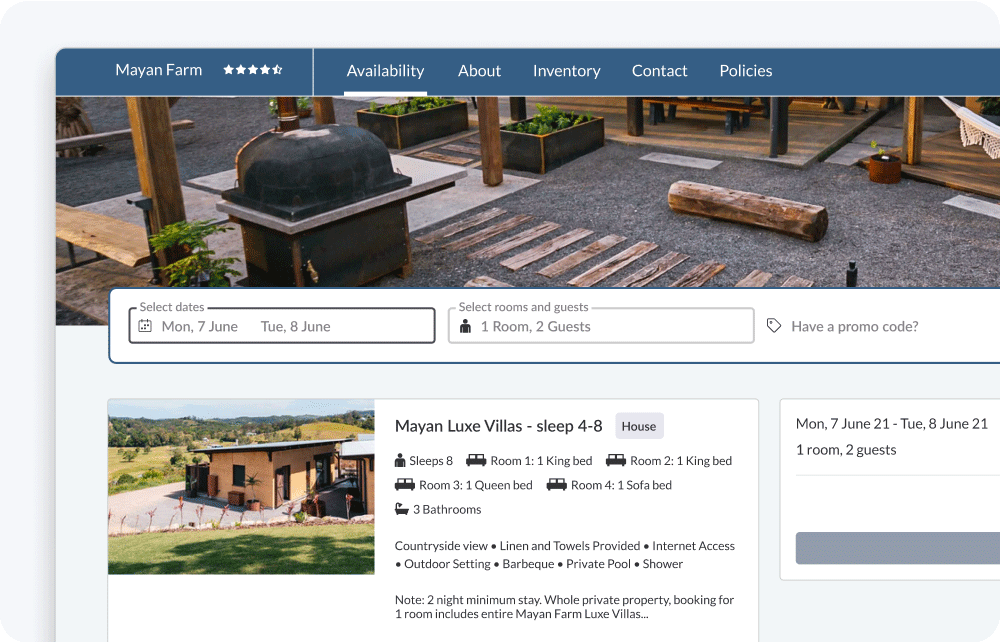 Reporting and insights
Get the info you need to make smarter revenue and distribution decisions in one central platform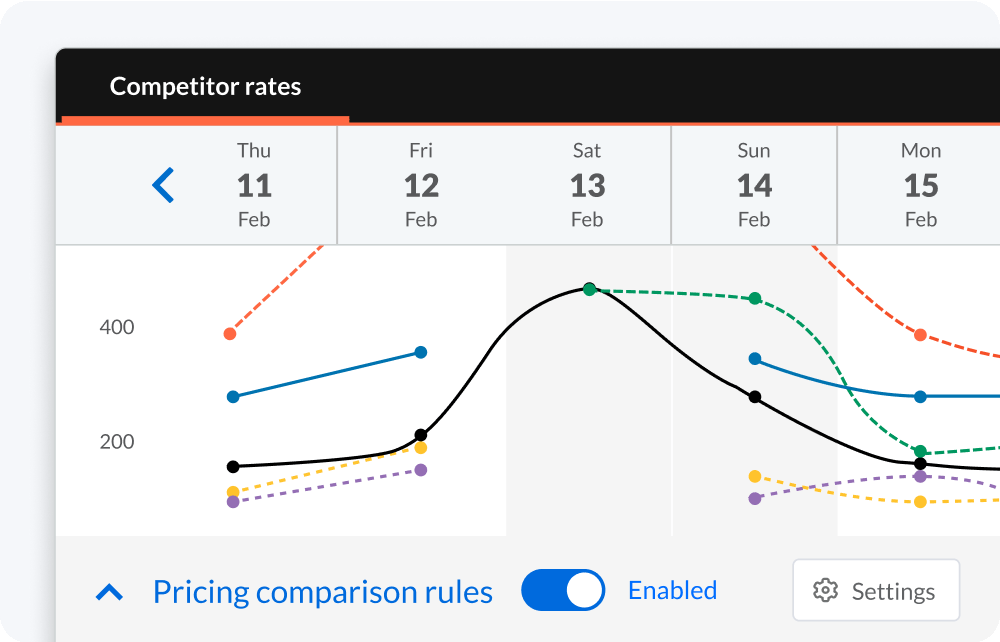 Website builder
Create your own hotel website in minutes and say goodbye to costly updates, web developers and hosting fees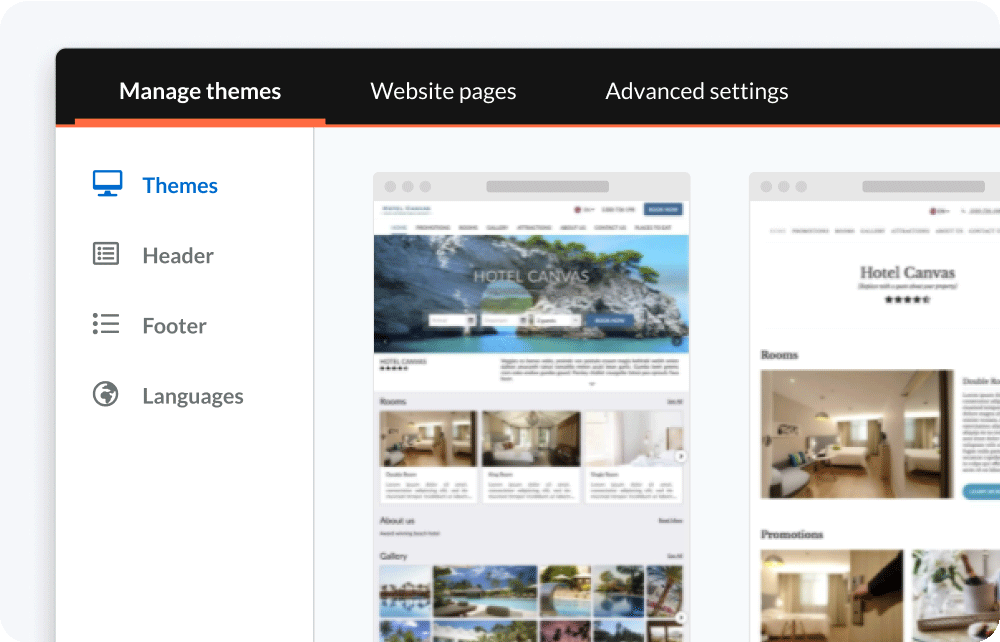 Payments
Process deposits, payments and refunds quickly, easily and securely within your Little Hotelier system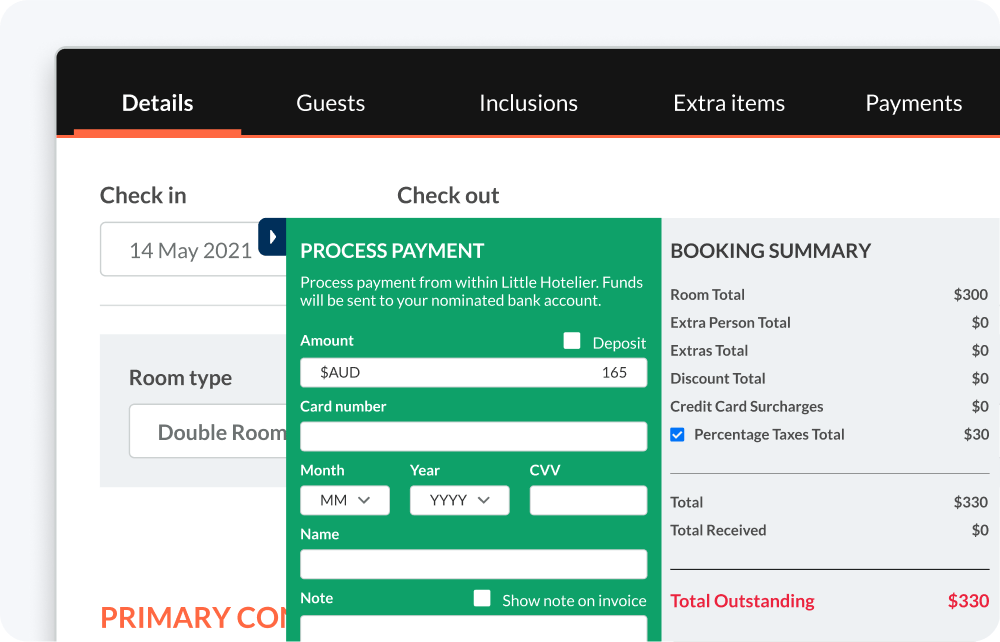 Mobile app
Get the freedom to manage your property and reservations from anywhere, at any time with our mobile app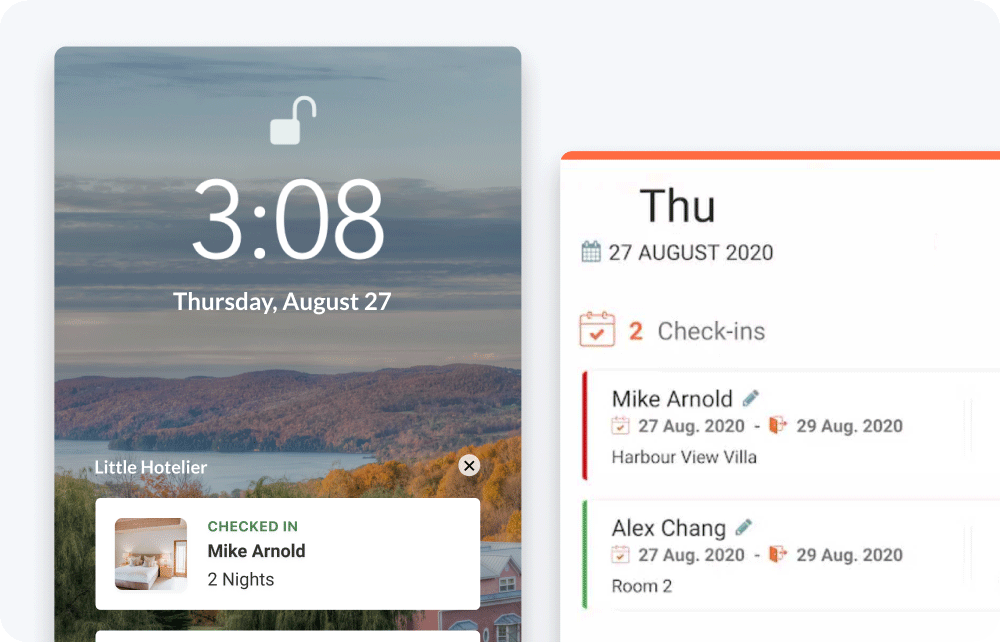 What's included
Front desk
Manage your property's operations and guests' from our digital front desk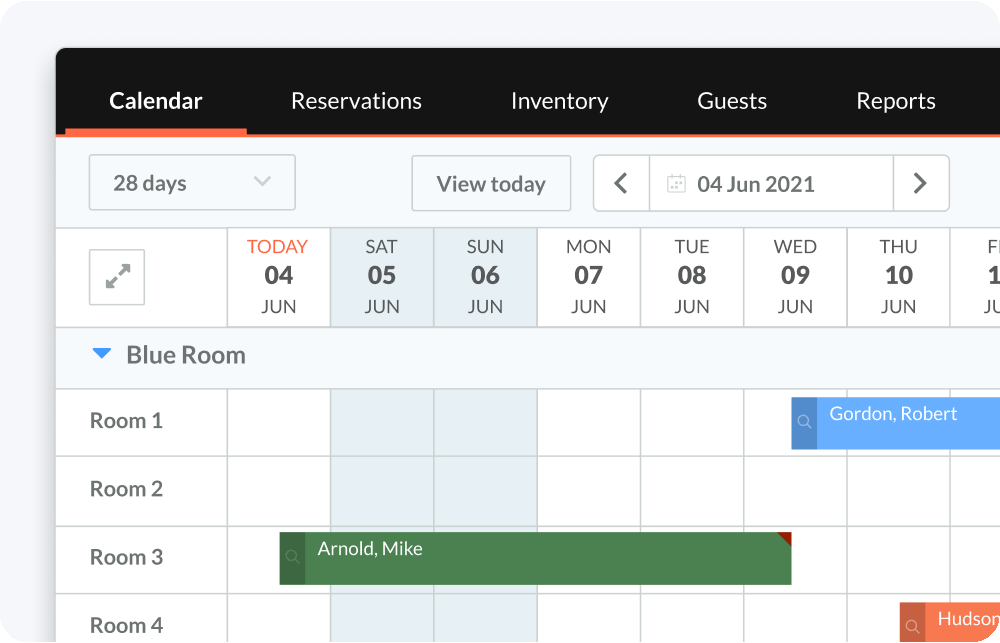 Channel manager
Improve occupancy and get up to 46% more reservations by distributing your property on the more local and relevant booking channels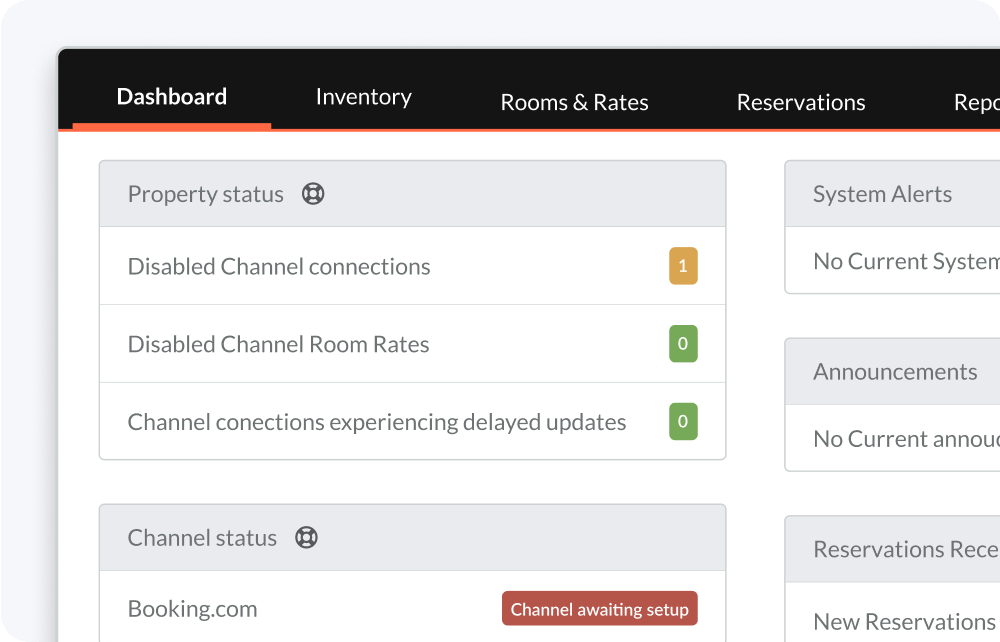 Direct booking engine
Increase revenue by 43% by taking direct bookings from your website and Facebook page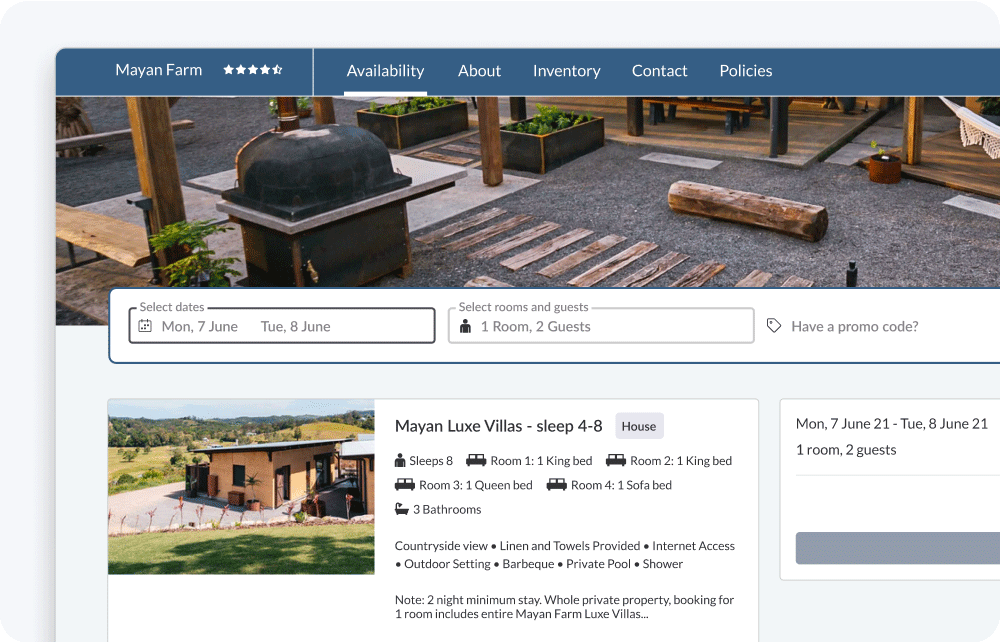 Reporting and insights
Get the info you need to make smarter revenue and distribution decisions in one central platform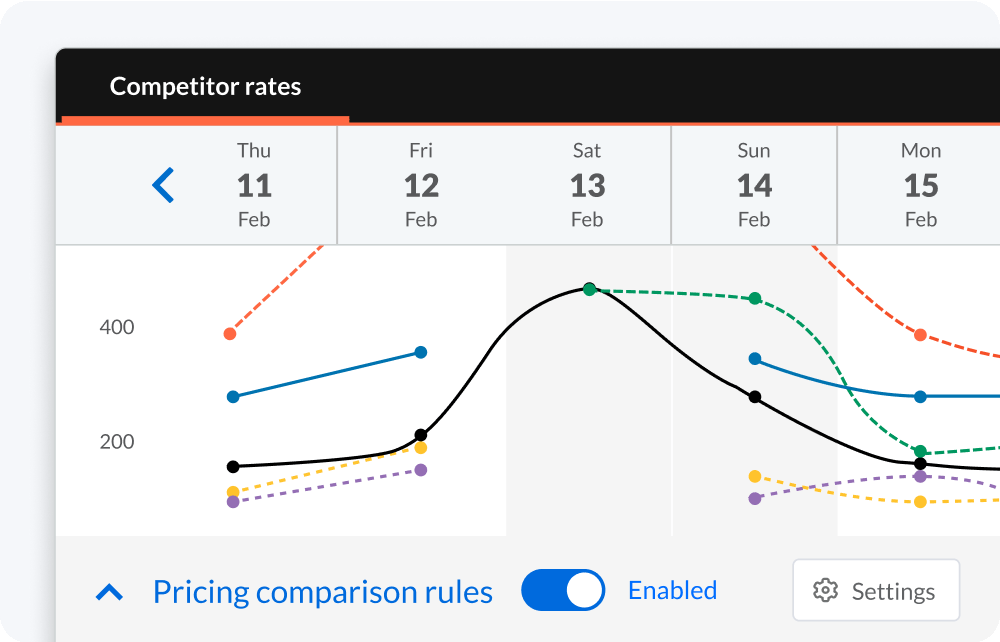 Website builder
Create your own hotel website in minutes and say goodbye to costly updates, web developers and hosting fees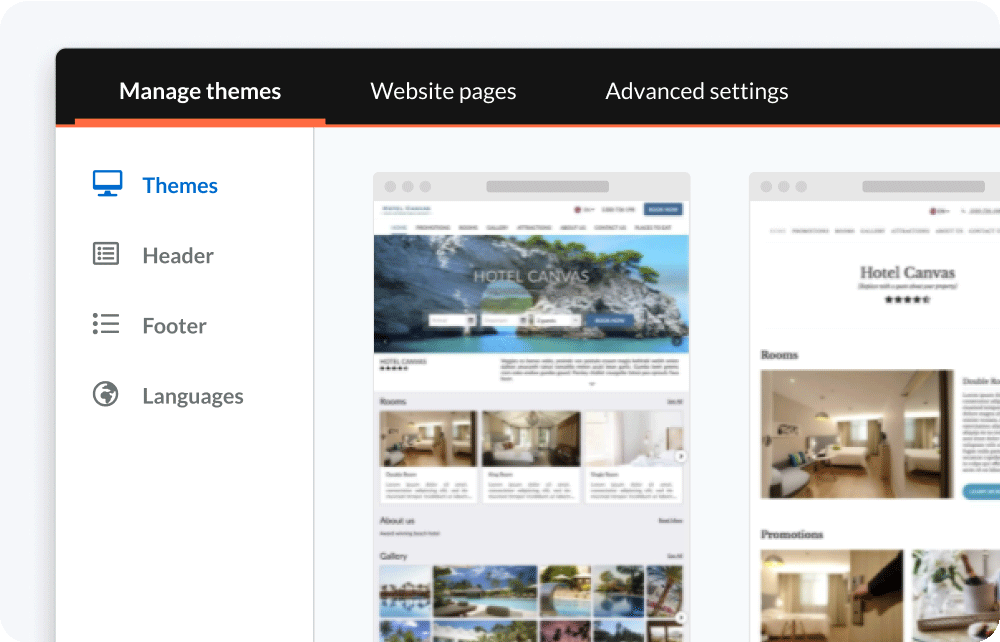 Payments
Process deposits, payments and refunds quickly, easily & securely within your Little Hotelier system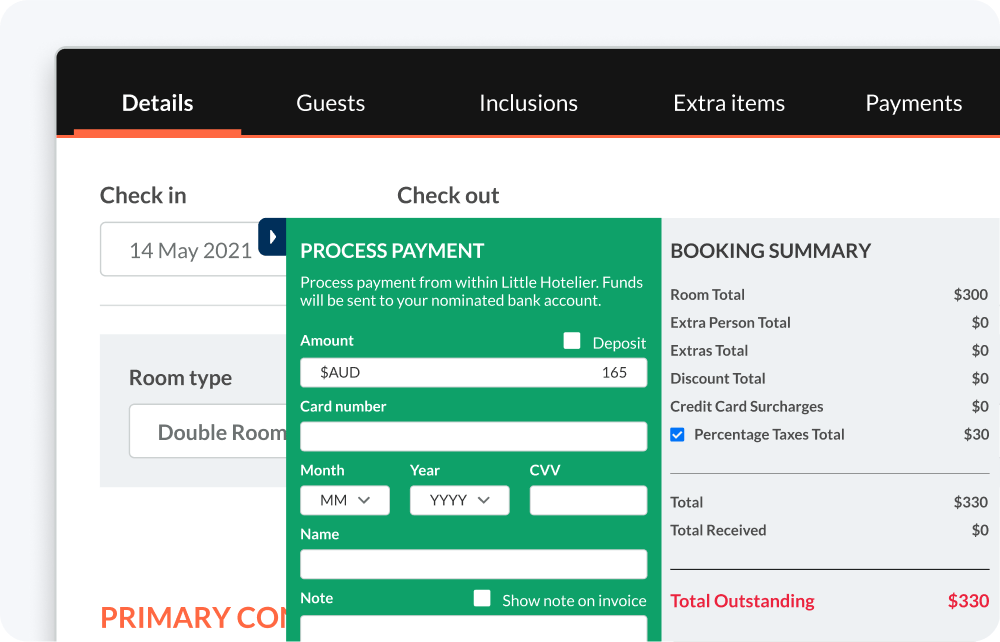 Mobile app
Get the freedom to manage your property and reservations from anywhere, at any time with our mobile app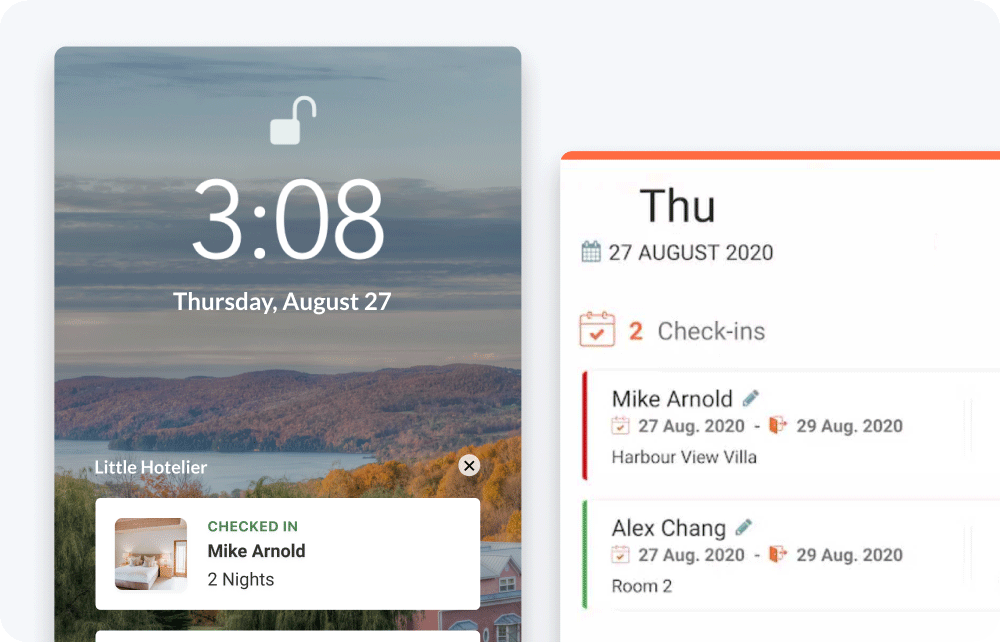 One central platform to
run your property
Drive more
revenue
Enable guests to book online
Cut OTA commissions
Reduce double bookings
Understand your
business and market
Access valueable insights
Make better pricing decisions
Optimise for seasonal shifts
Organise your guests
and reservations
Keep reservations organised
Run multi-channel promos
Go mobile with our app
Process bookings in 1/2 the time
Control your
operations
Process payments securely
Eliminate manual admin
Customise how you want
See how Little Hotelier can help you
How many rooms do you have?
To see prices enter your
number of rooms.
What counts as a room?
A room (bookable unit) could be an actual room in a motel, an entire property (such as a bungalow or cottage) or a hostel bed.
See how Little Hotelier can help you
Try free at no risk. Cancel anytime.
Why business savvy hoteliers are
choosing Little Hotelier
Easy to start, easy to switch
You can be up and running quickly and our intuitive system is simple to learn.
Most trusted
Used by more small, independent properties than any other provider globally.
Designed for small
With an easy to use interface and features designed for your needs.
Customise & scale your way
Need a specific feature. Not a problem we have over 400 integrations.
Flexible plans
To suit your business, budget and lifestyle with no lock in contracts.
Mobile app
Giving you access to work on the go and stay in control wherever you are.
or talk to our friendly sales team
Select your plan
We're the only hotel tech provider you'll need. All at an affordable price
Most Popular

Basics

Pro

per month

per month

*Plus 1% of total booking value.

Perfect for businesses who want to pay less when there is low demand

Enter your number of rooms to see the price

Get started - it's FREE
Enquire now

Set up online in under an hour

Setup with our onboarding team

Integrated front desk

Integrated front desk

Booking engine

Booking engine

Channel manager connections to any 5 channels

Channel manager connections to 400+ channels

Reporting

Reporting and insights

Support email and chat 24/7

Support phone, email & chat 24/7

Mobile app

Mobile app

Learn more about Basic plan

Recommended property size

10 rooms or less

Channel connectivity

Up to 5

Front desk

Drag & drop reservation calendar
Create & manage reservations
Customised guest emails
Automated invoicing
Mobile app

Channel manager

Visibility on top booking channels (Select any 5 channels like Booking.com, Airbnb)
Bookings on your reservations calendar
Room & rate updates across all channels
Distribution control with channel manager

Set-up, Training & Support (Email, 24/7 Chat)

Award-winning support
Access to online learning
Access to knowledge base
Guided set-up (Easy self set-up)

Booking engine

Seamless website integration
Extras & packages to maximise revenue
Automated guest communications
Multiple languages & currencies

Reporting

Transactional & operational reports
Bookings on your reservations calendar
Housekeeping report
Channel performance report

Available Add Ons

Little Hotelier Payments*

Available for properties with 3+ rooms.

*Additional transaction or subscription fees may apply

Learn more about Pro plan

Recommended property size

Over 10 rooms

Channel connectivity

400+

Front desk

Drag & drop reservation calendar
Create & manage reservations
Customised guest emails
Automated invoicing
Mobile app

Channel manager

Visibility on top booking channels
Bookings on your reservations calendar
Room & rate updates across all channels
400+ free-of-charge booking channels
Distribution control with channel manager

Set-up, Training & Support (Phone, email, 24/7 Chat)

Award-winning support
Access to online learning
Access to knowledge base
Guided set-up (One-on-one set-up with onboarding team*)

Booking engine

Seamless website integration
Extras & packages to maximise revenue
Automated guest communications
Multiple languages & currencies
Mobile-first & accessibility design*
Metasearch bookings via Google Hotel Ads*

Reporting and Insights

Rate parity insights report
Transactional & operational reports
Housekeeping report
Channel performance report

Available Add Ons

Little Hotelier Payments*
Metasearch Bookings*
Website Builder*
Business Intelligence*

*Additional transaction or subscription fees may apply

Most Popular

Basics

per month

*Plus 1% of total booking value.

Perfect for businesses who want to pay less when there is low demand

Get started - it's FREE

Set up online in under an hour

Integrated front desk

Booking engine

Channel manager connections to any 5 channels

Reporting

Support email and chat 24/7

Mobile app

Learn more about Basic plan

Recommended property size

10 rooms or less

Channel connectivity

Up to 5

Front desk

Drag & drop reservation calendar
Create & manage reservations
Customised guest emails
Automated invoicing
Mobile app

Channel manager

Visibility on top booking channels (Select any 5 channels like Booking.com, Airbnb)
Bookings on your reservations calendar
Room & rate updates across all channels
Distribution control with channel manager

Set-up, Training & Support (Email, 24/7 Chat)

Award-winning support
Access to online learning
Access to knowledge base
Guided set-up (Easy self set-up)

Booking engine

Seamless website integration
Extras & packages to maximise revenue
Automated guest communications
Multiple languages & currencies

Reporting

Transactional & operational reports
Bookings on your reservations calendar
Housekeeping report
Channel performance report

Available Add Ons

Little Hotelier Payments*

Available for properties with 3+ rooms.

*Additional transaction or subscription fees may apply

Pro

per month*

Enter your number of
rooms to see the price

Enquire now

Setup with our onboarding team

Integrated front desk

Booking engine

Channel manager connections to 400+ channels

Reporting and insights

Support phone, email & chat 24/7

Mobile app

Learn more about Pro plan

Recommended property size

Over 10 rooms

Channel connectivity

400+

Front desk

Drag & drop reservation calendar
Create & manage reservations
Customised guest emails
Automated invoicing
Mobile app

Channel manager

Visibility on top booking channels
Bookings on your reservations calendar
Room & rate updates across all channels
400+ free-of-charge booking channels
Distribution control with channel manager

Set-up, Training & Support (Phone, email, 24/7 Chat)

Award-winning support
Access to online learning
Access to knowledge base
Guided set-up (One-on-one set-up with onboarding team*)

Booking engine

Seamless website integration
Extras & packages to maximise revenue
Automated guest communications
Multiple languages & currencies
Mobile-first & accessibility design*
Metasearch bookings via Google Hotel Ads*

Reporting and Insights

Rate parity insights report
Transactional & operational reports
Housekeeping report
Channel performance report

Available Add Ons

Little Hotelier Payments*
Metasearch Bookings*
Website Builder*
Business Intelligence*

*Additional transaction or subscription fees may apply